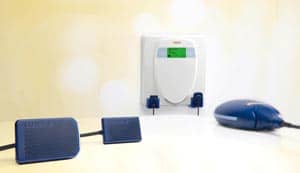 Sirona, Long Island City, NY, introduces the XIOSPLUS intraoral sensor system. The system allows practitioners to capture digital x-rays by using either an Ethernet or a USB module. With Sirona's SIDEXIS XG software, practitioners can view digital x-rays directly on any computer monitor or the office network without license fees.
The Ethernet module features a large-sized multicolor display to help users confirm patient information prior to taking the image. Various LCD colors indicate the current operational status. The wall module also allows the user to plug in two sensors simultaneously, guaranteeing that the right sensor is always close at hand. The built-in sensor holders are designed to reduce clutter and minimize the risk of damage to the sensors.

The USB module can be connected to any PC as a true "plug-and-play" component, allowing sensors to be used anywhere they are needed. The USB module also features LED indicators of system status.

Available in two sizes, XIOSPLUS sensors are designed to be robust and ergonomic. The thin cable connection, beveled edges, and anatomically rounded corners are made to ease positioning in the patient's mouth. The Active Pixel CMOS sensors have a pixel size of 15 µm. The automatic preprocessing options in SIDEXIS allow the clinician to select preferences for a broad spectrum of diagnostic applications.

For more information about this and other orthodontic companies, visit our Buyer's Guide.