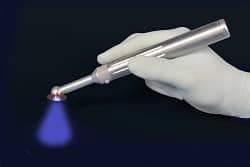 Spring HealthProducts, Norristown, Pa, has introduced its CURE TC-CL II CuringLight. The CURE is a cordless, lightweight, all-metal LED curing lightdesigned for polymerization of dental materials.
The CURE features a light intensity of 1200 mW/cm2 and cancure all dental materials that cure in the wavelength of 440 to 465 nm in 6seconds. Powered by a lithium-ion battery, the device takesapproximately 2 hours to go from fully discharged to fully charged. Ithas a total run time of 45 minutes.
The CURE has a "high" mode for curing materials and a "low" mode forcuring near the pulp and minimizing polymerization shrinkage. Audiblebeeps occur every 2 seconds during operation, and the light timer can beadjusted between 2 and 20 seconds.
A radiometer with a numerical reading of the light intensity is anoptional accessory.
For more information on this and other orthodontic companies, visit our Buyer'sGuide.