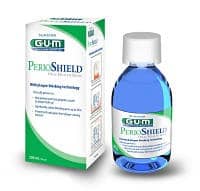 Sunstar Americas Inc, Chicago, has introduced GUM® PerioShield™ Oral Health Rinse for the treatment and prevention of gingivitis.
According to the company, GUM PerioShield inhibits bacterial adhesion totooth surfaces, serves as an adjunct to normal mechanical oral hygiene,and provides a tool for the prevention of plaque and gingivitis thatcould lead to periodontitis. The product is recommended for patientswith heavy plaque and chronic gum inflammation.
GUM PerioShield contains the proprietary ingredient, delmopinol hydrochloride 0.2%, and has a 1.5% alcohol content.
?For more information on this and other orthodontic companies, visit our Buyer's Guide.