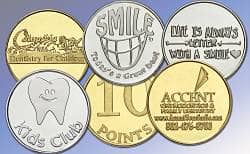 TokensDirect,Cincinnati, offers reward coins for orthodontic patients. The coins aredesigned to reward patients for good oral health practices and serve asa tangible reminder to reinforce these habits. The reward coins can besaved and redeemed for prizes or used in on-site machines like videogames or gumball dispensers. They can also be used to reward new patientreferrals.
Standard reward coins are available for immediate shipment. Thecompany also offers custom-designed coins featuring a practice's nameand logo. The coins come in a variety of metal choices, including brass,red brass, nickel silver, and aluminum. Nickel-plated and brightlycolored anodized coins are also available.
For more information about this and other orthodontic companies, visit our Buyer's Guide.