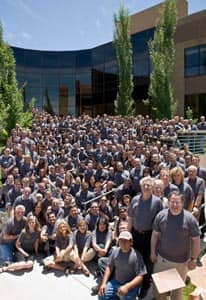 Ultradent Products Inc, South Jordan, Utah, celebrates its 30-year anniversary this month. Representatives from Ultradent's subsidiary and distributor offices joined together in South Jordan for a county fair-style celebration with a canned food drive for the Utah Food Bank, as wellas carnival games, a craft fair, and a 5K run. The events raised more than $2,000, which was donated to Volunteers of America, on behalf of the late Lorin Fischer.

Ultradent was managed and operated by Fischer family members in the basement of founder Dr. Dan Fischer's home when it opened 30 years ago. Today, the Utah-based dental products manufacturer employs more than 800 people and provides products to dentists in 100 countries around the world.
For more information on this and other orthodontic companies, visit our Buyer's Guide.