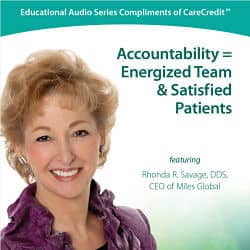 CareCredit, Costa Mesa, Calif, is offering a complimentary educational audio CD, titled Accountability = Energized Teams & Satisfied Patients. The CD features Rhonda R. Savage, DDS, chief operating officer of Miles Global, a practice management and consulting firm serving dental and orthodontic professionals.
In the CD, Savage talks about how accountability "done right" can improve communication, efficiency, and help the practice run smoother and more professionally. The CD outlines how daily coaching and the "feel, felt, and found" technique can improve team and patient communication. Savage also discusses how to give effective performance reviews.
Practices that currently accept CareCredit can request a copy of this complimentary audio CD by contacting their Practice Development Team at (800) 859-9975. Practices that do not use CareCredit as a payment option can call (800) 300-3046, ext 4519, to request their complimentary copy.
For more information about this and other orthodontic companies, visit our Market Guide.