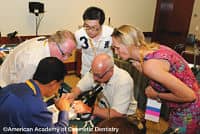 The American Academy of Cosmetic Dentistry (AACD) will hold its 27th Annual Scientific Session from May 18 to May 21, 2011, at the Hynes Convention Center in Boston. The theme for the session is "The Rise of Collaboration."
The conference will feature more than 48 hands-on workshops, 85 lectures, and 90 speakers. The event is geared toward dentists, lab technicians, hygienists, and dental team members to help them achieve success through collaboration while learning from the cosmetic dentistry profession's greatest educators.
Featured educators will include Stephen Chu, DMD; Harald Heymann, DDS, Med; Frank Spear, DDS, MSD; Dennis Tarnow, DDS; and Dennis Wells, DDS.
The opening general session speaker will be Peter Sheahan, author of the bestseller Fl!p, which focuses on finding opportunities in a down market through leadership, innovation, and change. Sheahan is scheduled to speak May 18.

Attendees will have the opportunity to earn up to 24 certified continuing education credits. AACD accreditation workshops are scheduled for May 18, and a written accreditation exam will take place May 19.

Course selection for the conference begins December 3.
To register or view a digital edition of the conference guide, click here.