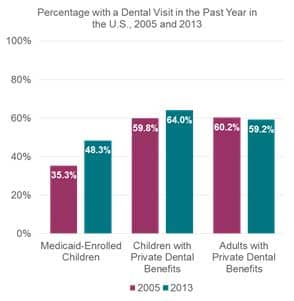 The ADA Health Policy Institute (HPI) will offer a free webinar tomorrow looking at dental care utilization nationwide. The webinar, which takes place September 29, 2015, from 12 pm to 1 pm CST, coincides with the release of HPI's comprehensive, state-by-state analysis of dental care utilization between 2005 and 2013.
The study, which looked at dental care utilization among Medicaid and privately insured adults and children, found that utilization among Medicaid-enrolled children increased during the examined period in nearly every state. As a result, the dental care utilization "gap" between Medicaid-enrolled children and children with private dental benefits narrowed significantly.
The study also found that most states experience a drop in dental care utilization among adults with private dental benefits over the same period. In contrast, most states saw an increase in dental care utilization among children with private dental benefits. And while dental care utilization for Medicaid children continues to "catch up" to children with private dental benefits, a very large gap remains among adults.
The webinar will be presented by Marko Vujicic, PhD, chief economist and vice president, ADA Health Policy Institute. Additional panelists include Julia Paradise, associate director, Kaiser Commission on Medicaid and the Uninsured, Kaiser Family Foundation; Anthony T. LoSasso, professor, Division of Health Policy and Administration, School of Public Health, University of Illinois at Chicago; and Andy Snyder, program manager, National Academy of State Health Policy.
To register for the free webinar, visit http://websurveys.ada.org/s/webinar0929/.