Newsbites
Christensen Wins NYU's Irwin Smigel Prize

Gordon J. Christensen, DDS, founder and director of Practical Clinical Courses (PCC), was selected as the third recipient of the Irwin Smigel Prize in Aesthetic Dentistry, which was presented recently by the New York University (NYU) College of Dentistry.
"Gordon Christensen's selection to receive the Smigel Prize is a fitting tribute to the pivotal role he has played in advancing aesthetic dentistry education," says Michael C. Alfano, dean of the NYU College of Dentistry. "His devotion to innovation in continuing education has inspired countless dentists in the pursuit of excellence."
Nationally and internationally renowned as a teacher of aesthetic dentistry, Christensen has presented more than 40,000 hours of continuing education, has produced hundreds of multimedia dental presentations, and has written hundreds of articles in several books.
The Smigel Prize includes a $5,000 stipend and an award designed by Calvin Klein.
Kodak Dental Systems Group Introduces Off-Site Backup

Kodak's Dental Systems Group had added a Web-enabled, secure, off-site, online Backup and Recovery Service to the services it currently offers to dental professionals. The system enables orthodontists to use scheduled or continuous data transfers to address all aspects of data protection.
"Kodak's e-services enable dental professionals to focus on what they do best: caring for their patients, while providing superior practice management," says Scott D. Leeper, vice president, e-services, Kodak Dental Systems Group. "With Kodak Online Backup and Recovery Service, data is automatically, securely, and reliably stored off-site using a process that is compliant with [Health Insurance Portability and Accountability Act of 1996] security and privacy standards."
The service will be available for use with Kodak Softdent and Practiceworks practice-management software for general dentists, Kodak Orthotrac practice-management software for orthodontists, and Kodak Winoms CS practice-management software for oral and maxillofacial surgeons.
ADA Stresses Caution in Administering Dental X-rays
In a comprehensive update, a National Academy of Sciences panel says that low doses of radiation, such as those from dental x-rays, pose a small risk for cancer. The American Dental Association recommends that dentists weigh the benefits of taking dental radiographs against the risk of exposing a patient to x-rays.
The ADA also recommends that when a radiograph is indicated, dentists should follow the "as low as reasonably achievable" principle and order x-rays only when necessary for diagnosis; use protective thyroid collars whenever possible; use aprons on all patients during x-rays; and encourage patients to visit the dental office regularly to maintain good oral health.
According to the panel, it is unlikely that there is a threshold below which cancers are not induced, but at low doses the number of radiation-induced cancers will be small.
Warn Your Patients to Sip Soda Carefully (And Sparingly)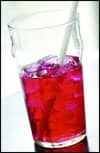 Here's an oral health tip to pass along to your patients: According to Mohamed A. Bassiouny, DMD, BDS, MSc, PhD, savoring a soft drink may worsen tooth decay, while using a properly positioned straw could cut cavity risk.
"The best position is behind the teeth, rather than in front," says Bassiouny.
Bassiouny conducted research at the Temple University School of Dentistry in Philadelphia, to examine how soda consumption affects the pattern of tooth decay. His study found that people who drink soda directly from the can and let the liquid pool in their mouth are more likely to have cavities in their back teeth, while those who drink soda through a straw ending behind their lips, in front of their teeth, are more likely to have cavities in the front of their mouth.
Bassiouny says the best way to avoid cavities is to cut down on soda consumption, because it contain acids that erode dental enamel. For those who drink soda, he recommends using straws and spacing sips at least 1 minute apart. He also recommends rinsing the mouth out with water after drinking soda and not drinking soft drinks before going to bed.