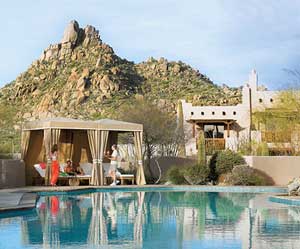 TP Orthodontics, La Porte, Ind, will hold a 2-day seminar, lead by a number of prominent orthodontists, in Scottsdale, Ariz, December 3 to 5, 2014. Drs James Jasper, Donald Rinchuse, Daniel Rinchuse, Daniel German, and Messias Rodrigues will address a number of topics relevant to to today's practice, offering evidence-based perspectives and treatment options to help orthodontists achieve efficiency and improve quality of treatment to their patients.
Attendees are eligible for CE credits.
"We're excited to have this prominent group of clinicians all presenting at a single event," says Sandra Hoefer, vice president, global marketing. "No matter what technique or products orthodontists use, they're sure to hear some valuable pearls that can benefit their practices and patients."
The event will be held at the Four Seasons Resort, located in the mountains of the Sonoran Desert. Orthodontists will have an opportunity to engage with the speakers and hear lectures in the morning, while enjoying their choice of leisure activities in the afternoon.
Early registration discount available through October 15, 2014. Visit tportho.com for more information or to register, or call (800) 348-8856.