Today's leading orthodontics practices understand, value, and invest in strategic online marketing initiatives. More specifically, since 2006 inbound marketing has become the go-to methodology for many high-growth orthodontic practices.
This article—the first in a three-part series—aims to educate orthodontic clinic owners and senior management staff about how inbound marketing is being used to increase new client acquisition, improve client satisfaction, and grow practice revenues.
??A New Approach—Attraction vs Interruption
Instead of relying on old interruption-based outbound marketing tactics like billboards, TV commercials, or direct mail, inbound marketing focuses on creating high quality content that attracts people toward your website and becoming a patient of your practice. By aligning the content that you publish with your patient's common interests, questions, and objections, you can attract targeted website traffic which you can then systematically convert into new consultations, patients, and loyal promoters.
The Basics of Inbound Marketing Methodology
As shown in the graphic below, inbound marketing methodology includes four core actions—attract, convert, close, and delight. Beginning on the left, each circle represents a stage of the patient journey, beginning as strangers visiting your website and ultimately ending up as happy patients of your practice. Lastly, the bottom of the chart shows the various marketing tactics that you can use to nurture prospective patients through each of the four core actions.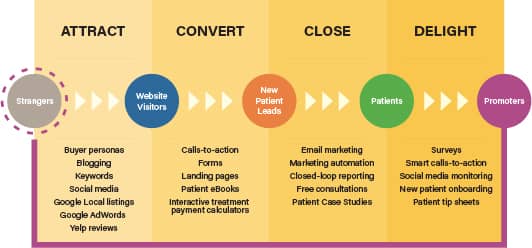 Attract
Orthodontic clinics typically only serve patients within a relatively small geographic radius. This means that as an orthodontic marketer, you need to think about ways to attract people to your website who reside or work within your serviceable market. Buyer Personas, which are fictional representations of your ideal patients, are a key tenet of inbound marketing.
Well-researched Buyer Personas encompass the goals, challenges, pain points, common objections, marketing triggers, and personal and demographic information shared among all members of a particular client's type. Orthodontic Buyer Personas tend to be rather similar across various practices. Tactics like blogging, keyword optimization, social media, Google Local listings, Google AdWords, and Yelp reviews tend to be the most effective ways to attract qualified traffic to orthodontics websites.
Tactics of Attraction:?
Buyer Personas
Blogging
Keywords
Social media
Google Local listings
Google AdWords
Yelp reviews
Convert
Once you've attracted targeted website traffic, the next step is to convert those nameless visitors into new patient leads by gathering their contact information. At the very least, you will need their email address.
Of course, in order for a website visitor to give up their contact information, you will need to offer them something of value in exchange. Most often, orthodontics inbound marketers offer things like eBooks about the various braces options they offer, tip sheets for what to eat after you get your braces changed, or interactive treatment payment calculators. Calls-to-action for these offers can be placed prominently on core pages of your website to encourage visitors to click through to a specific landing page where they can access the gated piece of content in exchange for their contact information.
Tactics of Conversion:?
Calls-to-action
Forms
Landing pages
?Patient eBooks
Interactive treatment payment calculators
??Close
Once you've attracted the right traffic to your website and converted some potential new patients, the goal for most clinics is to get those people to come in for a free consultation. At that point, you can get them acquainted with your team, facility, and the services you provide.
Certain marketing tools can be used at this stage to make this process more immediate, scalable, and efficient. For instance, with a contact database in place that collects new patient leads from your website, you can set up automated email workflows that encourage people to book their first consultation or call your clinic for more information about your services. With proper marketing analytics in place, you will be able to analyze which marketing efforts are providing the best return on investment and optimize each channel using actual data.
Tactics for Closing:?
Email marketing
Marketing automation
Closed-loop reporting
Free consultations
Patient case studies
Delight
Finally, once you've landed a new patient, the goal is to continuously delight them so they become a loyal advocate of your clinic and recommend you to their friends, family, and colleagues. Email campaigns, incentives for referrals, patient appreciation perks, personalized website experiences, and new patient onboarding all contribute to a patient's satisfaction with your practice. Without question, this is where factors like customer service, professionalism, and clinic experience come into play, but marketing also continues to be a major factor.
Tactics to Delighting Your Patients:?
Surveys
Smart calls-to-action
Social media monitoring
?New patient onboarding
Patient tip sheets
Conclusion
Beyond orthodontics, inbound marketing methodology has been embraced by nearly every business vertical—from Silicon Valley software companies to industrial manufacturers. This strategic marketing framework has been proven to deliver exceptional results which can be measured, optimized, and scaled as businesses continue to grow.
In parts two and three of this series, we will examine what goes into implementing an inbound marketing strategy, what software tools are required, and how to get started with an inbound marketing program for your orthodontics practice. OP
Jesse Mawhinney is the director of marketing at Kula Partners—an inbound marketing agency based in Halifax, Nova Scotia.
If you'd like to learn more about how inbound marketing can be applied for orthodontics practices, you can download a FREE copy of Kula Partners' white paper: Inbound Marketing for Orthodontists—5 Key Strategies to Take a Bite Out of the Competition.
Save