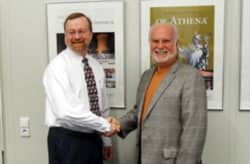 Ronald Roncone, DDS, MS, (right) shaking hands with Paul Humphrey, president of Forestadent USA.
Ronald Roncone, DDS, MS, has joined orthodontic manufacturer Forestadent Orthodontics, St. Louis, Mo, as a product advisor and lecturer, according to the company.
Roncone received his dental degree at Marquette University School of Dental Medicine in 1969 and founded his Vista, Calif orthodontic practice in 1971. Since then, Roncone has presented more than 1,000 lectures to students and professionals in the dental and orthodontic field that have focused on practice management, treatment, and other topics, according to his website.
Roncone will bring his JSOP (Just Short Of Perfect) training courses to Forestadent. The yearlong, multi-session classes cover the business and the practice of orthodontics.
For more information about this and other orthodontic companies, visit our Market Guide.