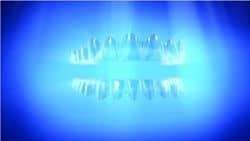 Align Technology Inc, San Jose, Calif, announced that SmartTrack™, the next generation of its Invisalign clear aligner material, will be available commercially on January 21, 2013. According to the company, SmartTrack is a "highly elastic, proprietary new aligner material that delivers gentle, more constant force to improve control of tooth movements with Invisalign clear aligner treatment."
In October 2012 Align announced SmartTrack would become the new standard Invisalign aligner material for Invisalign clear aligner products in North America, Europe, and other international markets in the first quarter of 2013.
SmartTrack maintains more constant force over the 2 weeks that a patient wears the aligners, according to the company, and is designed to more precisely conform to tooth morphology, attachments, and interproximal spaces to improve control of tooth movement throughout treatment. The material is also highly elastic, making insertion and removal of aligners more comfortable for the patient.
An archived webinar and more information on SmartTrack will be available [removed]here[/removed] starting January 21, 2013.
For more information about this and other orthodontic companies, visit our Market Guide.