The Kaleidoscope 2.0 platform aims to make marketing your practice and attracting new patients consistent and more efficient.
Kaleidoscope CEO and career techie, Ted Teele describes the digital marketing company's recent merger with Orthopreneur Internet Marketing Solutions —founded by Mary Kay Miller, as "a match made in heaven". This new partnership enables a collaborative "One-Stop Shop for Technology-Driven Marketing" approach, to help orthodontists grow their practices.
Teele admits that today's practitioners, and staff members alike, are faced with "a dizzying array of marketing options" and it's not uncommon for the person in charge of marketing the practice to wear numerous hats with multiple responsibilities. Now doctors can streamline their marketing needs by using one single platform—Kaleidoscope 2.0, which is designed to make marketing your private practice consistent and more effective. When considering the merger, the company leaders were confident it would be a wise decision and stronger combination, for them to serve the current marketing demands for the orthodontic community under the same umbrella.
Orthodontic Products talked with Teele, Miller, and Kaleidoscope founder and vice president of marketing, Charis Santillie, to learn more about how this latest platform is helping clients upgrade their marketing strategies and brand appeal to attract and maintain potential new patients.
Orthodontic Products: Kaleidoscope 2.0 offers an Orthopreneur Toolkit. How does this help doctors build a stronger brand foundation and grow their private practices?
Miller: My goal was always to ensure practices had a good foundation for their online marketing, which included a search engine optimized website coded correctly for local search from the bottom up. This includes syncing their branding with Google's algorithm to feature their practice in the Google My Business area (Maps) and in organic ranking. I've found over the years that while most professionals have some knowledge of website development, their knowledge of SEO and how Google works was very limited with ongoing updates. They found it very difficult to see the big picture required to successfully market a local practice online due to the limited or incorrect information they received from friends, peers, or online research.
The Orthopreneur Toolkit provides the foundation that any practice—whether a startup, transitioning, or well established—needs to ensure it grabs the attention of interested patients in a local search.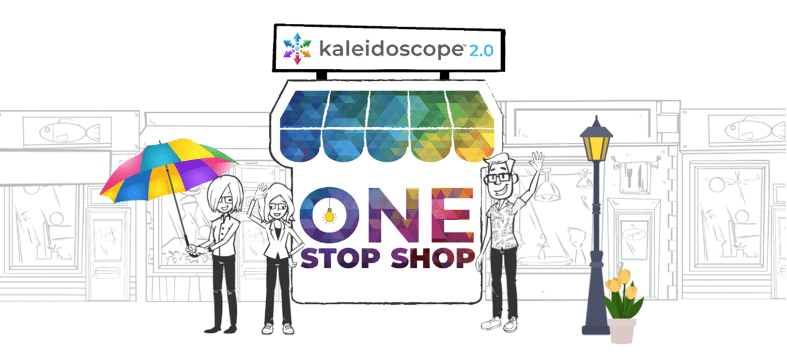 OP: How is Kaleidoscope 2.0 different from other platforms, and what other key services are provided?
Miller: The Kaleidoscope platform saves an enormous amount of time when managing online marketing. It's very easy to learn, so we can either train the orthodontic team on how to effectively use it themselves, or we can manage it on our end to free up time to work on internal or community marketing tasks. It's the only platform that I've seen like it throughout my years in the orthodontic and dental industry, and from a business perspective, based on my background, I immediately understood the value of Kaleidoscope 2.0.
Santillie: We initially started Kaleidoscope as a way for orthodontists to entertain patients, and inform them of their additional services in their waiting rooms. We then had a few clients start using their digital signs facing outwards through a window, to catch the attention of people and cars passing by. We invested in some significant product upgrades in 2020, and now have the capability for clients to push content out to a variety of different marketing channels (or outputs as we call them). Those different outputs include not only digital signage, but also Facebook, Twitter, and SEO-optimized, content-driven websites, and the ability to share content within multiple office locations. And this isn't only Orthopreneur-built websites, this is for any website built with WordPress, which is a really fantastic capability since the majority of websites currently built today are on WordPress.
Teele: The challenge that anyone in marketing faces, is creating really good, high-quality content that adapts over time. What makes the Kaleidoscope platform so special and unique, is that we create that for you, as well as make it as easy as possible to push that content to all your different outputs. We have learned that busy doctors don't have the time to manage multiple content management systems (e.g. one for their website, one for Facebook, one for digital signage, etc.). Using one content management system makes marketing so much easier. Keeping your website fresh is really hard. Most practices will set up their site and then forget about it for 3 years. With the Kaleidoscope WordPress plugin, for example, providers will now have the capability to constantly have updated holiday, seasonal, and vendor content.
Some doctors want to advertise digitally, but don't know how to take a data-driven approach to maximize the probability of success. They spend money but are not really able to effectively measure the results to know if it worked or not. That is why we decided to take a data-driven approach and establish a strategy from the beginning. At the end of the day, it's really about increasing production for our clients.
OP: What marketing strategies can have a better impact on the practice's bottom line?
Teele: One recurring theme that always seems to come up when I speak with different doctors, is that building a strong referral program is critical, and that is one thing that Kaleidoscope is really focusing on right now. One of the biggest frustrations for orthodontists is that more general dentists are doing aligners themselves. So it becomes extremely important to make sure that orthodontists are able to differentiate themselves from general dentists, and powerful marketing campaigns can generate that awareness with the public. But we need to know your business goals—through consultative discussions, in order to yield the best possible strategy and results.
OP: What should orthodontic practices be aware of as they plan their marketing strategies?
Miller: In 2020, there were some major changes with consumer search habits that most business owners fail to understand. The main source of new patient referrals is actually Google Maps or the Google My Business area vs organic ranking which was the norm in the past. Consumer habits have changed in the past few years and it is causing a shakeup with how businesses are found online. Now, more than ever, it is important to be one of the top three locations shown on the map area with the top orthodontic keywords. To accomplish this, it really comes down to having a strong branded online foundational setup. This includes a website optimized for local search, a brand setup based on Google Guidelines, and reviews.
One of the major struggles for any business is to build up their Google reviews. Reviews are a key component of the maps algorithm in 2021.
Practices should also pay close attention to making sure that they are updating the backend of their Google My Business (GMB) listing on a regular basis to keep up with the changes. The GMB area was completely renovated at the end of 2018. Most practices have no idea that their setup is out of date and it may be negatively affecting their rankings, especially in highly competitive areas. We pay very close attention to the GMB area for our clients with monthly services. Most prospective new patients are now finding the GMB area as their first point of contact for the practice when they either Google the doctor name, practice name, or randomly find them with keywords in local search. Some prospects may not even make it to your website at all because the information they need is provided within the GMB area.
Teele: With countless adults seeing their smiles on Zoom these days, the adult clear aligners market is exploding in popularity, it is really changing the entire landscape of orthodontics. This increases the importance of effective marketing.
OP: What's next for the company?
Santillie: In the coming year, we have plans to expand the platform even further with additional social media channels, as well as integrating email automation and text-based marketing capabilities. We are also going to evolve the nature of how websites are built, and content is managed for ortho sites using a more dynamic approach; and one that adapts more quickly to trends in a world where we must make a practice's marketing move at the "speed of social media," as we say.
We will continue to listen to the needs of our clients. Personally, it is exciting for me to see our list of services continue to grow. I started out in graphic design building logos and brands for orthodontists, with a dream of becoming a one-stop shop for marketing. Mary Kay also had a vision of her own to become a one-stop shop. Little did we know back then that we would one day be coming together to join forces! Under the visionary leadership of Ted, we know we are in good hands to fulfill our dreams and truly make a positive impact on our industry.
We are also exploring having our own podcast in the near future. Both Mark Kay and I are so connected in the industry, that we see this as an opportunity to network with the phenomenal list of doctors and industry experts we know, and really continue to push forward in being thought leaders and experts in the industry. Stay tuned!
Teele: We also see Kaleidoscope securing partnerships with many key providers in the industry. Our goal is to provide more and more capabilities to help doctors grow their practices with marketing. Our success up until this point has been the result of truly understanding the struggles of our clients and then doing something about it. We will continue to build this customer success machine and adapt and grow as it makes sense to help our clients.OP