There should be no question that referrals are the lifeblood of your orthodontic practice. But what's the best source for getting them? Patients, community outreach, and referring doctors. Most orthodontists concentrate all their efforts on their patients and community and why not? They see patients daily and have numerous opportunities to solicit their referrals, and community outreach is easy and casts a wide net. Courting referral doctors isn't as easy as sending emails or going to health fairs. It takes continuous time and effort. However, it's all well worth it. Orthodontic practices can receive more than half of their referrals from other doctors.
Still not convinced? Maybe it's time for a little Q & A for some better insight.
Q: Why am I avoiding referring doctors?
A: It takes time. It takes effort. And it takes money. None of these are good enough reasons to avoid referring doctors. See below.
Q: What can I gain from referring doctors?
A: They can be a goldmine for referrals. Any single patient might refer a few other patients and that would be considered good in a single year. However, a referring doctor can provide tens of thousands or even hundreds of thousands of dollars of referrals per year, and it's not unusual to see orthodontic practices receive 50% or more of their annual revenue from patients referred by other doctors.
Q: How can I pursue referring doctors?
A: Like any other marketing channel, marketing to referring doctors requires 10 to 15 marketing strategies functioning together. However, no orthodontist will be able to carry out all of these efforts and still successfully function as a clinician and practice leader. We recommend hiring a part-time marketing coordinator to oversee the marketing and implement the strategy.
Summary
I believe that referring doctors are still an important and often critical part of the success of an orthodontic practice. An emotional decision to stop marketing to referring doctors or simply losing the motivation to do so eliminates a very strong marketing channel that can result in a significant percentage of practice revenue. OP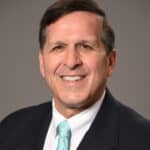 Roger P. Levin, DDS, is a third-generation general dentist and the founder and CEO of Levin Group Inc, a dental management consulting firm that has worked with over 26,000 dentists. Levin, an internationally known dental practice management speaker, has written 65 books and over 4,300 articles. He is also the executive founder of Dental Business Study Clubs—Dentistry's only All-Business Study Clubs, the next generation of dental business education.