Orthodontic marketing used to be easy. High demand and low levels of competition ensured that almost everything and anything worked. It was as they say, "The good old days." However, today's orthodontic environment has extensive competition that demands more focused marketing. The good news is that you can still experience plenty of good days in your practice if you're prepared.
The Competition Explosion
Orthodontics is facing what I refer to in my seminars as "The Competition Explosion." Patients and parents have more options for orthodontic care than ever before. Expanding orthodontic providers include general dentists, stores that provide diagnosis and direct customers to a specific orthodontic office or DIY orthodontic program, and orthodontic DSOs. This is all just part of the reality of orthodontics today.
In the face of this mounting competition, practices must employ excellent marketing. In the "good old days," marketing was focused heavily on referring doctors but quickly morphed into a focus on patients. Patient referrals were strong enough that most orthodontic practices could grow to a reasonable level and maintain it simply by providing a minimal internal marketing effort. This is no longer sufficient.
We have identified the following FIVE FOCUS AREAS that must be addressed in any orthodontic marketing program today:
The Branded Patient Rewards and Referral Program
The Parent Ambassador Program
The Social Media Interface
The Referring Doctor Driver
The Community Full Awareness Program
This article will focus on marketing to parents using The Parent Ambassador Program.
The Parent Ambassador Program
[sidebar float="right" width="310″]

Five Ways to Increase Parent Referrals
Parents are a critical referral source for orthodontic practices. Here are five things you can do to increase referrals through your Parent Ambassador Program.
Design a program that creates a sense of belonging for parents. Most parents think of themselves as their child's chauffeur to your practice, not a vital part of your orthodontic family. By creating an actual program that engages parents, they will become bonded to the practice. Remember, the "Mommy Network" is almost as powerful as the Internet. Mothers spend lots of time with each other at their children's activities, schools, or sports events. They love to compare information and make recommendations. When presented with opportunities to receive rewards and opportunities for referring other parents to the practice, mothers are always happy to share with other moms.
Design a rewards program that is relevant to parents. Offer parents something exciting and positive if they refer to the practice. Since mothers are most often the ones bringing their kids to their appointments, engage them directly with opportunities to win manicures, spa days, or lunches. Keep in mind that while the request for referrals can be polite and subtle, it must be clear. If parents don't understand how they can win rewards through the parent ambassador program, then it will not occur to them to refer to the practice proactively.
Create consistent lottery or raffle opportunities for parents and promote them in the office and on social media. Lotteries and raffles are an excellent way to engage parents. When Southwest Airlines has problems with too many carry-on bags, they hold raffles to win $50 gift cards for anyone willing to check in their bag. Problem solved. The idea of winning a drawing can be an excellent motivator that works well in any environment, including your practice. Remember to display the pictures and/or names of your lottery and raffle winners in the office. This is a fun way to remind parents about your contests.
Include educational materials in the parent ambassador program. Parents always seek relevant health information about orthodontics, dentistry, medicine, and child development and often go out of their way to share it with friends. Don't miss this opportunity to reach other parents. Set a consistent schedule for distributing educational materials.
Don't forget that parents may need orthodontic treatment too. Provide incentives for parents interested in adult orthodontic treatment in the form of discounts, convenient appointments, five-star customer service, and a beautiful smile. You will be amazed by how many parents take advantage of an opportunity to have orthodontics at a discount because they are part of the parent ambassador club. And remember, parents having orthodontics refer other parents to have orthodontics.
Always keep in mind that most orthodontic referrals are from the parents. Focusing your marketing efforts on them will create a sense of belonging and go a long way toward increasing referrals. Use these five tips to help develop your practice's parent ambassador club. OP
 [/sidebar]
Most parents bring their kids to the orthodontist, wait for them to be done, pay a bill, and do it all over again 6 to 8 weeks later. Instead of feeling like they belong to the orthodontic practice, parents simply play the role of chauffeur and bill payer. This is a marketing fail.
Research indicates that most orthodontic referrals come from parents, so leaving them relegated to these roles is a missed opportunity to increase referrals.
The Parent Ambassador Program helps practices to engage with parents and guarantees that they will get the message that they're appreciated and that their family is an important part of the practice. This is particularly important for families with more than one child. All siblings of patients should be in your observation program. The earlier they enter the observation program, the more likely they will stay with you when and if they need orthodontic treatment. Parents who are bonded to the practice bring all of their children in for treatment.
It's also important to ensure that parents know that when they refer they will receive opportunities to be entered into lotteries, participate in contests, or receive thank you gifts. Parent gifts can include spa days, manicures, pedicures, sports tickets, restaurant gift cards, or free admission to community activities. The list can go on and on and is limited only by your imagination. Keep in mind that mothers bring kids to the orthodontic practice 80% of the time, so most "thank you" gifts should be focused on them.
Retrofit the Program to Your Practice
To retrofit a parent ambassador program into an existing practice, it's important to start with an announcement, have an excellent rollout plan, and continually publicize it to the parent population. The more they know about it, the more excited they will be. However, please keep in mind that this is only one of five areas that need to be addressed for a successful orthodontic marketing program. We've seen practices increase referrals by 20, 40, or even 100% by properly focusing on all five focus areas.
Summary
Parents are a critical component of referral marketing today. Practices that use the Parent Ambassador Program to help keep parents bonded to the practice will increase referrals. OP
[sidebar float="center" width="500″]

New Levin Group Program
We are pleased to announce the launch of the New Levin Group Orthodontic Marketing Program. This breakthrough program includes FIVE FOCUS AREAS—Patients, Parents, Social Media, Referring Doctors, and the Community.
Levin Group has been the leading orthodontic management and marketing consulting firm since 1985. We have worked with thousands of orthodontic practices.
If you would like to have a 30-minute discussion about your unique practice situation and how the New Levin Group Orthodontic Marketing Program can benefit you, please visit levingroup.com/orthodontic-marketing-program or contact Angela Pickett at [email protected].
 [/sidebar]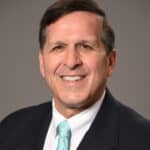 Roger P. Levin, DDS, is the CEO of Levin Group, a leading dental management consulting firm. Founded in 1985, Levin Group has worked with over 30,000 dental practices. Levin is one of the most sought-after speakers in dentistry and is a leading authority on dental practice success and sustainable growth. Through extensive research and cutting-edge innovation, Levin is a recognized expert on propelling practices into the top 10%. He has authored 65 books and over 4,000 articles on dental practice management and marketing. To contact Levin, visit levingroup.com or email [email protected].