Orthodontics is a complex clinical specialty. And running a busy orthodontic office can seem equally as complicated. However, understanding how to build a highly successful orthodontic practice is simple and basically comes down to two things—attracting new patients and closing cases.
New Patients and Case Acceptance
Getting new patients to show up at your office is an obvious goal of any orthodontic practice. At one point, this was all that was necessary for practice success. Orthodontic offices had more than their fair share of patients and enough of them would convert for treatment to make practices successful.
However, we are no longer in an era of large numbers of patients showing up and automatically accepting treatment. In fact, the number of parents and patients who are now shopping orthodontic offices—often to evaluate quality, customer service, and fees—is higher than ever before. This level of competition has made having an effective treatment coordinator who can close cases crucial.
Being a treatment coordinator has one objective and one objective only—sales. There's nothing else a treatment coordinator has to do to succeed in his or her job other than convert patients to treatment. Unfortunately in a recent study by the Levin Group Data Center, we found that 97% of all orthodontic treatment coordinators have no formal sales training. Selling orthodontic services requires proper training paired with the following attributes and strategies:
Great personality
Very likable and likes people
Can develop relationships quickly
Scripting to explain orthodontics and promote the office
A step-by-step process to walk parents and patients through the orthodontics sales process towards case acceptance
While there are other factors that are critical for the success of orthodontic treatment coordinators, these are the major ones. The key is to find the right person who will promote the practice, explain the benefits, excite parents and patients, and create the proper motivation to close the case. Some orthodontists believe that because they are doctors that they are better at this than treatment coordinators. This belief is based on ego rather than data. Successful orthodontic offices have a treatment coordinator that can handle 90% of the sales and closing process, leaving the orthodontist to do what they do best, provide excellent clinical care.
Having a close rate at the 90% level is a strong indication that your treatment coordinator is performing effectively. Too many offices simply acquire a large number of new potential patients and expect their practices to do well. Today it's critical for practices to have both a healthy influx of new patients and a high close rate. This is a formula that virtually guarantees success and is an attainable goal for any practice. OP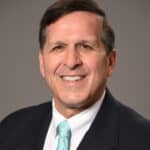 Roger P. Levin, DDS, is a third-generation general dentist and the founder and CEO of Levin Group Inc, an orthodontic management and marketing consulting firm that has worked with thousands of orthodontic practices. Levin, an internationally-known practice management speaker, has written 65 books and over 4,300 articles. He is also the executive founder of Dental Business Study Clubs—Dentistry's only All-Business Study Clubs, the next generation of dental business education.