Christopher Cetta, DMD, co-inventor of Precision Aligner Buttons and host of The Illuminate Orthodontic Podcast, on what it takes to bring an orthodontic product to market
By Greg Thompson | Photography by Ryan McGibbeny
Have a listen to The Illuminate Orthodontic Podcast and the words "infectious enthusiasm" immediately come to mind. Host Christopher Cetta, DMD, uses the platform to focus on innovators and inventors within the orthodontic profession, and every conversation is infused with a spirit of collegiality.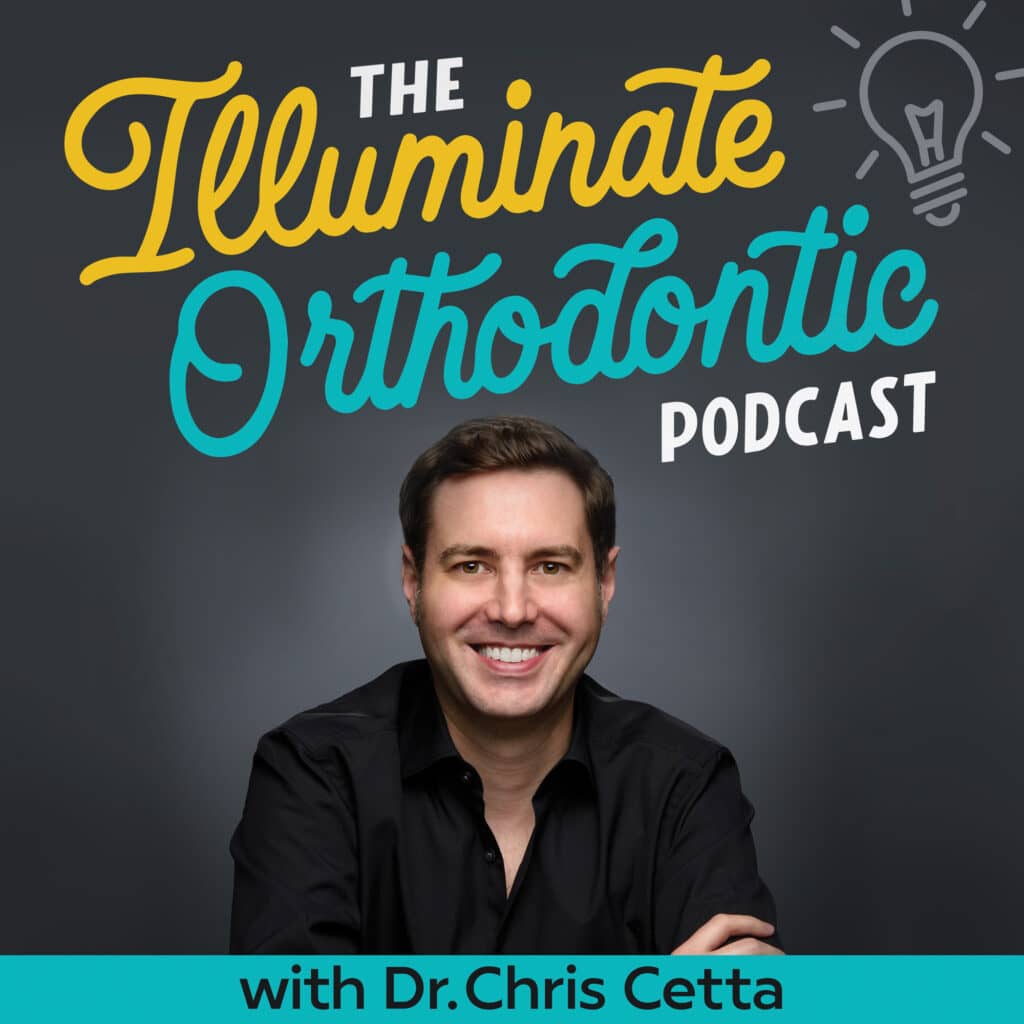 As the co-inventor of Precision Aligner Buttons with DynaFlex, Cetta might be tempted to view his esteemed guests as competitors of a sort, but that is far from his philosophy. Instead there is a genuine curiosity in Cetta's approach and an undeniable admiration for the creativity of colleagues who have managed to create something new to benefit the profession.
Cetta revels in the stories behind inventions from orthodontists such as Brandon Owen, DDS; Tito Norris, DDS; and Bryan Lockhart, DDS. Other innovative practitioners on the guest list have included: David Sarver, DDS; David Paquette, DDS; and Ben Fishbein, DDS.
"I really wanted to touch on not only their successes but their failures too, and what they've learned from their setbacks," says Cetta, an associate practitioner at Blue Wave Orthodontics in Bradenton and Tampa, Fla. "All entrepreneurs go through wins and losses. It's how you bounce back from those losses and how you push forward that determines how successful you truly are."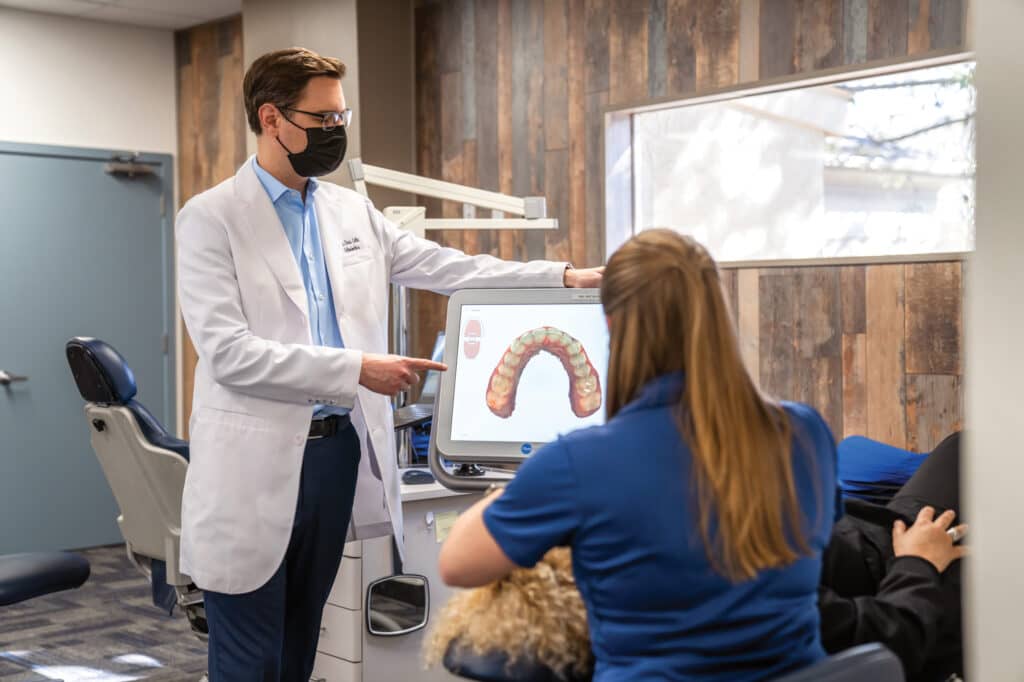 The Development Process
Cetta experienced the ups and downs firsthand during the development process for his Precision Aligner Buttons, the first bondable buttons created specifically for clear aligners. Now that Precision Aligner Buttons are being used by orthodontists throughout the world, it's almost hard to imagine the sheer amount of effort it took to get from drawing board to final product.
The idea first percolated in 2016 when Cetta was practicing with Richard Kaye, DDS. "I was doing a lot of Invisalign, and we were having frequent emergency visits where patients were coming back with broken attachments from wearing their rubber bands," he says. "Parents were not happy about pulling their kids out of school and adult patients were frustrated to be missing work."
At the time, most orthodontists were using round lingual buttons or bondable molar tubes to attach the elastic bands to the aligners. However, Cetta reasoned these parts were created for braces and were never intended to be bonded to the molar at the gumline, as was required for aligners.
---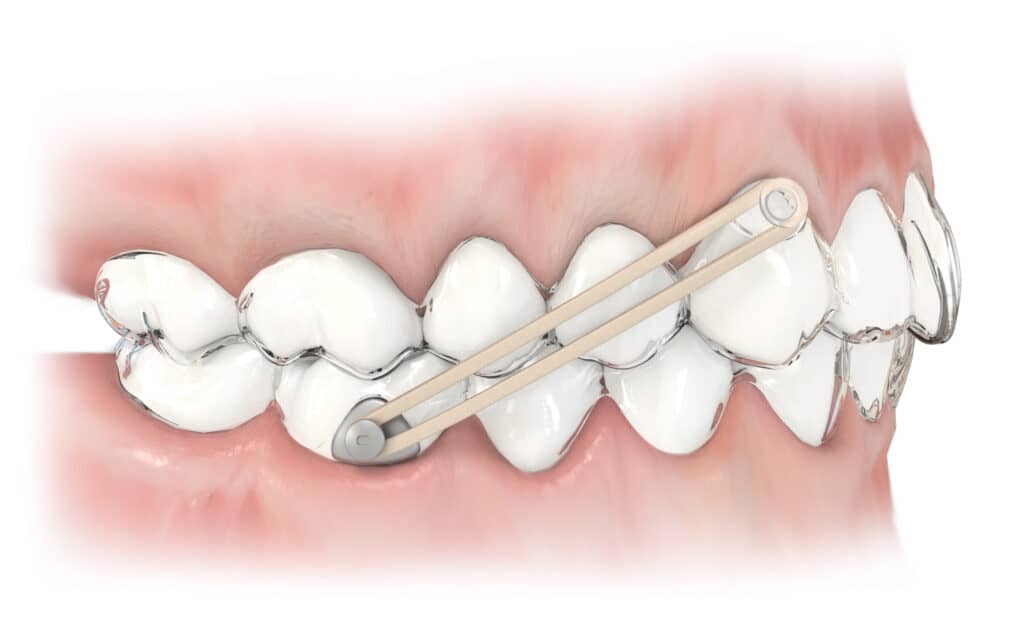 ---
Presented with a clear problem, Cetta sought an equally clear solution, and it's one that piggybacks on existing infrastructure. "It came to me one day," he says. "With Invisalign there are cutout windows in the plastic aligners for attaching the buttons to the teeth. I turned to Dr Kaye and said, 'What if there were a button that fit inside these semi-circle cutout windows just like a puzzle piece?' I clearly envisioned it."
Kaye thought it was an amazing idea, because by tailoring the button for the cutout window, "The part would be designed for that portion of the molar, and also you could make the base larger." Cetta adds, "The more surface area you have, the stronger the bond strength to the tooth."
Kaye encouraged Cetta to run with the idea, but the admonition was easier said than done. At the time, Cetta was practicing 5 to 6 days per week, trying to pay back his student loans, and driving all over the state of New Jersey.
Each week that Cetta worked in Kaye's practice, he would follow-up on the idea. With Cetta's busy schedule, they eventually decided to partner to bring the concept to fruition. After shaking hands, the two immediately thought What do we do now? They had a concept but no clue how to bring it to market. Cetta recalls thinking "Do we bring the idea to an orthodontic product supplier? But what if they steal our idea?"
Opting for Licensing
Not knowing any colleagues who invented an orthodontic product, Cetta went on Amazon.com and came across a best-selling book on inventing called One Simple Idea by Stephen Key. The book particularly focused on how to license ideas to companies in exchange for a royalty payment. "This was fortuitous," Cetta says, "because licensing is in many ways the simplest pathway to bring a product idea to market."
It turns out the author also had a consulting service that Cetta and Kaye eventually enrolled in. This inventRight program walked them through the process with a step-by-step approach. Cetta is convinced that "Had we not done that, we probably would have quit along the way because of the challenges."
Their initial challenge was finding an engineer who could grasp the dental component and be able to create a product rendering. Folksy drawings on cocktail napkins may indeed fuel major concepts, but precision dental products require highly detailed presentations.
After an extensive online search, they found someone to do the job, which led to the filing of a provisional patent application. The provisional affords inventors one year of patent-pending status to pitch their ideas to companies. A full utility patent could cost $15K to $20K in legal fees, so this provisional patent approach was more economically feasible.
"At the time we were calling them 'Aligner Buttons' and we wanted to pitch the largest players," Cetta remembers. "While the companies thought it was a novel solution, most of them ultimately passed. The bracket manufacturers were unsure about the potential market for the product and the aligner manufacturers weren't doing any metal injection molding, so it wasn't in their wheelhouse."
After a series of rejections, a smaller orthodontic supplier called MidAtlantic Ortho (MAO) said yes, and Cetta and Kaye signed a licensing deal. Was it finally time to pop the champagne cork and watch the money roll in? As it turns out, far from it.
The Manufacturing Know-How
"When it came time to make the buttons, we assumed the company would have all the manufacturing know-how," Cetta says. "It turns out they didn't have the shape of the molars along the gumline since no one had developed a part for that surface before. We also didn't have the specs for the cutout windows in the aligners." With a provisional patent and licensing deal in hand, they suddenly faced a major roadblock jeopardizing the future of their product.
As luck prevailed, Cetta mentioned his invention to his family at a Christmas gathering. It turns out his cousin's husband was an aerospace engineer and designed parts for airplanes. They chatted about the intended part and he said, "Oh yeah, I can easily reverse engineer that for you."
With enthusiasm renewed, Cetta gathered sample aligners with the corresponding 3D printed teeth and digitized them using an intraoral scanner. The engineer was indeed able to reverse engineer the surface and helped finalize the CAD design.
---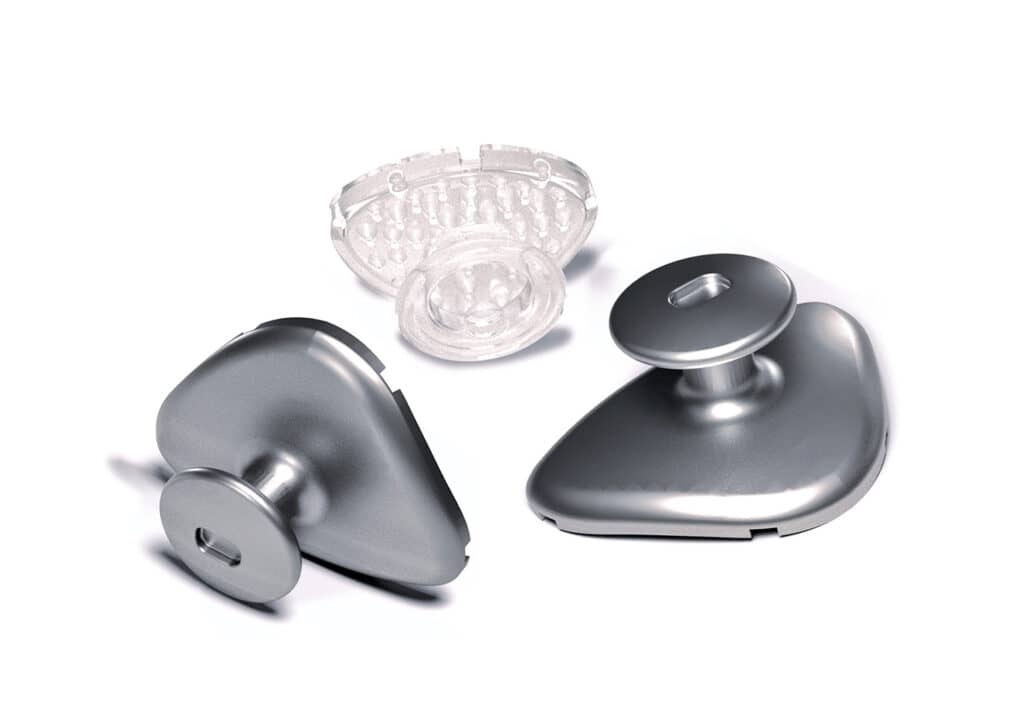 ---
Precision Aligner Buttons were ultimately launched at the 2018 American Association of Orthodontists (AAO) meeting in Washington, DC. In 2019, DynaFlex acquired MidAtlantic Ortho and has continued to work with Cetta and Kaye on expanding the Precision Aligner Buttons line, including a clear Precision Button for canines and premolars.
Those who think the buttons can only be used with Invisalign aligners are mistaken. Cetta confirms that they are indeed compatible with most major aligners and even "in-house" fabricated aligners. The buttons can even be used without aligners for applications such as lingual braces.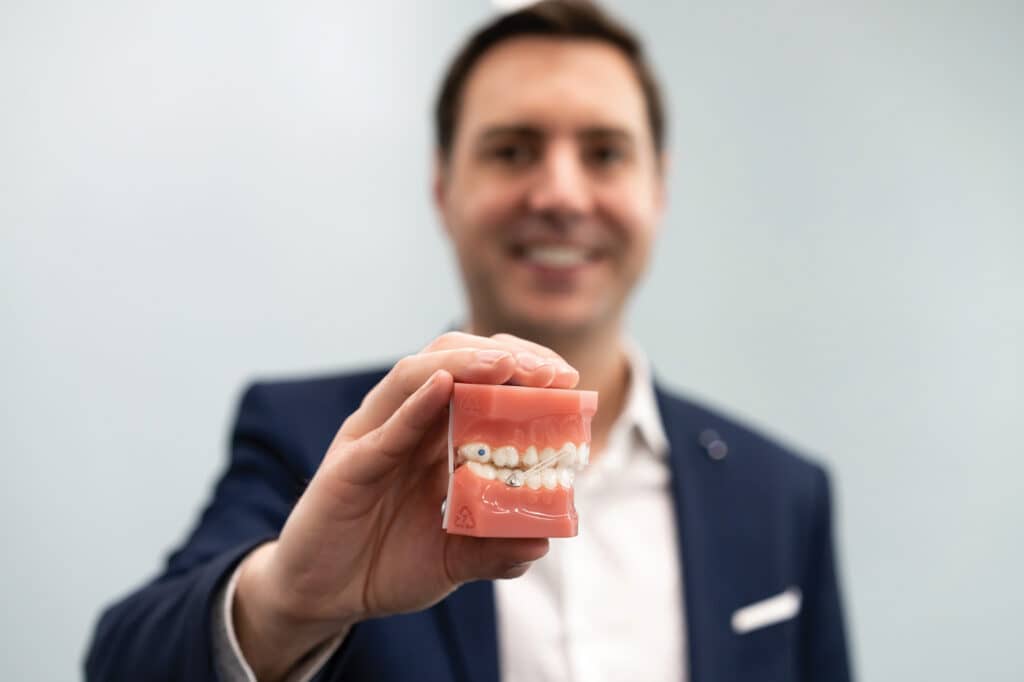 The Level of Risk, Reward, and Time
While several orthodontists have taken the start-up approach for new ideas, Cetta chose the path of licensing to an existing orthodontic company. While there are pros and cons to each approach, most of those variables center on risk, reward, and time allocation.
If he had cut back his clinical duties to start a new company, more money may have been in the offing, as would the prospect of losing money. "Licensing is certainly a safer approach," Cetta confirms. "Worse-case scenario, if the product doesn't sell, you're not really losing money except for your patent investment. Orthodontic suppliers often have manufacturing knowledge, and you are able to benefit from their established sales force and existing networks."
On the other hand, "handing over your baby" to an orthodontic supplier naturally means giving up a measure of control in the marketing, and even in the look of the final product and packaging. That said, do you want to answer to investors if you go the start-up route? Do you want to considerably cut into your chairside time as a practicing orthodontist? "These are decisions you need to make," Cetta cautions. "If you can't stand the thought of others deciding on many aspects of your invention, you probably don't want to go the licensing route."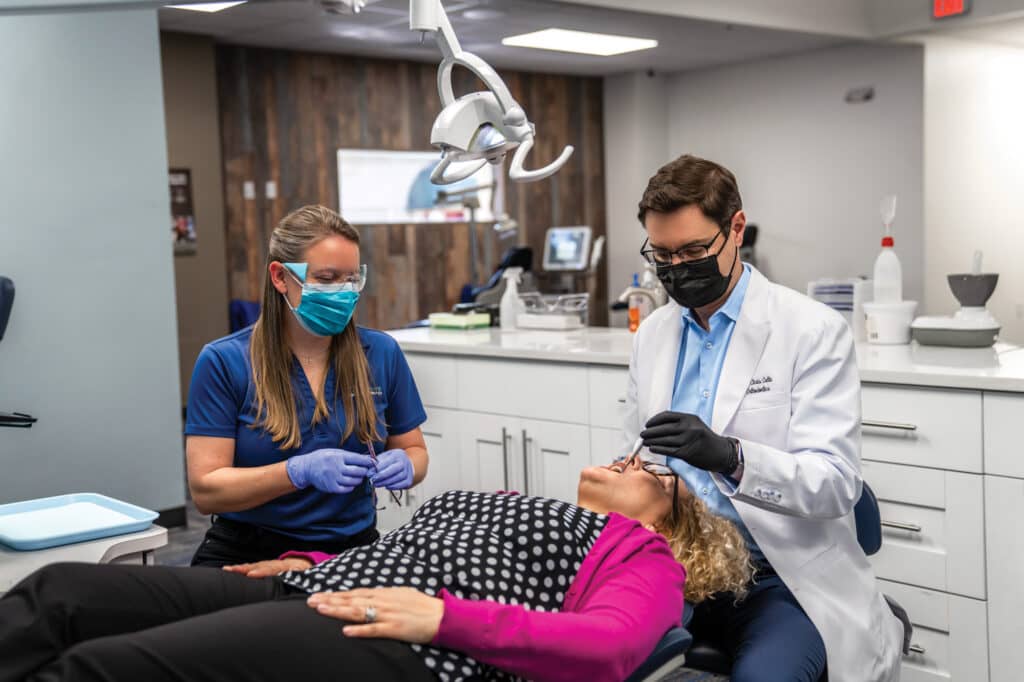 Health Care in the Blood
Considering that the invention has coincided with clinical practice and his podcasts (with all interviews done in-person, by the way), it's been an incredibly busy few years. If that weren't enough, Cetta has also been playing bass guitar for the all-orthodontist group, Relapse. The cover band is scheduled to perform the Opening Ceremonies at the AAO Annual Session in Boston, scheduled for June 25 to 27, 2021.
With a grandfather who was an anesthesiologist (and served in that capacity during WW II), and a father who practiced as an ophthalmologist, it's safe to say that health care runs in the family. After growing up in New Jersey, Cetta traveled south to earn a biology degree at Wake Forest University in North Carolina. From there he headed back to the Garden State to the University of Medicine and Dentistry (now Rutgers School of Dental Medicine) to earn his DMD.
After practicing general dentistry for a few years in New Jersey, Cetta pondered a career switch to orthodontics—a move that would admittedly take time and expense. Looking back on it, he has no regrets. "I have always loved orthodontics," he confesses. "I loved that patients were excited to come in and I could see a transformation as their self-confidence improved."
Orthodontic training at Jacksonville University gave Cetta a taste of the Florida Life, and by the time he got married in 2016, the appeal of warm weather, less traffic, and lower taxes had been planted in his mind. In 2018, Cetta and his wife took the plunge and relocated from their native New Jersey to St Petersburg, Fla.
These days, the future is bright with hopes to start a practice and a family. Ultimately for Cetta, the key to a satisfying life and career remains the pursuit of creativity—whether in music, inventions, or in the clinical work of orthodontics.
With a combination of luck and hard work, he hopes to build on his already considerable success, while also using his podcast to interview innovators and inspire others through their success stories. "There are plenty of times where you're ramming your head against the wall," Cetta says. "If you give up during those times, you'll never make it through to the other side. The orthodontists who I interview on The Illuminate Orthodontic Podcast know what it's like to overcome adversity, and much can be learned from their career journeys." OP
Greg Thompson is a freelance writer for Orthodontic Products.