In the last decade, Jonathan L. Nicozisis, DMD, MS, has sat front row to watch clear aligner and intraoral scanning technology converge and taken the resulting digital workflow to increase patient engagement, new patient starts, and staff efficiency in his practice.
By Greg Thompson | Photography by Tamara Gillon
Jonathan L. Nicozisis, DMD, MS, grew up in the retail business where he watched his family work long hours in service of a successful carpet and flooring venture. In pondering his own career, he longed for a bit more serenity in an environment where pleasing consumers mirrored the retail experience.
"My experience growing up and working in my family's business has shaped how I deliver orthodontic care," says Nicozisis, owner of Princeton Orthodontics in Princeton, NJ, and West Windsor Orthodontics, West Windsor, NJ, two separate business entities with the same staff. "I like to pair what consumers desire with my orthodontic acumen. Invisalign clear aligner therapy and the Align digital workflow with iTero scanners has been a natural extension of what shaped my experience in retail."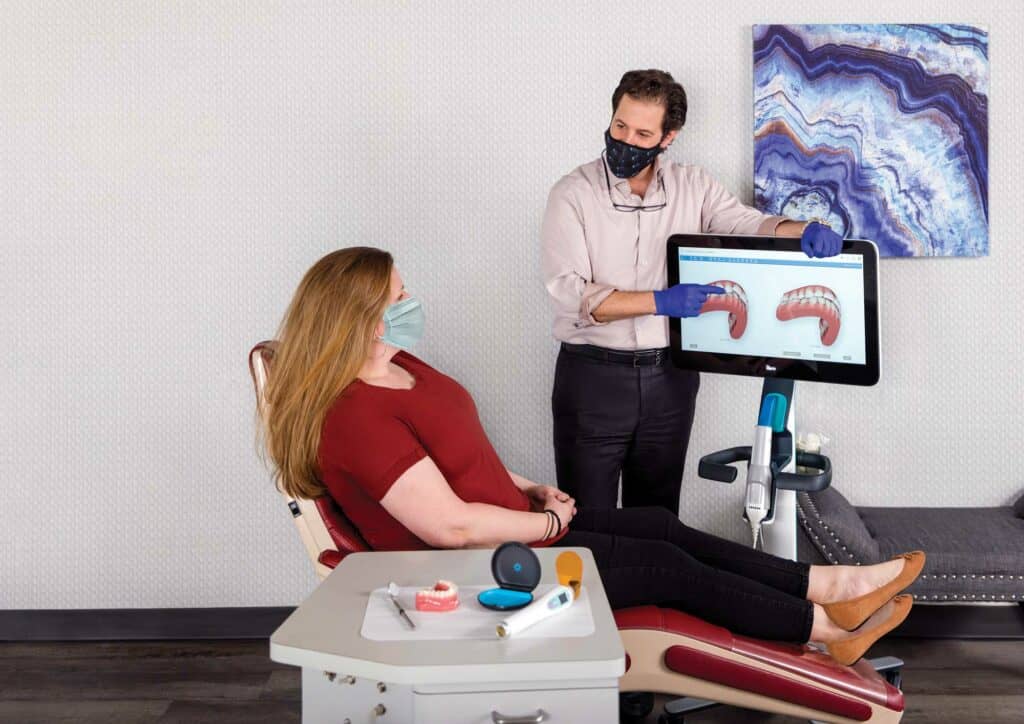 Early on in his career, Nicozisis established a relationship with Align Technology Inc, the company that produces the Invisalign clear aligner system, iTero intraoral scanners, and exocad CAD/CAM software for digital orthodontics. "You have to be able to know what your market is, what they want, and address that," he says. "In some cases, you are able to be an early adopter and create a space that didn't previously exist."
Nicozisis is "definitely" an early adopter of technology, but he's often gone beyond that and created his own new approaches. For example, an aligner removal tool he invented in the early 2000s has been commercially sold since 2003. His experience raising two rounds of venture capital funding to take his master's thesis idea to actual potential therapeutic application gave him an appreciation of all that is involved in product investment and development. Prior to that, when the paradigm shift toward aligners was in its infancy, Nicozisis was firmly on board.
"I was an early adopter using aligners and I was frequently in the weeds learning how to do orthodontics with Invisalign aligners well before the optimized attachments and generational improvements that we have enjoyed over the last many years," he remembers. "Other colleagues really loathed the idea of aligner treatment. They said, 'Aligners can't move roots. They're too expensive.' We still hear echoes of that 2003 mindset from time to time, but it certainly has changed from the wild west days in orthodontics from 2000 to 2009."
New attachments, movement staging, and even materials have changed with Nicozisis calling today's foundational plastic "far superior to that of the first 10 years." Scanning technology progressed hand-in-hand with aligners, creating a new digital workflow never experienced before in orthodontics. Nicozisis followed every step as these seemingly unrelated technologies converged, eventually forging a bold path forward.
Nicozisis bought his first digital scanner from Align, calling it one of the turning points in his private practice career. In fact, he was a beta tester for a new generation scanner called iTero Element. He even hosted the iTero Element team at his office where they recorded his "unboxing" of the unit, which was manufactured in Israel.
"I saw a big uptick in Invisalign starts," he says, "not only because of consumer awareness, but I was really leveraging my local market demands by addressing the consumers' desire of straightening teeth without the use of braces. The whole digital workflow with a scanner was really a huge inflection point."
Today, the latest in the Invisalign and iTero ecosystem of digital workflow assets helps with patient visualization, specifically using the Invisalign Photo Uploader app (or the Invisalign Outcome Simulator on the iTero Element scanner) to predict patient smiles during treatment planning. The latest iTero Workflow helps doctors communicate with patients via the iTero Scan Report and Snapshot tool.
Nicozisis explains, "You develop these reports on the MyiTero.com portal where you can capture images, annotate on them, and share them with your referring office and/or the patient. This stimulates engagement and potentially case acceptance." An upcoming software improvement is the iTero Element 5D auto-upload functionality. The scanned images are automatically uploaded to the Invisalign Doctor Site and the doctor may then select those images to add to the Invisalign prescription.
This upcoming feature combines the Invisalign Photo Uploader to capture the patient's extraoral photos with the scans of the patient. "And then when you start your prescription, those intraoral photos are automatically uploaded," Nicozisis says. "You've gone from over eight steps down to four steps in your workflow. That's impactful and transformative. That is something I'm looking forward to using. That will really set iTero and the digital platform apart from other manufacturers."
The scanner is helpful, but the human element still counts for a lot. "The scanner has very little to do with that 85% to 90% aligner percentage, rather it is the doctor's acumen and commitment to learning how to do orthodontics with aligners," Nicozisis says. "Having a scanner in the new patient exam room where my staff scans everybody before I even walk into the room has really been a game changer for new patient engagement and education, and now the ability to communicate with them. I have three iTero scanners in my main office and two in my satellite office, and I have one in a pediatric dentist office, which is a whole other new business model I crafted a few years ago."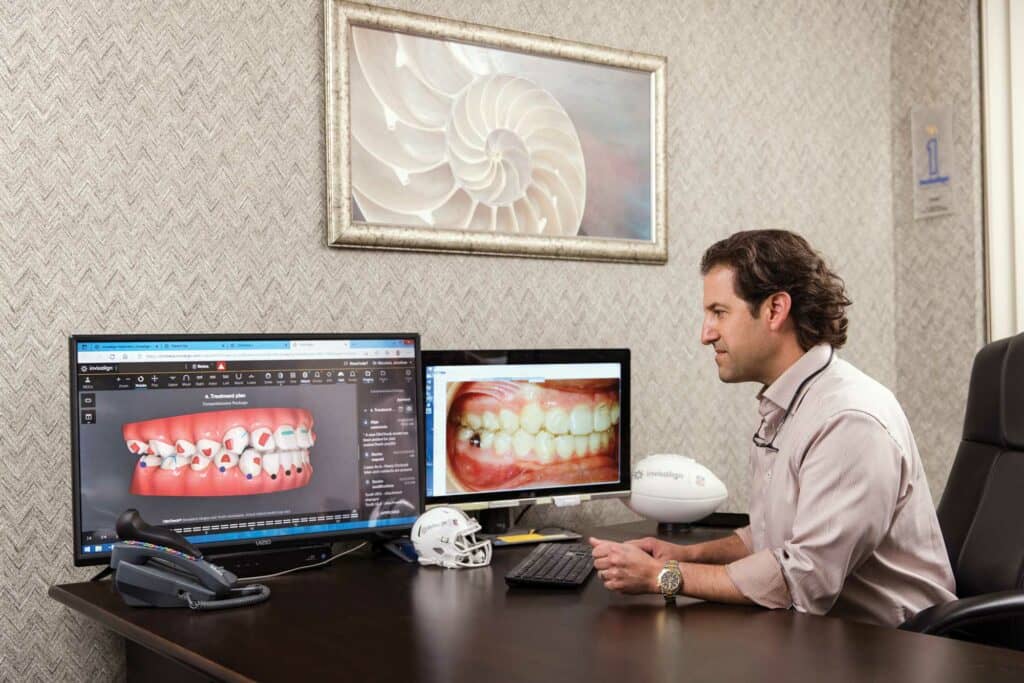 Inspiration And Efficiency
Nicozisis earned an undergraduate biology degree at Lehigh University, choosing the Bethlehem, Pa-based school for its accelerated pre-dental program where he only spent 3 years in college. From there it was the University of Pennsylvania for dental school, ultimately graduating in 1997. An orthodontic residency at Temple University followed, and since then Nicozisis has been avidly "saving the world from crooked teeth ever since."
Finishing up an orthodontic residency at the turn of the century meant a lot of new technology was flowing to the profession. While much of it worked well, patients and parents did not always embrace every idea. At one point, Nicozisis helped a start-up technology company develop a microchip designed to be imbedded in retainers to monitor compliance. Why did it fail?
"Orthodontists did not want to spend the extra money incorporating this into a retainer, nor did they feel they could pass along the costs to patients or parents," Nicozisis muses. "Many parents were very concerned about putting computer technology inside the mouth so close to the brain. I had a lot of push back from parents who feared long-term effects…I chalked that up to the law of unintended consequences."
Instead of pulling back from new ideas, the experience sparked a renewed commitment to research and development—particularly in the areas of efficient work flow and better patient care.
"When it comes to deciding what new technology to buy or what vendors to partner with, I first and foremost think about quality, because I'm not rich enough to buy cheap things," Nicozisis says. "My workflow is centered on patient engagement and delivering care with fewer staff members, which allows me to not have to replace staff when we have had attrition. When it comes to deciding on manufacturers, I look for those that reach out to the consumer, to the public, and make them aware of orthodontics in general."
For those who believe the iTero digital workflow is expensive, Nicozisis contends they are failing to see the complete picture. "Prior to getting my first iTero scanner, I was doing less than 80 new Invisalign cases a year and spending $1,300 to $1,500 a month on impression material," he shares. "Now I am doing five times the number of new cases [half adult, half children] each year. With financing available for the scanner, this investment really makes sense."
For those who are committed to transitioning an analog practice to a digital practice, it's a great way to reduce capital expenses while at the same time growing the practice. Align also fits the bill of "practice partner" by raising consumer awareness with ad campaigns that have tangible effects. 3D printing and in-house aligners are fine for some practitioners, but Nicozisis maintains that those capabilities do nothing to actually drive consumers to the practice. What's more, scalability and staffing are still challenging, and Nicozisis admits: "The backwards integration of manufacturing on a large scale in a private practice setting makes little sense to me."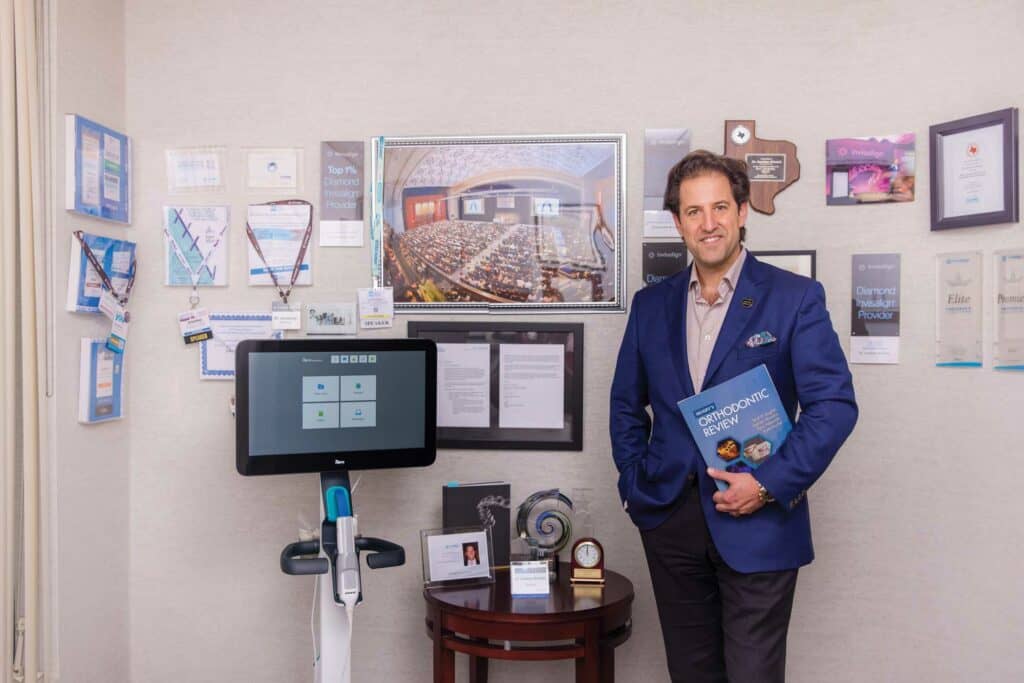 Now more than two decades into a thriving practice that sees a healthy amount of new starts, Nicozisis appreciates the hard-won efficiencies of a well-oiled practice, but more than anything he enjoys giving back to the profession through education. Since 2017, that has taken the form of The Aligner Intensive Fellowship, a convenient online course he co-developed.
"Being able to help educate my ortho colleagues about aligners has truly been the most rewarding aspect of my career," Nicozisis enthuses. "Being able to empower more than 3,300 orthodontists and orthodontic residents globally on how to deliver orthodontic care with aligners is something I never envisioned 21 years ago. Doing so via a digital platform has allowed me to share my experiences in a convenient and impactful way…and we have helped change offices, reinvigorate careers, and best position new graduates with the knowledge they need in a market place that did not exist when I graduated. It all leads back to optimal patient care, treatment outcomes, creating beautiful smiles, and making patients feel great about themselves—because the patient is what it's always about."
Ultimately, taking risks with technology and practice philosophy can be a little scary, but Nicozisis continues to put himself in situations where good things are likely to happen. He puts it this way: "This philosophy is best exemplified in the book The Medici Effect by Frans Johansson. He goes through history to evaluate seemingly unrelated technologies and ideas that combine to create something that did not exist before. The impact of Align Technology and the iTero scanner in orthodontics are modern day examples of the Medici Effect in real time. I like to think I have had a hand in contributing to these intersectional ideas during my 21-year career." OP
Greg Thompson is a freelance writer for Orthodontic Products.