"Why not?"
It's a simple enough question, but for Tim Dumore, DMD, MS, of Dr Dumore & Team Orthodontics, Winnipeg, Manitoba, Canada, those two simple words have proven to be life-changing; not only for himself, but for countless others.
In many ways, the simplicity of the phrase is what led Dumore to the field of orthodontics.
After completing dental school at the University of Manitoba, he served 4 years in the Canadian Army, working as a general dentist for the Royal Canadian Dental Corps. While stationed at an Air Force base in Cold Lake, Alberta, Dumore honed his skills in all aspects of general dentistry, which included cleanings, fillings, and oral surgery. In one instance, he came upon a particularly troubling case and consulted the only orthodontist on the base.
"I said, 'Look, you have to help this guy. The military doesn't have the budget for the type of work he needs right now, and he can't afford to pay for orthodontics,'" Dumore recalls. "The man's teeth were in a terrible state, and he needed help."
[sidebar float="right" width="250″]
Practice Profile
Practice Name: Dr Tim Dumore & Team
Location: Winnipeg, Manitoba, Canada
Office square footage: 4,400
Number chairs: Two treatment coordinator chairs; two records chairs; six clinical chairs
Years in practice: 15
Education: DMD, BSc, MSc—University of Manitoba; Orthodontic residency—University of California, San Francisco; FRCD(C); Diplomate ABO
Average patients per day: 70
Starts per year: 400
Days worked per week: 4
Website: drdumore.com
[/sidebar]
In a serendipitous move, the orthodontist suggested Dumore perform the treatment. "He said, 'I'll supply you with all the equipment you'll need, and I'll mentor you throughout the process,'" Dumore notes. "My thought at the time was, why not?"
Working closely with the orthodontist on base, Dumore was able to help the patient. And, before his 4-year tour was completed at Cold Lake, he was also able to treat more than 20 other troops who needed orthodontic care.
"At some point, it occurred to me that orthodontics wouldn't be a bad way to make a living," Dumore explains. "The experiences I gained working in Cold Lake inspired me to apply to orthodontics school."
In 1998, he completed his orthodontic residency at the University of California, San Francisco. In 2000, Dumore opened his current office in Winnipeg.
"I really enjoyed the variety of general dentistry, but the difference is that with orthodontics, people can see the results of what you do, and it makes them happy," he explains. "It sounds clichéd, but it's true. As orthodontists, we all have those cases where people tell us how treatment has changed their lives."
Recently, Dumore was presented with just such a case. "I had a patient request a meeting in the records room. I was worried the patient wanted to speak to me in private about a complaint," he explains. "But, it turned out she wanted to show me her wedding pictures. The patient had been married the previous week in Vegas and attributed meeting her husband to a stronger sense of self-confidence after having gone through orthodontic treatment at our practice.
"This is one in many instances that I've thought, 'Having orthodontics as a career; I can't imagine a better job on Earth. It changes people's lives.'"
The Decision of a Lifetime
While in dental school at the University of Manitoba, Dumore and several classmates continually brought up the idea of doing a mission trip. The main objective of the trip would be to provide dental care to people who needed it the most.
"Years went by and finally one of our friends, who is now a dentist, met a representative from the Mondetta Charitable Foundation (MCF).
The MCF operates as a separate entity from the Mondetta Clothing Company, which is based in Winnipeg and provides casual clothing and sportswear throughout Canada. The MCF was established in 2004, and is a benefactor to the Kamwokya Primary School in Kampala, Uganda. The organization states that, "At this school, children who have lost their parents to AIDS or violence receive an education that would otherwise not be possible."
When the MCF proposed the idea of providing general dental care to children at the Kamwokya School, Dumore and his former classmates responded with a unanimous, "Why not?"
"With that, we set upon planning our dental drip. Our team of professionals included a periodontist, three dentists—one of whom focuses her practice on pediatric dentistry—a hygienist, an assistant, and me," Dumore recalls. "The five physicians also brought our families, so there were 30 people total who traveled more than 30 hours from Winnipeg to Kampala, Uganda."
As Dumore explains, the planning and logistics of the trip were relatively seamless. He and the four other doctors worked closely with the MCF for nearly 9 months to plan, organize, fundraise, and send equipment to Uganda.
"We received a lot of assistance from our personal communities, as well as from the orthodontic community," he says. "For example, Henry Schein donated a lot of great equipment that made it possible to provide more advanced treatment to the kids there."
Working with the MCF and utilizing the foundation's shipping logistics that were already in place, Dumore and the team were able to send an entire container full of dental equipment that included chairs and compressors.
"Oftentimes on mission trips, you tend to limit yourself to extractions. But, because we had generators, functioning chairs, compression systems, and suction, we were able to do a lot more," Dumore explains.
Before the team arrived in Kampala, they set some goals regarding what they wanted to accomplish in the 6 days that they planned to provide treatment. "When we were there in 2012, there were 1,400 kids at the school," Dumore notes. "Before we left Canada, we tried to make a guess of how many kids we were going to be able to see. Without knowing what we were getting into, we guessed we'd be able to see 600 or 700 patients."
Weeks before the team's arrival, Dumore and his team asked the teachers at the school to triage students based on their dental needs. They wanted to know ahead of time who had toothaches and who had more pressing oral hygiene issues, such as cavities and visible decay. Knowing that there were more than 100 kids in each classroom, and that they only had a limited time at the school, the team wanted to make sure they could provide care for as many of the children at Kamwokya Primary School as possible.
And the Work Begins
As Dumore explains, the extent of work that needed to be done at the Kamwokya School was realized upon the team's first day. "When we woke that morning in Kampala and took the 3-mile bus ride from the hotel to Kamwokya to set up the clinic, we noticed, as we got closer to the school, that the area started to get increasingly destitute," Dumore recalls. "The school is surrounded by a slum where there are a lot of tin roofs and a lot of squalor. It was heartbreaking to see that these people have absolutely nothing."
Setting up the clinic in a large classroom, generators and compression units were positioned outside while specialized tubing ran inside to connect with the mobile dental carts. It wasn't long before the team was ready and started seeing patients.
"The kids that we saw were the worst cases," Dumore says. "We did treatment for 6 days, and some of the students we saw ended up needing three or four appointments. As an orthodontist, I did some fillings, but for the most part, I did a lot of diagnosis, as well as anesthetics for the patients. I also did a lot of extractions, based on my experience in the military extracting teeth."
Before the trip began, the team had a goal of treating 600 to 700 students. However, it was quickly realized that they would come nowhere near that number.
"The hardest day was halfway through the trip when we realized we weren't seeing nearly as many kids as we initially thought we would," Dumore recalls. "But, then we realized, also, that for the kids we were seeing, we were making a big difference. Many of the patients we saw had teeth that were completely rotten. These kids had been living with these ailments until we arrived and could help."
[sidebar float="right" width="300″]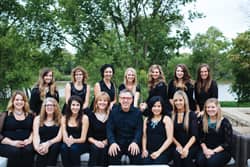 Helping the Next Generation of Learners
In 2014, Dumore & Team Orthodontics, Winnipeg, Manitoba, initiated the practice's Senior Student Scholarship as a way to supplement the education of present and past patients.
"We talked about it for a while with our patients, and finally one of them said, 'Look! You've been talking about this for a couple of years. Are you going to do it or not?'," explains Tim Dumore, DMD, MS. "I spoke with the office team, and we all decided, Why not?"
As a result, the team decided on an application process that invited present and former orthodontic patients who were entering college to receive a one-time, $500 scholarship. "Each year, we choose two individuals who best responded to the essay question posed," Dumore says.
For the 2015 entries, the question simply asked: What does a smile mean to you?
"When you ask a question like this to patients, you have your own assumptions on what the responses will be," Dumore notes. "But, to read each response, it's a rewarding experience."
According to Dumore, one of the winners this year mentioned how she was quiet by nature and considered herself, "…one of those people who you would never notice in a room." However, in her essay submission, she notes that having straight teeth gave her a new sense of confidence and has allowed her to develop new friendships in school, which ultimately led her to apply to college.
"We do this as a way to say 'thank you' to our patients," Dumore says. "We sometimes forget how much a nice smile means to people. We tend to show up to work every day and do our thing. But, at some point, we have to stop and realize, it's a big deal. What we do really does change people's lives."
[/sidebar]After 6 days of intense work, Dumore and his team were able to see 250 appointments, many of which were seen multiple times.
"I thought I knew what poor meant until we went there," he says. "For a lot of these kids, if you have a toothache, the prospects of getting it fixed are remote. Oftentimes, these kids just have to live with it. So, it was a great experience to be able to help from that perspective."
It's been 3 years since the Kampala trip, and Dumore is adamant about a return visit. "We left all of our equipment at the school because we have the full intention of returning," he notes.
In the interim since his departure, Dumore has been a vocal advocate for spreading the word on how much work is still to be done, and how other orthodontic professionals can help.
"We intend to go back to the Kamwokya School, but my teammates and I all agreed that we want to spend more time doing preventative work; teaching kids about how cavities form and what they can do to prevent them, because it's going to be a longer-lasting legacy than the individual work that we do," he adds.
Currently, Dumore plans to return to Uganda and to the Kamwokya School to celebrate the inauguration of the facility's new library, playground, and kitchen, which, according to the MCF, maintains a feeding program that has served more than 2 million meals to date.
While in Kampala, Dumore will also celebrate the school's addition of nine classrooms, which have been built to accommodate the growing student body. "When we arrived in 2012, there were 1,400 students. To date, there are 1,700 students and counting," he says.
"There are plenty of orthodontists out there who have big hearts and who would like to continue helping people in need." Dumore says. "To them I say: A cause such as this is a great outlet to focus that energy."
Three years after Dumore left Uganda, the memories of his experience are still fresh. "I've always been extremely grateful for what I have in North America, but while at Kamwokya, that experience made me even more grateful for what we all share," he says. "Traveling to Uganda and seeing a different perspective on life has certainly solidified, in my mind, how fortunate we all are. It's changed me to the extent that I continuously feel the need to give back. And, I encourage others to do so as well." OP
Lori Sichtermann is a freelance writer for Orthodontic Products. She can be reached at [email protected].
[sidebar float="center" width="500″]For additional information on supporting the Kamwokya Primary School:
Mondetta Charity Foundation: https://www.canadahelps.org/en/charities/mondetta-charity-foundation-inc/
The Mondetta World: http://mpgcliq.com/community/?p=1262  [/sidebar]