by Rich Smith
Meticulous scheduling helps Steve Astuto, DDS, MSD, keep a huge swath of Texas in braces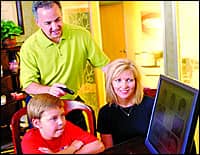 If a well-crafted scheduling strategy is worth its weight in gold to an orthodontist, then the time-management system employed by solo practitioner Steve Astuto, DDS, MSD, could easily qualify for its own special vault inside Fort Knox. It allows him to easily see up to 85 patients per day—right on time, every time—in any of four locations scattered across 120 miles of Texas Panhandle country.
What makes this scheduling strategy such a winner for Amarillo-based Astuto is its requirement that like activities be clustered in the same time block. "We structure appointments so that we're doing all at the same time similar procedures involving use of similar equipment and characterized by similar degrees of difficulty and risk," he says, offering by way of illustration that he might take a 90-minute block and book into it nothing but patients who need to have braces put on (typically, he can do four such cases in that period), or he may designate an hour exclusively for headgear or expansion-appliance checks (20 patients will be in and out during those 60 minutes). "This allows me to be mentally geared to doing this one thing during a specific time period. I'm not switching back and forth between different, dissimilar activities and having to stop and think for a minute, 'OK, what do I need to do next here?'
PRACTICE PROFILE
Name:
Steve Astuto, Orthodontist (dba Orthodontics of Amarillo)
Location:
Amarillo, Dalhart, Childress Hereford, Tex
Owner:
Steve Astuto, DDS, MSD
Specialty:
Orthodontics
Years in practice:
21
Patients per day:
80
Starts per year:
550 to 600
Days worked per week:
4
Office square footage:
4,698 (Amarillo), 2,000 (all others)
"Many orthodontists take the shotgun approach to scheduling—they'll have a banding going on in one chair while in another they have a retainer check, in a third they have brackets being put on, and in a fourth they're seeing a new patient or conducting a recall. You can't hit a productive stride if you go about it that way. Sure, you're busy the whole morning or afternoon, but you'll see far fewer patients than you could actually accommodate because of the lack of efficiency."
Built-in Flexibility
In addition to bunching similar activities together, Astuto also schedules easier tasks in the morning and again toward the end of the business day, while saving the difficult work for the early afternoon, when his concentration and energy levels are at their daily peak.
Although his scheduling system at first blush appears rigid, there is in fact enough flexibility to it that dissimilar activities can also be loaded in to accommodate whatever tasks need to be handled on any given day. "I might have, from 10:30 to 12:30, four major archwire cases—four every 30 minutes—but in that same period I also could be conducting four new-patient exams, a total of 16 patients," he says.
Astuto fills his schedule according to a monthly master calendar that he divides into weeks. "Weeks 1, 2, and 4 are scheduled first, and as heavily as possible," he explains. "Weeks 3 and 5 are scheduled next, and will be filled with cases we couldn't fit into the weeks 1, 2, and 4 schedule. However, the days of weeks 3 and 5 are designated as optionals, so if there aren't enough patients for a full schedule on any one of them, we'll see all of those patients in the morning, say, and be closed the rest of the day. Or, if there aren't enough patients for even a half day, we'll close the office for the entire day."
Those periods of being closed are not counted as wasted or lost time, however. Says Astuto, "We use that time to work on professional-development activities, such as catching up on continuing-education credits. Or the time might be spent instead attending to practice administrative chores."
Perfect Fit
Astuto's scheduling methodology gels perfectly with his satellite office plan, which finds him on one Tuesday in the city of Childress, Tex, then on the next in Dalhart, Tex, and back to Childress the Tuesday after that. (Every other Thursday, he spends half a day in Hereford, Tex).
Childress is the office farthest away from Amarillo (approximately 120 miles). Closer in are Dalhart (about 90 miles) and Hereford (45 miles). "What can I say? Texas is a huge state," he jokes. Actually, his choice of satellite locations is no matter of whimsy, but a sober nod to established practice patterns. Says Astuto, "All of the orthodontists in Amarillo have satellites in outlying towns, because smaller communities cannot support a full-time orthodontist of their own."
The 2-hour road trip to Childress customarily begins at 6:30 am, with Astuto and five assistants (plus one receptionist) convening at the Amarillo office. They gather up their travel kits (consisting of records, instruments, and supplies), clamber into Astuto's Chevy Suburban, and hit the highway. Until a few years ago, they flew to Childress aboard a chartered plane, but gave that up because of the expense and because weather woes too often kept their aircraft grounded. Since one can sing "99 Bottles of Beer on the Wall" only so many times on a trip of this duration before utter madness takes hold, Astuto prefers instead using the commute to listen to advanced clinical skills development tapes. "I've completed about 60 courses so far," says Astuto, who is board certified.
After the crew arrives at Childress, it takes 30 minutes to set up. "We see 80 patients, and we're home by 5 that afternoon," Astuto says, noting that prep times and case volumes are similar for the other two satellites. "Every patient we see at the satellites will have to be seen twice in Amarillo. The first time is to have x-rays and photos taken, as well as be given the diagnosis, have a consultation, complete the records, and receive spacers. The second time is a week later for the banding. This approach spares me the need to install imaging equipment at the satellites or to stock them with banding instruments and supplies."
Poshest of the Posh
All of the satellite offices are rented. The Dalhart and Childress units are situated in general dentistry offices, while the Hereford satellite resides in a dedicated orthodontic clinic. Each location measures approximately 2,000 square feet and is handsomely appointed, but none quite so posh as the Amarillo office, which occupies a new freestanding building that Astuto erected last October.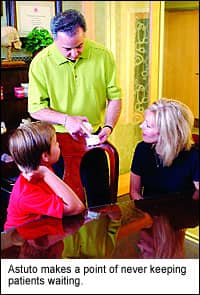 "The architecture and interior design of my Amarillo office is beautiful enough to have merited a spread in a local magazine," he beams. "The reception area looks like a living room at home. It has a working fireplace, elegant furniture. Dental reps have told me this is the nicest office they've ever been in."
Astuto says he is particularly pleased by the way the office flows. "It has a big, curved treatment room with eight chairs that surround an island workstation," he says. "The island has two computers, and these are what we use when we want to consult or update patient charts and images. The centrality of the workstation makes it very convenient and efficient; we've never had any logjams of assistants having to wait in line for a turn at one of the computers. It's a technology-deployment strategy that works as well as and for less money than the arrangement of having a computer terminal at every chair."
The Amarillo office includes an area where a limited amount of lab work is done. Says Astuto, "We do the models, some expansion appliances, and some retainers in-house, but we send out to a lab in Dallas our Hawley appliances and other items that require equipment and technical skills beyond what we choose to provide."
Need for Efficiency
As a treat for parents, Astuto has set up his office to double as an Internet cafÉ. "The entire office is a Wi-Fi hot spot," he says, "which means that moms and dads can come in with their laptops and go online without having to connect to any jacks in my walls. They can get work done while waiting for their kids. There is also an Internet and coffee bar in the reception area where parents, as well as kids, can check their e-mail, catch up on the news, or visit game sites."
Astuto didn't come up with the office design on his own—he hired an architect to take the vision he had developed over the course of 14 months and translate it into workable blueprints. "If I had not relied on an architect, I would have ended up with an OK office rather than the excellent one I have now," he contends. "One of the most important things the architect did was evaluate my concept from the perspective of each member of my staff with an eye toward what their individual daily tasks consisted of, so that he could specify features that would facilitate the performance of those tasks."
The Amarillo office project was something Astuto began contemplating in the early 2000s. Taking stock of his existing headquarters, it occurred to him that the nearly 30-year-old facility desperately needed modernizing. Astuto pondered the merits of remodeling, eventually scuppering the idea in favor of building an entirely new home for his practice. "I figured that, if I was going to be spending the next 10 to 15 years working here, it ought to be a place I feel excited about coming to in the morning," he says. "It would take a lot more than a remodel to get me feeling like that."
The Coolest Job
Astuto's journey to a career in orthodontics began when he was 12, in the Nebraska city of North Platte (he was born in Omaha). His mother had made an appointment for him to be seen by an orthodontist, and took him to that practitioner's office straight from having spent the previous several hours toiling in the blistering summer heat on the family's farm. "The orthodontist's office was air-conditioned. It felt so good the minute I stepped foot inside that I knew right then and there that I wanted to be an orthodontist when I grew up and not spend my adult life working in the sun," Astuto remembers. "Literally and figuratively, it was the coolest job around as far as I was concerned. And, once I'd made up my mind, I never wavered."
Astuto received his sheepskin for completion of undergraduate studies in 1979 from Creighton University in Omaha. The next semester, he was back to start dental school, which he completed in 1983. For orthodontic residency (which included a cleft-palate fellowship), Astuto went to St Louis University. In 1985, with his training at its end, Astuto joined the Amarillo practice of J. W. Barnett, DDS, who was 63 at the time.
"I had toyed with the idea of staying in Omaha, but I recognized there would be much more opportunity for me with Dr Barnett in Amarillo," he explains. "His practice was large and fast-paced, and I liked the challenge of that kind of environment. I wanted to be able to enter practice by hitting the ground running. Also, Dr Barnett was a well-known lecturer in this part of the country, so I felt that I could learn a lot by my association with him. And, as an added bonus, Amarillo reminded me a lot of North Platte: flat, treeless and windy; I felt right at home."
Five years after teaming up with Barnett, Astuto bought the practice. However, Barnett did not retire; instead, he moved to Dallas, where he launched a new practice and kept at it for a full decade until Astuto talked him into returning to Amarillo so that they could work together again. "He worked for me on a part-time basis for 5 years until he decided to move to Denver. He's 84 now, and still going strong as an orthodontist," Astuto marvels.
Leaps of Faith
Astuto has been solo since 2005. About one third of his practice mix is adults, but children have been—and likely always will be—the majority. It's the same way at home, where he and his wife, Linda, are outnumbered by son Tony, 9, and daughters Gina, 11, and Allie, 8.
Because he has a young family to tend to, Astuto has cut out several favorite (albeit potentially life-endangering) pastimes—skydiving most prominent among them. "I've logged over 850 jumps; skydiving was what I did on most weekends," he says. Astuto also has voluntarily clipped his own wings by mothballing his aerochute (which is basically a three-wheeled go-kart with a propeller on the back and a rectangular parachute overhead, and capable of ascending to altitudes of about 12,000 feet).
A good bit of Astuto's time away from his practice today is spent performing work with his church. "I'm very active with a prison ministry," he says. "Once a month we go visit people who have been incarcerated, share the Gospel with them, and generally try to meet their spiritual needs. It's important work, and I'm truly delighted to be a participant."
As to the future, Astuto figures there are two routes he can take as retirement comes into view on the horizon. One, he can sell some or all of his satellites. Two, he can bring aboard an associate and assign responsibility for those satellites to the new person. Whichever way he chooses, the ambition will remain the same. "I just want to continue being as efficient as possible," he pleads, "so that I can get the most enjoyment out of the career I love."
Rich Smith is a contributing writer for Orthodontic Products.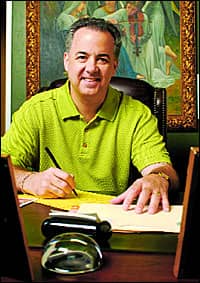 Steve Astuto, DDS, MSD, believes orthodontists shoot themselves in the foot when they cannot see patients right after they arrive for an appointment.
"It's rude when orthodontists run late," says the Amarillo, Tex, solo practitioner. "In my view, the patient's time is every bit as valuable as mine, so I do everything necessary to make sure I don't run late and force patients to wait."
Astuto's scheduling system is designed to prevent such problems, but he also credits his staff of five full-time and one part-time clinical assistants as a critical factor in the on-time operation of the office. "They're extremely well-trained, they know their jobs, and they've been with me long enough to be able to anticipate what I'm going to ask for even before I say a word," he says.
Having an on-time office is simply good business, and on multiple levels. Take marketing, for instance. According to Astuto, promptness of being seen by the orthodontist contributes to favorable word of mouth. Indeed, satisfied present and past patients talking up Astuto's practice is perhaps the leading means by which he becomes known to new families moving into the area, as well as longtime residents needing the help of an orthodontist for the first time.
"I'm not given to doing external marketing," Astuto adds. "I know that external marketing works and that many other orthodontists have had impressive successes with it, but I don't send out brochures and letters because I've never really found the need. I've always managed to be busy just relying on patient and dentist referrals."
Internal marketing is his strength. "I have an on-hold phone message loop that provides callers important information about my practice, and my Web site [www.amazingortho.com], keeps patients and parents connected to the practice by allowing them to get online at any time of day or night to check appointment times, make payments, see clinical records (including x-rays), and look up their account balances." —RS