Kristine West, DDS, MS, has always been in demand. Over an orthodontic career spanning more than 2 decades, established orthodontists who have been eager to add her talents to the practice have routinely swept up West.
While grateful for every opportunity, 2017 will be distinctly different for the 50-year-old West when she opens a brand-new practice in a 4,000-sq-ft space in DeWitt, Mich. DeWitt Township is a 14,000-population northern suburb of Lansing, the capital of the Great Lakes State, and the practice is a complete redesign of a space in an existing building.
"I have never been able to start the path, and start something that really is an expression of the person I am, and the orthodontist I fully want to be," says West. "I decided to start this practice to conquer my final frontier—my uncharted territory. I have sold a practice, I've helped build up practices, I've taught, I've mentored, I've consulted, but I have never started anything from conception."
Fortunately for prospective patients, the shiny new digs will be filled with the crucial element of human wisdom, built up over decades through hard-won experience.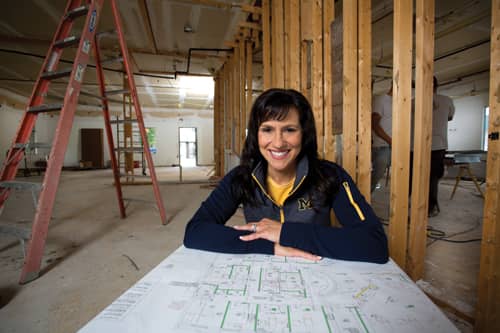 For West, the experience started at the Northwestern University School of Dentistry in Chicago, followed by graduate work in orthodontics at the University of Michigan in Ann Arbor. Immediately following that residency, Jim McNamara, DDS, MS, PhD, asked her to join his thriving practice. Working in a prominent practice right out of school thrust West into a high profile, elite practice where she had to hit the ground running. She saw patients who had inherently high expectations due to McNamara's outstanding reputation.
McNamara treated the young West as a full partner from day one, putting her name on the exterior practice sign, the letterhead, and all of the promotional products. "Even though I had no ownership interest at that time," she says, "he believed that the partnership should always come first."
At the beginning of these early years filled with long chairside days, West also took on part-time employment at a prominent practice in Farmington Hills, where she spent days exclusively placing brackets for full treatment starts, and debonding patients.
West also accepted a position from Lysle Johnston, DDS, MS, PhD, as a part-time adjunct assistant clinical professor in the Department of Orthodontics and Pediatric Dentistry at the University of Michigan. She maintains the position at the university to this day, focusing her didactic course on the development of the occlusion and interceptive orthodontics. She plans to use her start-from-scratch experience to educate orthodontists who are looking to take on similar challenges.
From Idea to Reality
Like so many before her, West has endured the often-unavoidable rule of extensive remodels: They cost more and take longer than expected. After percolating the initial idea for a new practice in December 2015, the anticipated opening is January 2, 2017.
"In my mind, I have the entire office detailed—every color, all of the carpet and flooring, every light fixture, and every outlet," explains West, a career-long member of the American Association of Orthodontists (AAO). "Once we get the construction going, I hope it will go smoothly. But things keep coming up. For example, I had to switch architects mid-course, so that slowed me down."
The labyrinth of permits, licenses, and plans goes something like this: Says West, "To get a bid for the construction, I must have full architectural plans with mechanical engineers involved and engineering plans—which is a significant investment. The construction people take those and get the bid. However, to get financing from a bank, you must have the final plans with the bid, a detailed business plan, proof of business insurance, the signed construction contract, and be prepared to self-finance a significant portion of the project. And yet, to obtain a signed construction contract, you must provide a large down payment at the time of signing. That may not be possible for some individuals without the bank financing as a source of funds."
For people unaccustomed to the red tape, the system resembles a circle where one thing can't happen without the other, and each step seems to depend on the full execution of future steps, which in turn cannot happen without the completion of previous steps. While the process has been maddening at times, students at the University of Michigan will benefit from West's experience when she formulates lectures designed specifically to navigate these hurdles.
"The AAO is a great resource, and the website has great information, but in general there is really not a lot out there to guide people and say, 'Here is the real life situation dealing with banking institutions; here is how to put together a respectable and detailed business plan to present to the banks; here are the different types of specialized attorneys you will need,'" says West. "I'm doing this, and I am going to try to organize it to bring it to orthodontic residents and help them learn from my experience."
When the doors finally open, West will be the only orthodontist on the premises. With the help of a handpicked team, she intends to use the wisdom gained over the years to express her art and to create a practice that is a direct reflection of her vision of a practice that "grows people."
Like an inverted pyramid with West at the bottom, she sees herself supporting those "above" her to attain fulfillment and success in their own work and lives, and they in turn will join with West to support the patients and families "above" them as they progress through the practice. The pursuit of this vision can be a bit intimidating at times, particularly in light of West's desire to maintain the elusive balance between work, self, and family.
That lack of balance led to a 4-year break from the private practice of orthodontics, a time spent reconnecting with family and rediscovering the motivation to start again. "At this point, I want to keep that balance in my life," says West. "Practicing and managing the business before was such a dominant part of my life, and that's why I stepped away to reestablish balance and to spend more time with my children."
That was 2012, and it ended a period of "working like crazy" and seeing a massive volume of patients. "I had reached a point where it was not a challenge anymore, and I was not growing as an orthodontist or as a person," muses West. "Therefore, I sold the practice to my partner, and continued to teach, but my kids were becoming pre-teens and I wanted to be more involved in their daily lives. I also began mentoring some younger orthodontists during this time and became a sounding board to give second options and support these solo practitioners who did not have a partner in their practices."
While continuing to teach, and nurturing a second marriage and family, West found a renewed purpose partially through her husband's job as national accounts manager at Indianapolis-based G&H Orthodontics. With her husband living part-time in Rochester, NY, West made trips there, eventually getting back into the private practice setting on a limited basis by seeing Medicaid patients at a nearby practice.
In what she calls a "rewarding and eye-opening experience," West satisfied her desire to treat the underinsured and/or those with no insurance at all. And in fact, the experience put her in search of a fresh start that would allow her to shift focus back to Michigan—all while keeping this new mission in mind.
Restrictive covenants from the sale of her Okemos practice prevented any venture in that city, so West made a trip to nearby DeWitt, a growing community in an underserved northern section of mid-Michigan. Space was available, and the ink was soon drying on a long-term lease.
In addition to the inspiration gained from practicing in her husband's hometown of Rochester, West has gained a new appreciation for the manufacturing side of the business. "G&H invited me to join their advisory board to advise them on products and marketing," she says. "When you go into practice, you don't know, understand, or really see the supply side, or the manufacturing side of the industry. It's been interesting to see the corporate side, the hurdles they have, and how much they are trying to reach out to orthodontists and form meaningful partnerships. I did not have the time nor the opportunity to learn about that supply side previously, but it's made me appreciate what the sales reps do, and what goes into the development of quality products and relationships on the business side."
It's All a Dance
During West's temporary break from orthodontics and her quest for finding balance in her life, she discovered a new outlet: ballroom dancing. Far from a hobby, ballroom dancing is a competitive sport that requires hours of practice and becomes a way of life.
West fell into the sport when a local medical/dental clinic (serving underinsured or uninsured people in the community) hosted a fund-raising gala called "Dancing with the Local Stars," with local stars always including a representative from dentistry and medicine. Since giving back to the community is a priority for West, she accepted the invitation to be a dance partner.
"There were eight so-called local celebrities, including a physician, a state senator, a prominent realtor, and an attorney," explains West with a chuckle. "We were partnered with local professional dancers and were assigned a dance, and I was partnered with a local gentleman who is a modern dancer. We did our hustle routine to 'You Should Be Dancing,' by the Bee Gees. We had such a great time preparing and doing it that at the end it was such a letdown, and he said, 'We need to keep dancing,' and I said, 'You are right.' We found a local ballroom studio and trained with one of the coaches there. When my DWTLS dance partner moved away, I continued to dance with the coach, who is a professional ballroom competitor."
In April 2012 she started formally competing. These days, West competes nationally in NDCA competitions in "pro-am" categories—one pro and one amateur. Echoing the advice of her first mentor, "the partnership comes first." The challenge is that both dancers must move independently, but there must also be synergy for maximum grace.
This understanding of the importance of partnership in ballroom dancing, and the necessary synergy of that partnership to perform beautifully, has given West a new insight into the orthodontist's professional journey. During school and residency, orthodontists are immersed in a highly competitive environment, one in which they are essentially on their own during their journey. Students are expected to be self-reliant.
"And then suddenly that doesn't work anymore, at least for the long term," she says. "You have to let go of your solo importance when you get out of school, and that's not easy to do, because for years it has been you competing against everyone else for individual success. Then suddenly everything is about cooperation and teamwork. In dance, it's about the congruence of the pro and the amateur; in private practice, it's about the collaboration of the orthodontist, the team, the patients, and the referring doctors. When I succeed in dance or in private practice, it is a result of a successful partnering with others.
"In the ballroom world, it's a very competitive atmosphere. Former national champions judge it. There are awards," she continues. "The biggest challenge for me is to not get consumed by the drive to succeed, but to do it purely for the love of dancing. I'm competing, but I'm not doing it for the results. I love doing it. I want to be out there and share the joy I experience when I dance. It comes back to where the practice is. When I start this new practice, I am doing it for the love of caring for people."
West firmly believes in letting go of the perceived VIP status many professionals believe is theirs—a status fostered by the arduous process of becoming a specialist. For her, self-importance as a source of happiness is unsustainable. "It's a means of external gratification that doesn't work for the long haul," she says. In letting go of her VIP status, West says she is truly able to appreciate the journey and find true satisfaction in her work.
And finding that true satisfaction can often be considered a lost art in a professional culture that lavishes attention on technology, billing software, and succeeding in the business of orthodontics. West knows the obsession. She's been there, and acknowledges that her current journey probably resonates more with mid-life orthodontists, while serving as a guidepost for the younger ones.
There is a luxury of sorts in being able to pay attention to the emotional aspects of a demanding profession, but ultimately it is of no less importance. "In school and in life, you work hard, and the harder you work, the better results you see," says West. "In dance, however, you almost have to work less. The more you try, and the harder you work—it can work against you. You need fluidity, flexibility, and relaxed movement of your muscles when doing ballroom rather than actual intensity and labor. For me, learning to essentially work less—to let my muscle memory take over while turning my brain off and relaxing—and then getting better results, has been interesting."
Keeping a dance practice schedule of 4 to 6 hours per week won't be easy when the practice gets rolling, but West has no interest in putting away her dancing shoes. If it does, she'll consider adding another orthodontist, but only when the time is right.
When that happens, West will continue the common theme of effective partnership that she has learned from past mentors and dancing. Working together extends to team members and even patients. Says West: "This practice I'm doing is going to be a lot of partnership with patients. I want the patient to be actively involved, accountable, and taking responsibility."
And when patients come in reluctantly? It's a challenge that West embraces. "Sometimes parents will say, 'We're doing this. Even though you don't want braces, that's too bad.' But I can work with patients to make them see the value, warm up to the whole process, and take ownership," she says. "That is what I love. That is what's really rewarding."
Ultimately, this is West's path, and she views it as a new beginning, as well as a reflection of her philosophy. "I'm going to bring in a whole different way of approaching practice," she reveals. "I also have a priority of making care accessible for the underinsured or uninsured. I'm determined to make that work, and still have a viable business. This is my final work of art. It is my life's masterpiece." OP
Greg Thompson is a freelance writer for Orthodontic Products. He can be reached at [email protected].
Save