Alyssa Emory-Carter, DDS, MS, on how she became the sole owner of three successful practices and why she chose Spark Clear Aligners for her patients.
By Greg Thompson | Photography by Sarah Hailey
Many orthodontists claim deep roots within the community, but Alyssa Emory-Carter, DDS, MS, is a true hometown doc. Born and raised in a small town outside of Sherman, Tex, Emory-Carter is now the sole owner of Dr Alyssa Orthodontics, with three locations in the northeast corner of the Lone Star State.
Emory-Carter started her own orthodontic journey as a patient with local orthodontist Dr Bill Robinson. She eventually joined Robinson's practice as an associate before achieving her ownership dreams. These days Emory-Carter's 5,500-sq-ft office in Sherman serves as the primary site and locations in Gainesville (2,400 square feet) and Bonham (1,300 square feet) are taking shape as vibrant secondary offices.
It's a lot of responsibility, but Emory-Carter thrives in the busy environment. "I love challenges," she says. "I have a constant need to grow and challenge myself. It would be easier if I were not like that, but it fulfills me. I'm usually looking for something that could have a better solution or a better plan and challenging the status quo to figure out how we can make things better."
Building to full ownership
Few practitioners begin with full ownership, and Emory-Carter patiently learned the details before buying out the main practice, plus a satellite, and assuming sole ownership. "The third practice in Bonham that I just bought was an opportunity that I just felt really drawn to," she explains. "It was connected to my hometown area and the senior doctor. So essentially I ended up with one doctor—me, with one practice, and three locations overnight."
All three buildings are free standing and renovations and remodeling are in the future. For now, Emory-Carter is aiming her keen sensibility toward improving an already solid operation. With that in mind, she began planning, remarking, "The practice was not running at its full capacity everyday, so there was room to improve efficiency and streamline."
It's not easy, but that love of challenge has a history, beginning in earnest at Oklahoma State University with a double major in biology and physiology and a minor in general business, followed by Baylor College of Dentistry and eventually the University of Florida Department of Orthodontics. A certificate in orthodontics and a Master's degree in dental sciences now adorn the office wall in Sherman, a 43,000-population community in the "Texoma" region of north Texas and southern Oklahoma.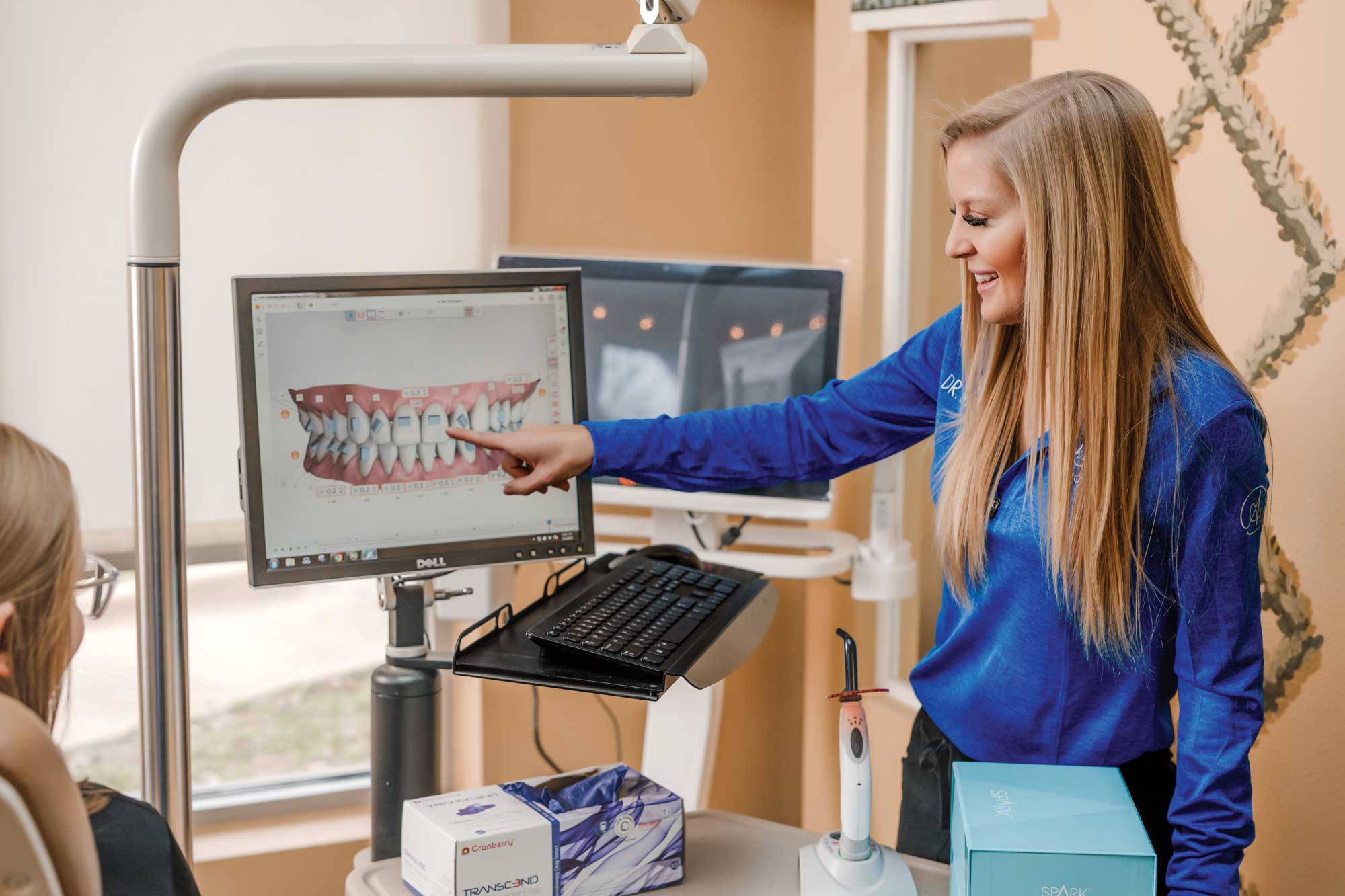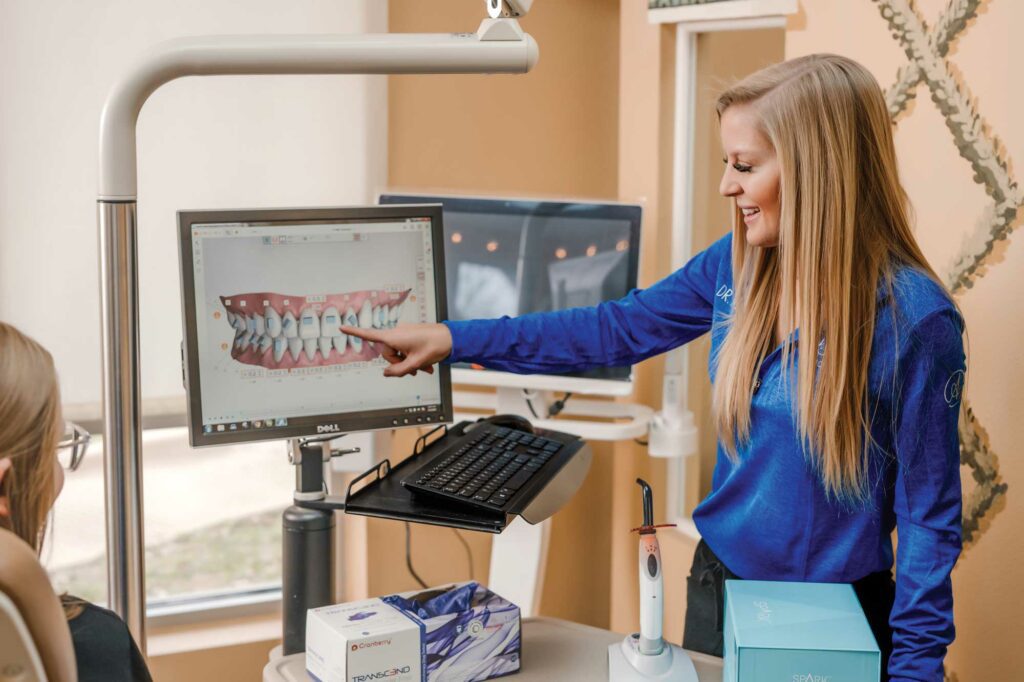 Building an aligner relationship
Residents of Sherman know Emory-Carter well, appreciating her commitment to technology, which usually takes an early adopter approach, particularly when it comes to systems that bring relevant data and information. On the clinical side, she has built a relationship with Ormco Corp, the manufacturer of Spark Clear Aligners and several other dental/orthodontic products, including software.
The Ormco relationship stretches back to residency and continues today with Spark Clear Aligners. Prior to Spark, Emory-Carter used other popular brands, but quickly found flaws. "I want something that works how I expect it to work," she says. "I want something that is predictable, and has better systems that are simpler for my team to understand."
Inefficient timelines, refinements, and trays-per-refinement plagued other aligners to the point where patients were wondering why they didn't just get braces. Emory-Carter recalls: "I finally said to our regional director at Ormco, 'I know you guys have an aligner out and I'm willing to give it a try.' This was early in the on-boarding process, and we started with a few patients."
This was back in 2019, and since then Emory-Carter has rarely used any of the other older aligner systems. Initial loyalty started with look and feel. Patients go by look and feel, and Emory-Carter, who is now a paid consultant for Ormco, says, "If they're going to wear those aligners more because of that, great, because that's better for everybody. Patients were choosing Spark and they were shocked that it was the same price. On the other hand, I still had to decide. No matter how good it looks, does it work? Is it getting the results I want, and are the teeth moving?"
Eliminating patient frustrations
Emory-Carter ultimately devoted her considerable analytical skills to a dispassionate review of Spark outcomes, comparing them with other brands. She began by treating the majority of her cases with aligners, if that's what the patient wanted.
Since aesthetics can never be ignored, she offered clear options and non-Ormco brands were repeatedly flagged with complaints about staining. On the comfort side, other brands proved too bulky with sharp edges. Non-compliance was the result.
"What I noticed with Spark is that it started eliminating a lot of the frustrations our patients had with aligners," says Emory-Carter, a past recipient of the AAO Charley Schultz Resident Scholar Award. "For us, that meant better tracking, it meant our aligner cases took less time and fewer appointments. That's a win for patients, team members, the doctor, and the practice.
"My team liked the attachment template better," she continues. "It's more comfortable and easier to work with. They can open up the dashboard and understand anything that's going on with a patient. They also really like the complimentary re-orders. We don't have to pay for a tray if a patient loses one, or have patients try to cover that expense. Or if we just want an extra one because a patient needs to wear one longer, we can just re-order it. That was a big deal for our practice."
The advantages in the plastic
Spark can treat a wide variety of malocclusions, including spacing, crowding, open bite, crossbite, underbite, and overbite. In Emory-Carter's experience, contact points between aligner and tooth are extremely close, a factor she believes improves comfort and clinical outcomes. Spark's proprietary material has also provided more sustained force retention, better surface contact area with the tooth, and more comfort with additional stain resistance, according to Emory-Carter.
"There are two different types of aligner plastics that you can have with Spark," Emory-Carter explains. "There's a material that has a lot of rebound effect for a majority of the initial movement, just like I would with braces. When I'm trying to finish and detail that case, I can jump into the extra rigid material if needed. Bottom line is that many aligner complaints that we used to have were going away. Here we are 3 years later and we are still using Spark in the primary office."
That "rebound effect" material for Spark Aligners is called TruGEN and it is one of the company's most recent proprietary branded materials. Specifically, there are two varieties—TruGEN and TruGEN XR—that differ in terms of flexibility. TruGEN XR is more rigid while TruGEN is more flexible, according to the company's data. A higher flexural modulus value indicates a more rigid material. TruGEN and TruGEN XR have .75mm (.030″) material thickness.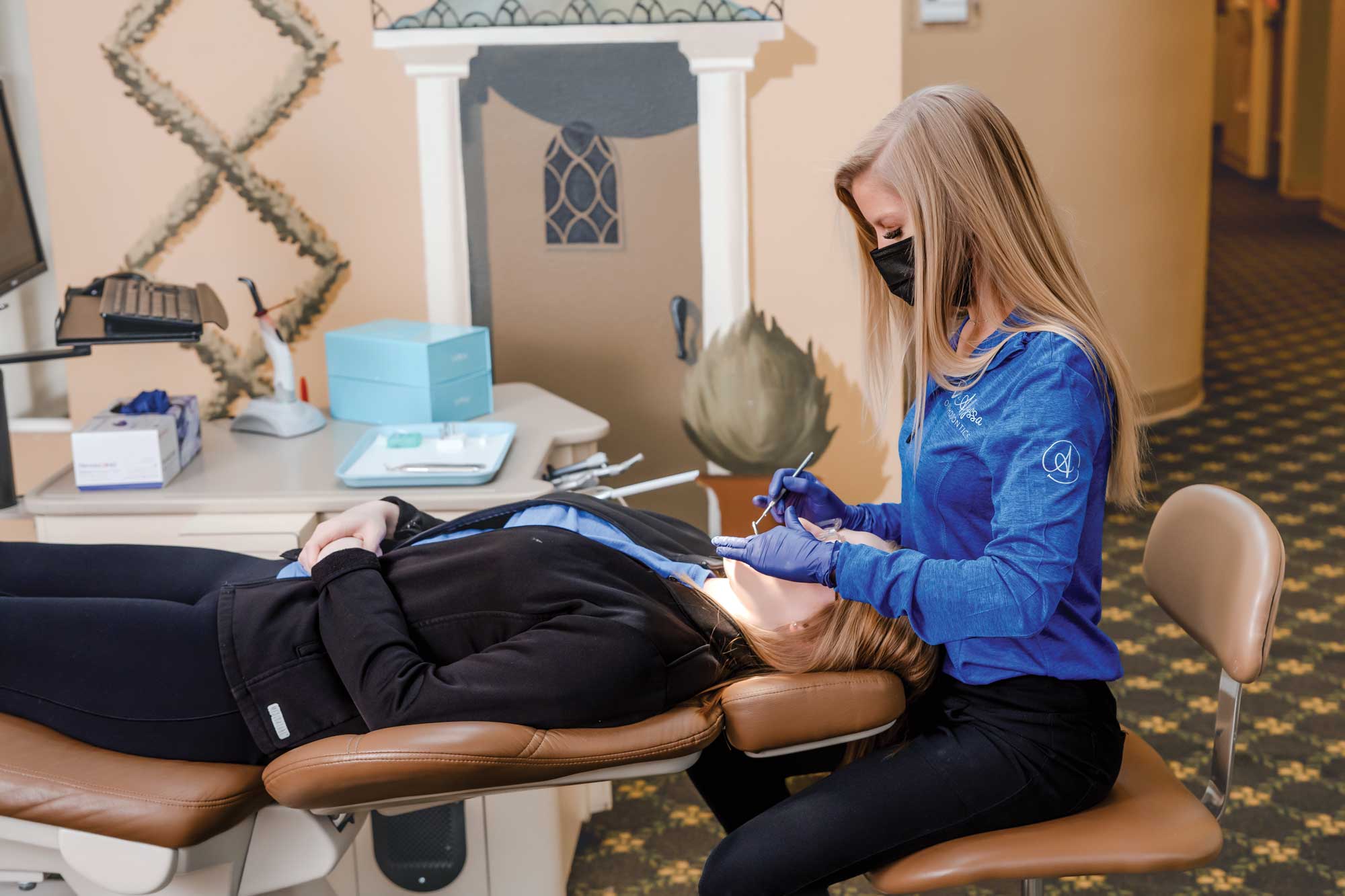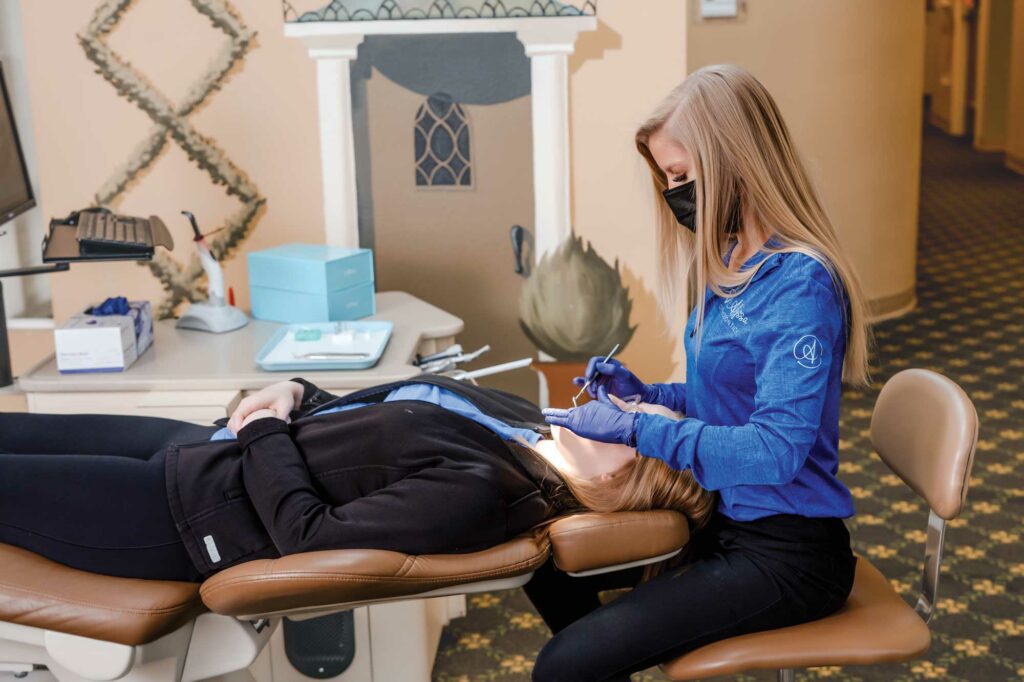 Not all aligners are the same
Occasionally, Emory-Carter hears colleagues or even patients comment that "all aligners are basically the same," but that sentiment is not borne out by her real-world experiences. "The way they're made, the way they're manufactured, and the materials used in every brand are proprietary and unique to that product," she muses. "I do feel like Spark has mastered this and set the bar really high as far as the materials they are using and the manufacturing."
The recently purchased third office did not use any aligners prior to Emory-Carter's purchase, so Spark aligners are being integrated. "The team is really excited," she reports. "They tried aligners some years ago and had some frustrations and stopped using them. We've gone over some results that we've had in our practice—some improvements such as: integrated hooks to minimize the need for buttons; and integrating the CBCT into the set-up so you get a more accurate root position. That has created a wow-effect to see the results we're getting for our patients."
Spark's integrated hooks can be used whenever elastics are needed in treatment, such as for Class II and Class III correction. Built into the aligners, integrated hooks have proven durable even when used with extra heavy weight elastics, according to the company's data.
Unlike traditional elastic cutouts, which are known to be difficult for patients and prone to bending or breaking, integrated hooks are easy to insert and resist bending or breaking. In addition to use for Class II and III correction, doctors can use the integrated hooks with TADS to aid with intrusion for gummy smile correction, according to Ormco.
The good days
As an owner with multiple locations and a stellar team of more than a dozen employees, the job requires self-reliance and leadership skills—two attributes instilled in Emory-Carter at a young age. "My father said, 'Choose a profession that makes it possible to always support yourself,'" she remembers, "and that nobody can take away from you."
Strong relationships with team members, patients, and colleagues can help make the tough days easier and Emory-Carter focuses on strengthening those relationship bonds while also honing the science and the business. At the top of the list is "interacting with patients of all ages and all backgrounds and hopefully becoming a positive influence in their life."
As a business owner with 14 employees, leadership is vital and that too is a thrill. Emory-Carter puts it this way: "You have a team full of people from all different backgrounds and walks of life, and you can be someone who is kind to them, shows them respect, and helps them provide an amazing life for their families. That's just as rewarding as the beautiful smiles that we see patients walk away with after spending a lot of time with us."
Every orthodontist knows the thrill of crafting a smile, and one recent case illustrates the satisfaction of a job well done. Emory-Carter remembers: "I had a patient that I saw six times total, and she's finished. In braces I probably would have had a 36-month treatment plan and seen her 25 times due to the complexity of her case. We chose Spark Aligners and every time I would check her I just felt amazed. We used Dental Monitoring to make sure everything was staying on track remotely. I kept thinking it wasn't going to work, but it just kept going and going and we got a great result in less than 2 years."
When she's not chairside, Emory-Carter and her husband can occasionally be found in Stillwater, Okla, to tailgate and cheer on the Oklahoma State University football team. "We also love to travel," she adds. "I like anything from waking up to hearing the ocean waves on the beach to a more secluded cabin in the mountains. We like skiing, traveling internationally, and touring—putting ourselves in a different culture and soaking it all in. For me it's an opportunity to get away to a new environment, reset myself, and then get back refreshed to the orthodontic profession that I love." OP
Greg Thompson is a contributing writer for Orthodontic Products.