Embracing the latest intraoral scanner technology and social media helped Sons & Daughters Orthodontics carve out a niche in the crowded Southern California market.
By Steven Martinez | Photography by Kaylee Johnson – Madly & Co 
When Trang Nguyen, DDS, MS, and Samuel Lee, DDS, MS, decided to open a practice together in Irvine, Calif, they faced the daunting task of breaking into a saturated Southern California market. Their practice, Sons & Daughters Orthodontics, was going to be located in an area that hosted 10 orthodontists within a 2-mile radius. Being brand new, they faced an uphill battle competing with established doctors in an industry where reputation is crucial for attracting new customers.
"I think early on that was one of the scariest things, opening up a practice in a really competitive area," says Nguyen. 
Having grown up in Orange County, California, Nguyen and Lee both went to dental school at the University of California, Los Angeles at the same time and, while they were classmates, they ran in different social circles. After graduation the two went their separate ways. Lee went to the University of Southern California for his residency and Nguyen attended the University of California at San Francisco, and for 5 years each worked in separate private practices.
Despite not seeing each other for nearly 10 years, their lives coincidentally mirrored each other. Both doctors started families and were approaching a point in their lives where they wanted to start their own practice.
As luck would have it, both Lee and Nguyen separately reached out to a mutual friend to see if they were interested in partnering on a new practice.
"She [mutual friend] said, 'Hey, I live really far away from you guys, but how about you two try to work something out,'" recalls Nguyen. "Through a Facebook message, Dr Lee asked if I wanted to be partners, to which I replied, sure. We tried it out and here we are 7 years later."
Both doctors had heard about the pitfalls of going into business with a partner, particularly with somebody you know, and were well aware of the tendency for it to go wrong. Some doctors might chafe at the idea of ceding some control to another person or sharing the benefits of success. But Lee and Nguyen say their mindset was different from the start.
"We wanted to be able to build something without the stress of having all the responsibility on yourself," says Lee.
They also had respect for each other going back to their time as classmates and competitors in college.
"We have a mutual respect for each other, which is super important," says Nguyen. "We have the same threshold for risk. We didn't have a friendship that we were risking, and if we had to go our separate ways, it wouldn't be super painful. We just went all in, we had nothing to lose."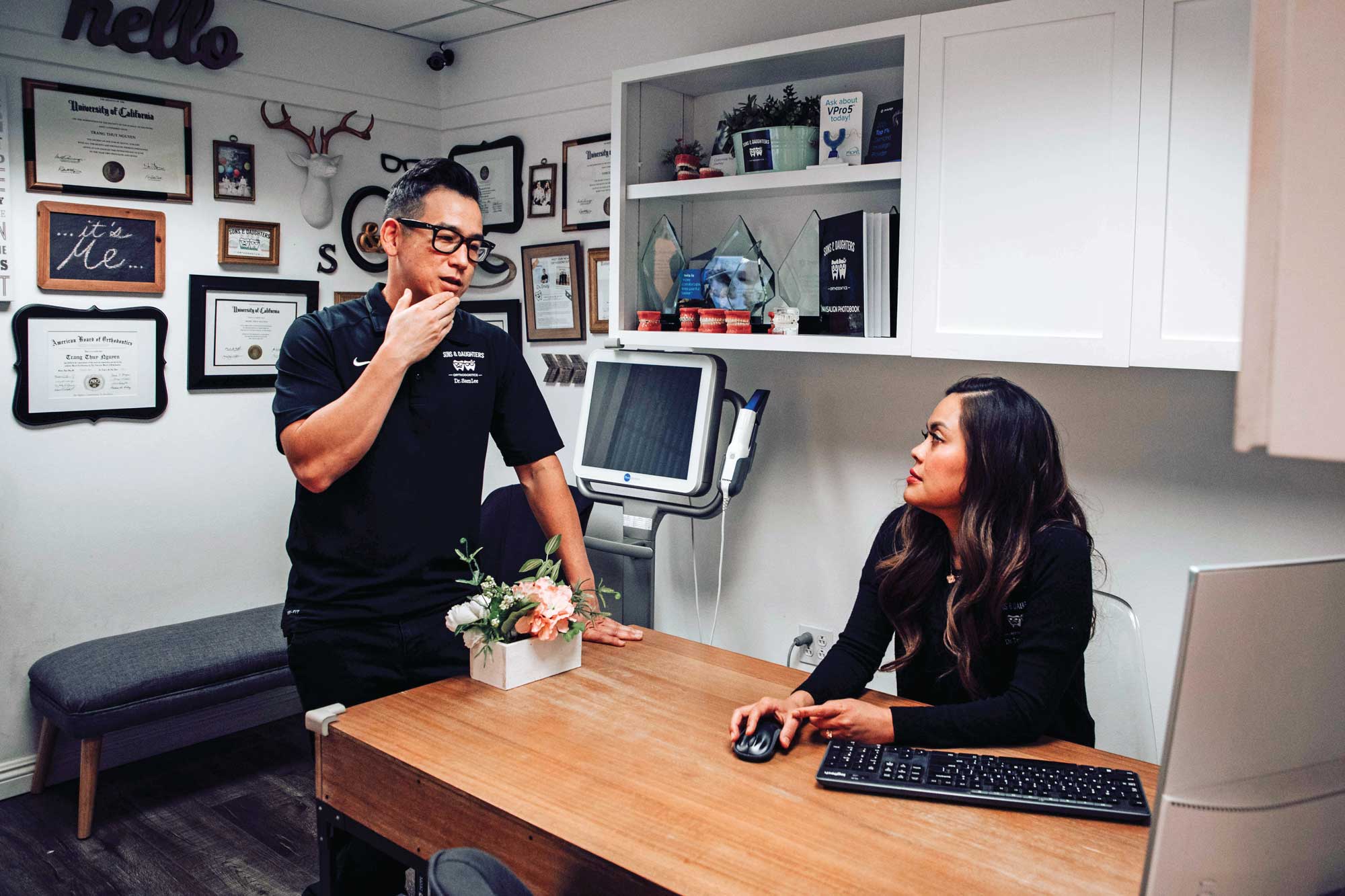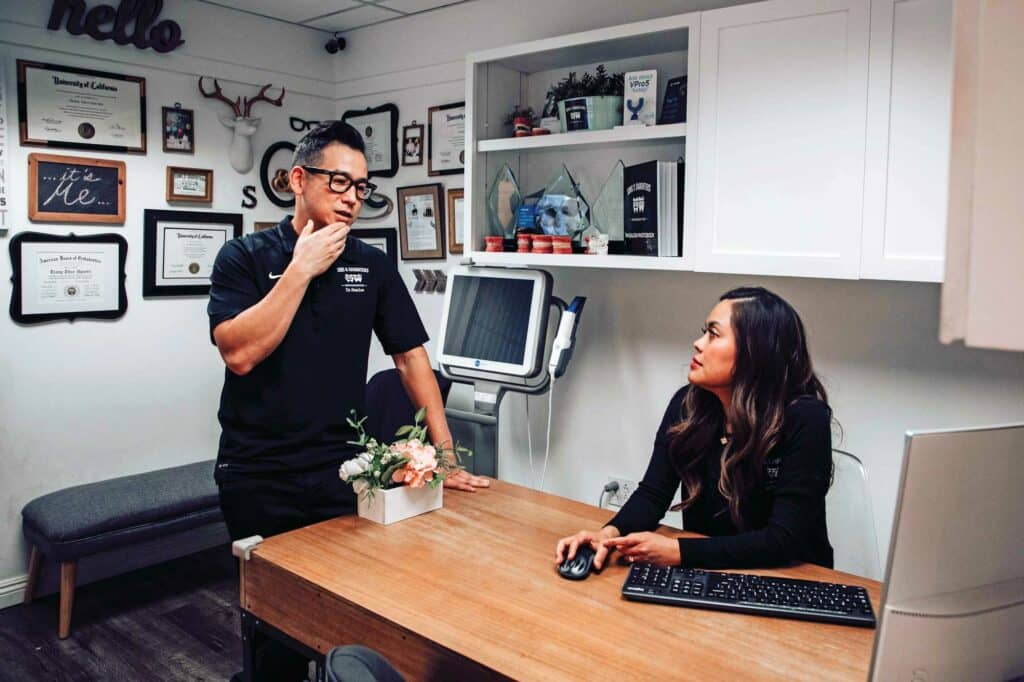 Remembering their days as classmates, Lee says he knew that Nguyen had certain strengths that complemented the areas that he felt were weaknesses.
"I was like, you know what, I think, on paper, we could probably create something that's pretty cool," says Lee. "I don't think either of us knew that it would take off the way that it has, being recognized on a professional level, but that's how simple it was. Let's just give it a shot and we'll try to see what the next day holds."
Sons & Daughters is unremarkable from the outside, a tiny storefront with the word "Orthodontics" in sun-worn red letters. It is virtually indistinguishable from the other businesses that occupy its suburban strip mall home, including two dentist's offices.
A small rectangular sign with its name and minimalist logo—two teeth, one with a mustache, the other a bow—is the only hint that something might be different.
If Lee and Nguyen were going to succeed in crowded Irvine, they were going to have to try something different. Knowing that they needed to quickly build a reputation, they looked for alternative methods to build a patient base.
They embraced aligner treatments early on, taking on difficult cases and giving extra care to the patrons they managed to bring in.
"Invisalign aligners were what helped us to set ourselves apart from other offices," says Nguyen. "Patients were coming in saying they really wanted Invisalign treatment but were told they weren't a candidate."
Lee and Nguyen took on the toughest cases and over time word began to spread. They soon gained the respect of their local colleagues because of the success they had in finishing those challenging cases.
"No one's going to give you a chance when you're the new kids in town, right?" says Nguyen. "The big challenge was finding patients who were willing to come to an empty office. I think most people were just happy to see that we would try to treat their case."
When they would get a case that was surgical, they would try to provide a non-surgical option to the patient. If they got a case that traditionally would have required braces, they would try it with the Invisalign clear aligners. Through it all, they kept saying yes and trusting the Invisalign clear aligner system.
To be able to take on so many difficult aligner cases early on, the first big purchase they made was an iTero intraoral scanner from Align Technology.
At the time, Lee wanted Sons & Daughters to stand out from the crowd who were still largely doing traditional impressions. They had to take a loan out to buy the iTero scanner, with the hope that the number of patients they would be able to bring in would eventually offset the cost.
"It's weird when you think back to a time when there were literally zero patients at the door," says Lee reflecting on the practice's earliest days.
The iTero scanner became a marketing device for the nascent practice. They took it to events to give courtesy scans to passersby, showing off the technology they were offering—anything to get the word out.
It also gave them an opportunity to show off their skill set and further stand out from the competition.
"It was like, hey we went to these big-time schools in California, and you haven't given us a chance yet, but we are the best of the best," says Lee. "That's how we had to separate ourselves because when you look at Irvine on Google Maps, there are almost 40 orthodontists. I don't even know who half of them are."
Today, at Sons & Daughters' Irvine location, somewhere between 60% and 70% of cases are treated with Invisalign clear aligners. At a second location in Riverside, the mix is flipped with far more braces cases. The Riverside location is connected to a pediatric dental clinic, with pediatric cases making up 80% to 90% of the patient population.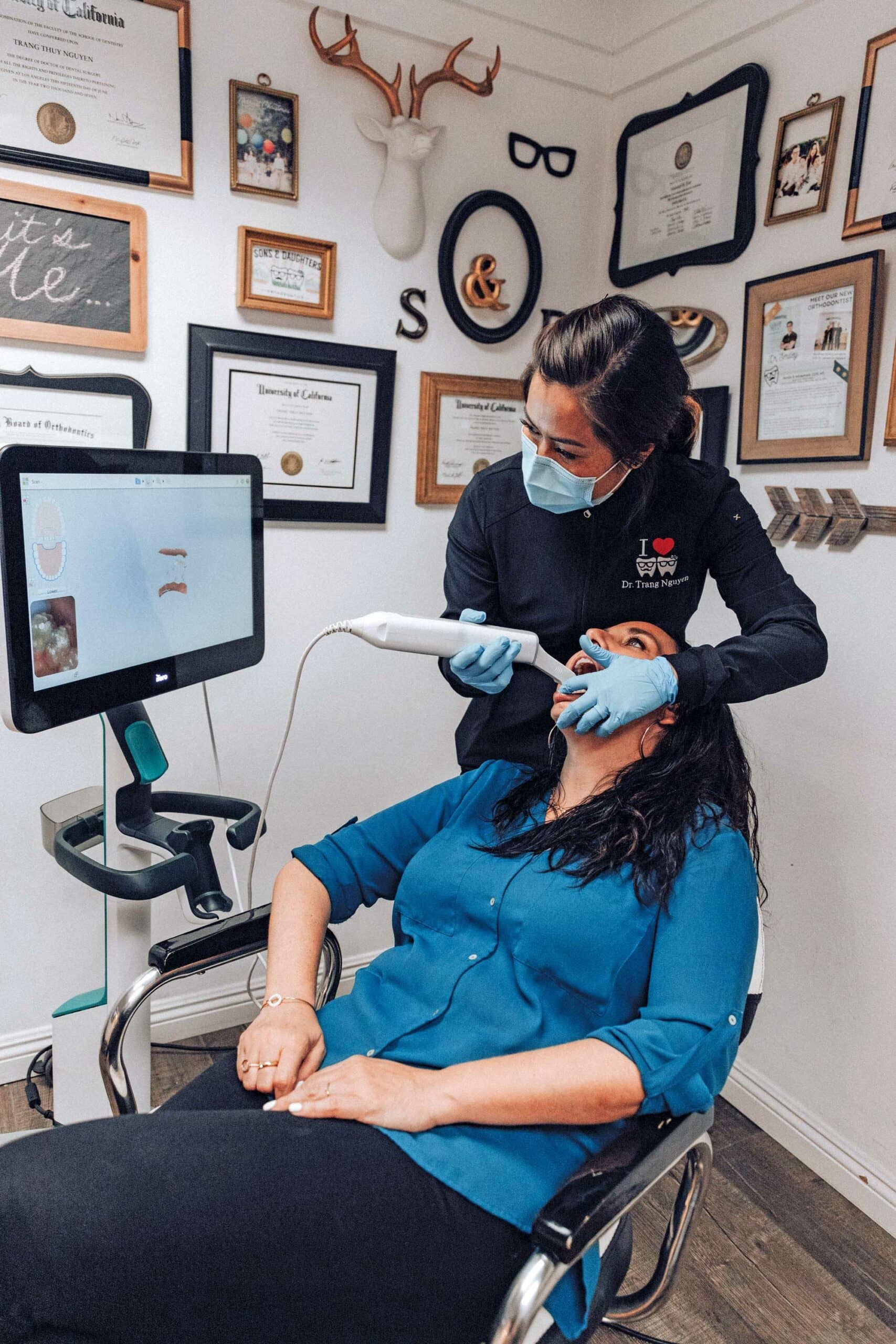 But in both locations the iTero scanner has proven its worth in several ways for Lee and Nguyen. The device allows them to efficiently scan all patients while being precise at the same time. It also allows patients to see a simulation of how the treatment will correct their teeth.
"The iTero scanner, aside from being much faster, is the most precise way to capture images of teeth and, in terms of being able to move teeth, it's tremendous for the accuracy," says Lee. "We're able to scan people on their first day and use the Invisalign Outcome Simulator to show them the result. It gets them excited."
The simulation shows a patient what is possible, which in turn, motivates them to go forward with treatment, says Lee. He compared the experience to a store allowing you to take a shirt home for a day to try it out. "You're probably more likely to buy that shirt," he says.
"I think in the beginning the iTero scanner was, more than anything, a marketing tool, because we could say we don't do messy impressions, just a very comfortable, easy scan," says Nguyen. "But over time, it has evolved into something so much more. It is the most integral part of our digital workflow."
Sons & Daughters now has five iTero scanners and three different models: the iTero Element and iTero Element 2 scanners, and the iTero Element 5D imaging system.
In addition to fast and accurate scans, the features of the iTero scanners have also proved useful to Lee and Nguyen in helping patients who might otherwise have trouble with traditional impressions, particularly children with special needs or sensory issues. Nguyen, who is the mother of a special needs child, says that technology like iTero scanner helped her treat her own son.
"We see a lot of special needs patients in our office and it's a really good feeling for me to be able to treat these patients and give them the care that they deserve," says Nguyen. "It's a personal thing for me to be able to do that for other moms and for other children who couldn't get through that initial appointment."
The iTero wand has none of the goopy mess, says Nguyen, and allows children to have a visual of what the scanner is doing in their mouth on a screen, building trust in the process and reducing any anxiety they might have about the visit.
"Sometimes it doesn't work out, but it's pretty amazing what we're able to do with these kids who I think at most other offices would be turned away," says Nguyen.
The iTero scanner has also proved useful in communicating with non-English speaking patients. Lee says that a combination of Google Translate and the visuals generated by the iTero scanner makes it much easier to describe treatments across language barriers.
"You can go on and on with hand gestures about teeth flaring and stuff, but it's so easy to just scan, show them a simulation and say, this is what's going to happen if we take out four teeth," says Nguyen. "You don't need to speak any other language when you can just show an actual simulation of how their teeth will look."
But modern technology and a willingness to take on hard cases will only get you so far in reaching new patients, and from the beginning Lee and Nguyen wanted to cultivate a brand for their practice that would stand out in the crowd.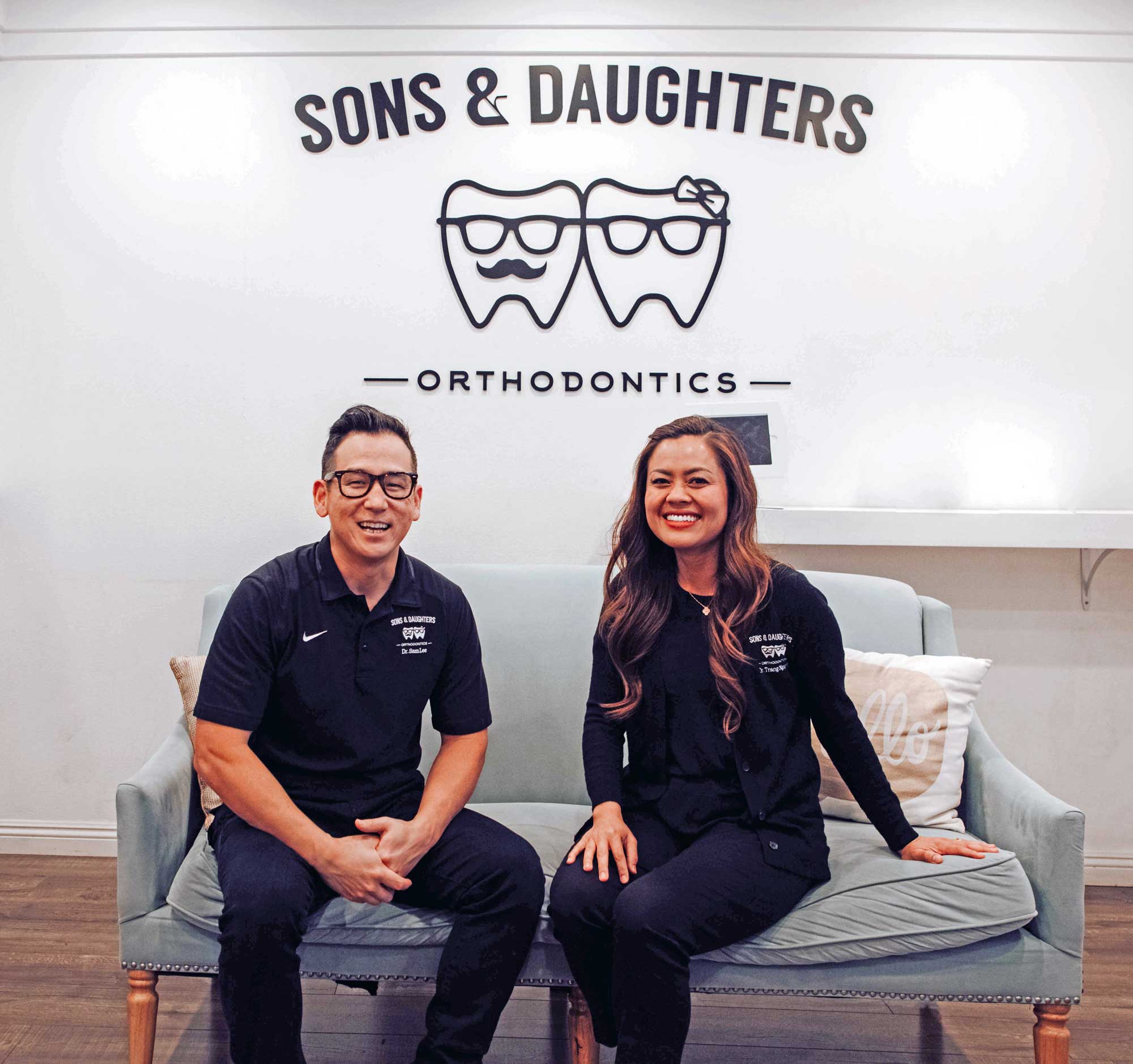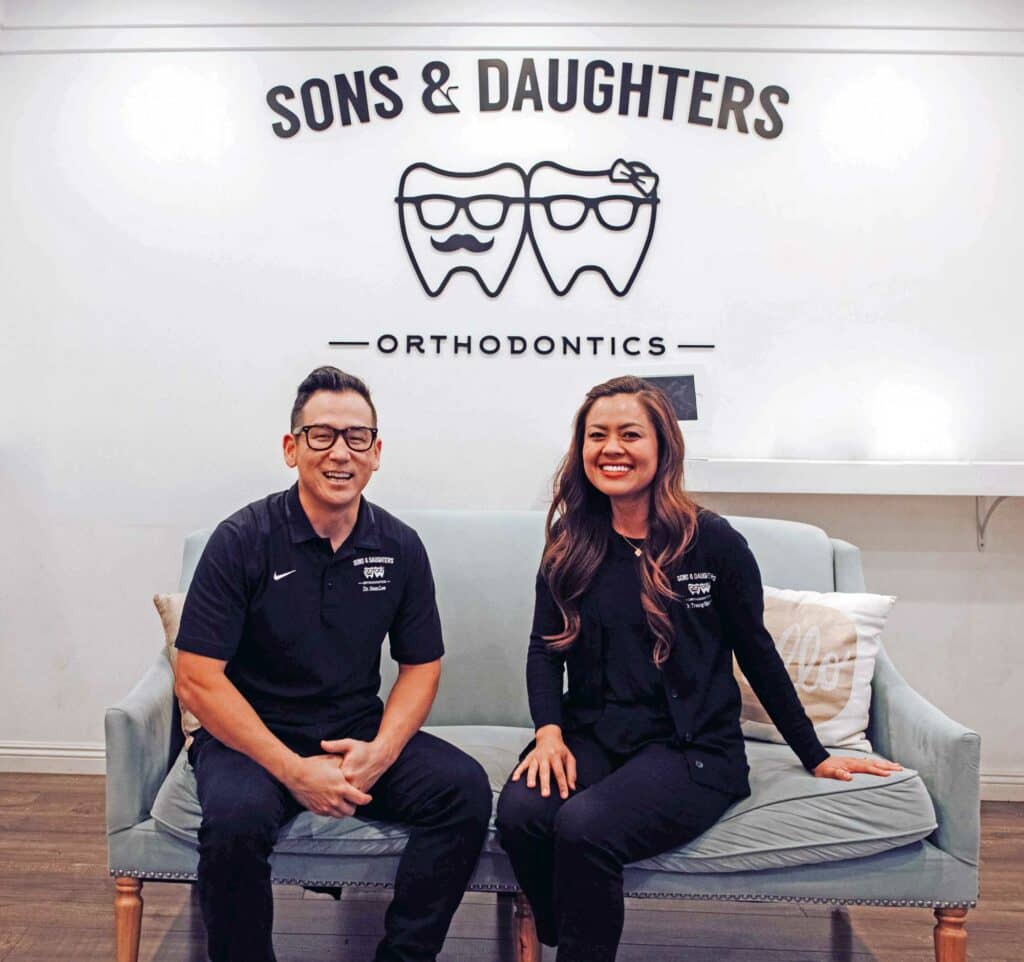 Belying its meager exterior, the inside of Sons and Daughters is clean and modern, with hardwood floors, mid-century furniture and light fixtures, greenery, and colorful chairs. Eschewing the sedate, clinical feel of a dental office, Sons & Daughters is more reminiscent of a hip salon.
From the start Lee and Nguyen knew they wanted their practice to feel friendly and have a home-like atmosphere. They didn't want it to be too pediatric, sterile, or adult. The waiting area features an enlarged version of its male and female teeth logo, which was designed to be minimalist, fun, and cool, appealing to young and old and everyone in between.
"The idea was to come up with a centralized image that is kid friendly, hip, and professional all at the same time," says Lee. "I think we have that aesthetic, and I don't think anyone else can really copy that."
Social media played a significant role in growing Sons & Daughters and cultivating the brand. While in the past, orthodontists relied heavily on dental referrals for new patients, Lee and Nguyen felt that wasn't a successful option for them in Irvine and they instead poured a lot of effort into direct outreach through social media.
Lee took on the role of social media guru for the practice, taking care to use platforms like Instagram and Facebook to showcase Sons & Daughters' unique brand. Lee explains that his goal was not to inflate his follower count, but to cultivate a consistent image of the practice. He didn't want it to just be pictures and videos of the doctors. Instead, he focused on creating an image of the practice, the people who work there, and the kinds of people who go there.
"Dr Lee is a social media master," says Nguyen. "He knew how to use it from the get-go, and he was very picky about what posts go up on Instagram to make sure that we have a very consistent look and appearance."
Their goal was to attract the kinds of people who shared their vibe and knew what to expect before they ever set foot in the door.
Their image cultivation has paid dividends. If you Google Sons & Daughters, one of the first images that pops up is of former Lakers power forward Kyle Kuzma, who they say reached out to them through social media before coming in. They have also treated several NFL players from teams like the Chargers and Rams who practice nearby.
Seven years into their practice, Sons & Daughters continues to grow and Lee and Nguyen, former class acquaintances, now describe their partnership as a friendship bordering on family.
"We joke that we are like working spouses. There is a clear separation of what sort of responsibilities we take on for the practice," says Nguyen. "Dr Lee is naturally a social butterfly. He is our networker. I do all the numbers and always try to optimize ways to be better clinically."
The warnings about the difficulties of a business partnership between friends haven't materialized. Each one describes a naturally developed delineation of responsibilities and a mutual trust that enables them to make sometimes difficult decisions together.
"We don't ever hesitate. We're not risk averse," says Lee. "We take a lot of calculated risks and we're not scared to try when we know there's a possibility of being great at something." OP
Steven Martinez is the associate editor for Orthodontic Products.