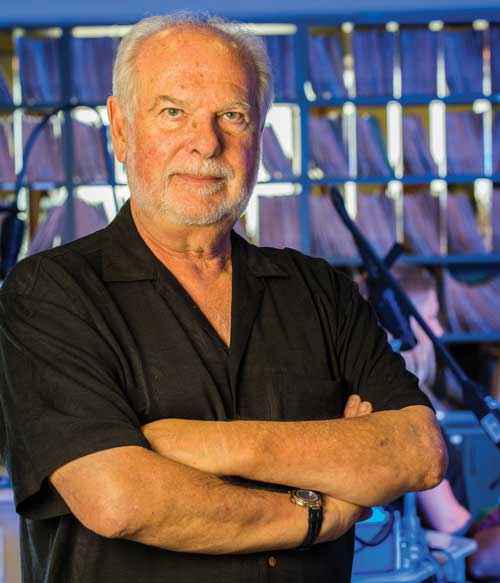 By Karen Appold | Photography by Michael Justice
If an orthodontist was to be named "the modern-day father of orthodontics"— Ron Roncone, DDS, MS, might very well be your man. Throughout his 43 years of practice, Roncone has developed numerous business programs, including a practice-management course for orthodontists he lectures on called JSOP® (Just Short of Perfect) and the Roncone PhysioDynamicSystem (PDS), which are designed to aid orthodontists in making an effective diagnosis and treating cases efficiently. In addition, he's developed a number of additional orthodontic techniques and materials. At age 70, he has seen more than 32,000 patients, and he continues to see patients every week at his Vista, Calif, practice, while continually tackling new projects.
[sidebar float="right" width="200″]Practice Profile: Roncone Orthodontics
Location: Vista, Calif
Number of chairs: 8 clinic, 3 exam, 2 records
Years in practice: 43
Years in private practice: 40
Education: Orthodontic residency training at the Harvard School of Dental Medicine and specialized training in physiology, neuroananatomy, and cleft palate. Dual specialty degrees from both Harvard and the Forsyth Dental Center
Average patients per day: 65 to 70
Starts per year: 450
Days worked per week: 2
Staff size: 10
Top products used: Forestadent Roncone PhysioDynamic System (PDS) Self-Ligating Prescription, PDS niti and beta titanium wires and auxiliaries; Ultrasound and Ethyl Chloride Spray for muscle relaxation; Dolphin Management System with The Roncone Module; Forestadent 2D Social Six Lingual; LED Dental RayScan CBCT; Orchestrate Aligner system
[/sidebar]
In light of his passion for all things orthodontic, you may find it hard to believe that Roncone struggled with choosing a career. "I began with the intention of becoming a neurosurgeon," he recalls. "But our family dentist kept after me about the merits of becoming a dentist. I hate to say it, but after being accepted to both medical and dental school, a coin flip made the dental school decision."
Several months into dental school, Roncone was having second thoughts about his decision, so he entered the medical graduate program in the department of neuroanatomy, where he did both dental and graduate work in medical school under a United States Public Health Fellowship. He expanded his graduate work to include muscle physiology. But in the end he chose orthodontics, the subject he knew the least about, and was accepted into Harvard University's orthodontic program. After graduation, he worked as an assistant professor at the University of Maryland Dental School in the Department of Orthodontics.
Scheduling Philosophy
After starting his own practice—Roncone Orthodontics—just 3 years into his career, Roncone's own professional challenges prompted him to seek ways to improve the profession. "Early on, I became frustrated over how difficult it was to produce perfect results," he says. "I was dumb enough to not know that an orthodontist couldn't produce a perfect result!"
Consequently, he began to analyze what he could control and attempted to perfect those areas. "Some of the answers I found seemed very simple," he says. For example, "It all starts with proper scheduling."
In 1976, Roncone expanded upon Jay Barnett's concept of "like things at like times" by creating a time system for doctors. This involves scheduling patients back-to-back with similar needs.
"Instead of attempting to schedule an average day, I provide enough time in the schedule over our average interval for seeing patients for each type of appointment," Roncone explains. "In essence, our office does not truly schedule patients; we schedule staff members to do specific procedures at specific times. All registered dental assistants, for example, might assist me with arch changes across five or six chairs between 10 am and 11:30 am. Nothing except arch changes are done during this time. If I see new patients between 8 am and 10 am, no other types of patients are seen during that time." Simply put, the entire office staff is scheduled to do specific things at specific times.
Roncone's ultimate goal was to see as many patients as possible in as few appointments as possible, while achieving the best functional and esthetic results as possible. Ninety percent of his patients complete treatment in six to eight appointments that average 10 weeks apart. Thus, a total treatment program can be completed in 13 to 15 months.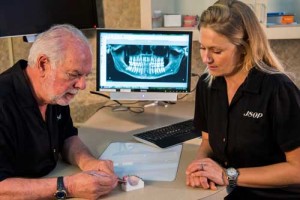 Specialized Expertise
As a result of his scheduling prowess, patients from eight states and three foreign countries are able to treat with the seasoned orthodontist. They are willing to make the trip because he is one of a few experts who treats temporomandibular disorders (TMD) and offers esthetic orthodontics—including lingual self-ligating brackets.
"Most dentists and orthodontists do not want to treat TMD patients because they think they're difficult," says Roncone, whose patient base is more than 50% adults. "But relieving headaches and muscle problems is incredibly rewarding. When lingual was developed, we embraced it. Since then, I have always offered lingual as an alternative when appropriate. However, most US orthodontists don't want to treat patients with a full lingual appliance because it is more difficult."
Another achievement has been helping to design the prescription of an orthodontic product—Forestadent QuicKlear ceramic self-ligating brackets—which he uses on most of his patients.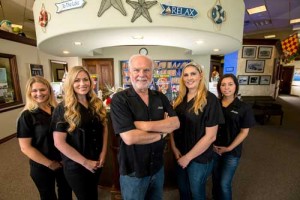 The Business of Orthodontics
In the early 1980s, Roncone realized that orthodontics was a business and needed to be treated as such. "We divided our staff into three teams—operations, financial, and administrative—and named a head of each team," he says. "These teams are responsible and accountable for implementation of our yearly business/practice plan. In addition, we developed 16 full-color manuals that guide our practice." The basis for this was derived from Roncone's version of the Six Sigma management system used by many successful manufacturing companies. "By breaking down every part of each system used in an orthodontic practice, I have been able to achieve high standards in every area of my orthodontic practice—most of the time," he says, adding that, "I still continue to fail more than I care to admit.
"Our scheduling technique is the basis of practice operations and is the first of The 17 Critical Factors which I believe are required to achieve a superb practice," Roncone continues. In fact, he developed the Roncone module for Dolphin Management. The module, a complete system of metrics, tells orthodontists everything they need to know about their practice in every area.
Examples of The 17 Critical Factors include:
Precise scheduling;
Optimizing patient appointment intervals (8- to 14-week intervals);
Building enrollment rates (90%);
Precise bracket placement; and
Limiting the number of loose bonds and emergency appointments (no more than one per month).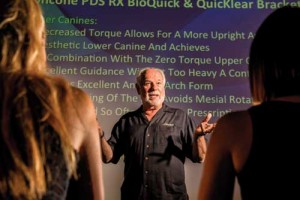 Sharing Strategies
Like choosing this profession, lecturing on orthodontics initially happened by chance. During a conference in the mid 1970s, a fellow orthodontist asked Roncone to be a speaker. He ended up leading a roundtable discussion on the topic, How to Start an Orthodontic Practice. "I felt this would be good for residents and would not be too intimidating for me," he recalls. The meeting went beyond its 1-hour limit and lasted for almost 2 and one-half hours," Roncone remembers.
To his great surprise, his opinions and handouts were a hit. In fact, one elderly gentleman asked where his next course would be. "When I told him that none were slated," Roncone remembers, "He said, 'You will do one, and here is my check for $195. Let me know where and when.'?"
Roncone never cashed the check. About 5 months later, the gentleman called and said he had booked him to speak in Monterey, Calif. Twenty-two orthodontists attended. And so another passion began.
[sidebar float="right" width="250″]Surviving the Changing Playing Field of Practicing Orthodontics
A number of recent and simultaneous events have influenced the direction today's orthodontic practices are heading—and they are not for the good of the industry, maintains Ron Roncone, DDS, MS, owner of Roncone Orthodontics in Vista, Calif. "This confluence of factors has never occurred in previous times, and has changed the way that orthodontics will be practiced moving forward," he says. The changes include:
More pediatric dentists are hiring orthodontists instead of referring patients to independent orthodontists.
More group practices that offer a variety of specialties are forming. These practices are referring patients to orthodontists within their group rather than outside orthodontists.
General dentists are using aligners and a version of 6-month orthodontics, so they aren't making as many referrals to orthodontists. While they are straightening teeth, they are not fixing other issues such as occlusion.
Some dental and non-dental companies are purchasing orthodontic companies with the goal of increasing profits for shareholders. This has resulted in the loss of personal relationships. Long-time sales representatives and managers are being let go, and are being replaced with less experienced, less expensive representatives.
The economy has not recovered from the recession.
Gen Y or Millennials think, act, and buy based on different behavioral patterns than previous generations. They are more dependent on the Internet. They come in with opinions. Money is more of a factor. They are more into office technology such as cone beam computerized tomography, and so forth.
While most practices have felt the toll of these factors, some practices have not been affected very much. For those practices seeing the effects of these industry developments, Roncone recommends the following actions to help overcome the negative impact of these factors.
Reduce overhead to 40% or less.
Become super-efficient.
Do more with exquisitely trained fewer staff.
Share space with other specialists.
Pay consultants based on increased profitability.
Do different orthodontic work, such as temporomandibular disorders, lingual (full or mini), esthetic brackets, and inexpensive aligner systems.
Employ hygienists to take x-rays and perform cleanings and sealants.
Increase the practice's scope to encompass other areas such as helping patients with snoring issues and offering bleaching services. OP[/sidebar]
Roncone believes the presentation was well received because it was well organized, included professional handouts, and he covered a common problem orthodontists face—how to manage a practice well. "I hit a topic that most of them were unfamiliar with," he says.
For a number of years, Roncone continued with his 2-day lecture series—speaking nationwide. An orthodontist who had attended a number of his seminars suggested that since he kept adding material to the course, why didn't he offer a longer course?
So ultimately, Roncone started a four-session, 16-day, year-long course, on every aspect of the business of orthodontics, including management, marketing, and clinical practice. Originally named Practice Management Power Group, it is now called JSOP. The information provided in this program is geared to increase efficiency, productivity, and profitability, and is designed to help orthodontists reach the maximum potential in their practices. The name—Just Short of Perfect—implies that nothing can ever be perfect. Roncone will present his 56th year-long course later this year. He has presented in all 50 states and 52 countries.
New Developments
Earlier this year, Roncone introduced another brainchild to the orthodontic world: the Roncone PhysioDynamic System (PDS). Forestadent produces the system's specific wires and auxiliaries.
"Many orthodontists are still using clinical mechanics which were used in the 1970s," he claims. "But the vast majority of patients (90%) can be finished in seven appointments, including the placing and removing of braces, if modern materials and methodologies are used." The PDS entails six steps with very specific protocols.
Looking Ahead
As far as the future is concerned, Roncone sees no limit to where technology can go. In fact, he has developed three new projects to address the direction he thinks orthodontics is heading, with the first to be in place by 2015. Roncone Orthodontics International (ROI) will make a major effort to work with practices and have fees based on increases in practice profitability. It will be meshed with the JSOP program, manuals, and staff training. Several practices have already committed to the program; only 10 practices will be accepted the first year.
Two more endeavors will be unveiled in 2016. "One is related to helping orthodontic residents start a practice," Roncone says. "The other will focus on assisting veteran orthodontists prepare for retirement."
Roncone sees a need for the latter because now, more than ever, a high percentage of orthodontists aren't prepared to retire. They are unable to sell their practices because they need to keep practicing. "The program will show how orthodontists can use practice management to build up enough equity to retire on a similar salary in a 5-year period," he explains.
Throughout his career, Roncone has focused on ways to improve not only the treatment experience for patients, but the professional experience for orthodontists. In the end, it's all about maximizing the potential, something Roncone has excelled at over the last 43 years he has been in practice. OP
Karen Appold is a freelance writer for Orthodontic Products. She can be reached at [email protected]