By Justin W. Sanders | Photography by Bradford Wilder
"It was about 11 am, and we were cruising."
So reads an October 4, 2013, post from Dennis P. Ross, DDS, MS, on a blog chronicling his journey by bicycle from Atlantic Beach, NC, to San Diego.
Just over a week previously, on September 25, Ross and a small support team had departed on the epic cross-country ride, which had evolved from a $100,000 fund-raising mission for the Boys & Girls Club of America to a race into the record books.
"We had roughly 46 hours to complete the bicycle journey and 540 miles left to set a record for speed on a bicycle," he wrote. "I don't know if we would have done it."
Ross would never find out. On day 7 of the trip, on an isolated stretch of Arizona highway he described as "the safest place for the biker," a pickup truck going 70 miles per hour crashed into Ross' support vehicle, a Suburban bearing two team members that had been tailing him throughout the ride. "I was finally to a point on the road where you could daydream a bit, you could drift, let your mind wander," Ross told Orthodontic Products in the days following the crash. "Then all of a sudden, the sound of breaking glass and metal. It was like an explosion behind me. It was bad."
Fortunately, nobody was hurt in the crash, and the Suburban fulfilled one of its intended purposes, which was to serve as a buffer between Ross and oncoming traffic. But the team was shaken badly enough that Ross canceled the remainder of the ride, less than 2 days away from making history.
Speaking from his home in Raleigh, NC, while recovering from the grueling trip, Ross had a healthy perspective on the ordeal. "You can't change day-to-day situations," he said, "but you can change how you react to them. This was a big deal for an old man to get on a bike and raise that kind of money and go that kind of speed. I'm excited about what we did."
Going Fast
A self-described "regular old person that's pretty good with straightening teeth and enjoys the outside life," Ross was "raised to give back." His father, Ledyard E. Ross, DDS, "grew up one of the 10 poorest people in the county," only to become an orthodontist and businessman so successful he was able to donate $4 million to the School of Dental Medicine at East Carolina University following his retirement. In return, the school named its main building Ledyard E. Ross Hall.
Ross inherited his father's generous spirit and rigorous work ethic. During graduation from the University of North Carolina's orthodontic program in 1991, his fellow students mentioned taking weeks and months off to see the world before starting work. Ross told them he "had patients to see on Monday because my dad wanted me in there so he could retire." Days later, the newly graduated Ross became the sole practitioner of Ross Orthodontics, and never looked back.
Before the accident, Ross was on track to achieve the Guinness World Record for fastest cross-country bike ride by a man over 50 years of age. Courtesy of Dennis Ross. Small and family-oriented, the well-established practice, located in Greenville, NC, is supported by an unusually dedicated team of employees, two of whom have been on staff for more than 45 years. "We work as a team. I've never fired anybody, and in probably 20 years only had two people ever leave," Ross said. "If somebody gets behind or if they have work to do and somebody else finishes [their own work], they just pitch in."
The time-tested familiarity and camaraderie of his staff results in a highly efficient workplace that has left time for Ross to pursue a robust lineup of extracurricular activities throughout his career. A longtime fitness devotee, he has always enjoyed hiking, paddle-boarding, kayaking, and other outdoor pursuits.
As many orthodontists do, he brings a goal-oriented precision to his hobbies, and eventually began jogging competitively, winning 5K races, doing well in half-marathons, and prepping to run full marathons. Then a setback occurred. Ross's active lifestyle produced an injury that required extensive knee surgery, and just like that, he went from training to run in the Boston Marathon to being unable to run at all.
"I sat around and pouted about it for a while," Ross recalled, "and then I had some friends who said, 'Well, come ride a bike. We got this group that meets some nights.' "
Ross went and rode with his friends, using a borrowed bike. That first night he surprised himself by being able to keep up, and a passion was born. Cycling was easier on his knees than running, and he happened to be good at it. Soon, he was riding up to 300 miles a week and finding that his newfound passion could merge with his lifelong passion of helping others.
Giving Back
Ross is guided by a strong Christian faith and the steadfast belief that, "I am here for those less fortunate." He has spent his career backing those words up with deeds, including trips to Kenya and Nicaragua to provide free dental care for underprivileged communities.
"If you ever go overseas and help people who really have nothing," he said, "and take out some teeth on people who are in severe pain and ride their bicycle back 4 or 5 miles, and come back with a tiny bag of peanuts for you—you realize that's all they have. It touches you. You come back more blessed than the people you're helping."
Stateside, Ross' humanitarian work brought him to the Boys & Girls Club of America, the after-school organization that views academic success, character development, and healthy lifestyles as the tenets of productive, caring, and responsible citizenship. "I was born on third base," Ross said of his involvement with the nonprofit. "I had a hot meal on my table every night. My education was paid for. The goal was to get to home plate. A lot of these kids in the Boys & Girls Club are still in the dugout. [The Club teaches] these kids life skills, and about bullying and about manners and how to live life and fit in socially. It's a good organization."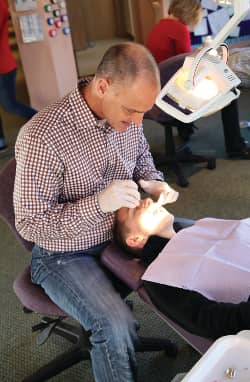 For Ross, orthodontics is about changing people's lives inside and outside his practice. When Ross learned his local chapter of the Boys & Girls Club had a major budget shortfall in the wake of the Great Recession, he yearned to do something about it. Realizing that "everyone's always doing golf tournaments, dinner auctions, those kinds of things," he decided to plan a fund-raiser of his own, built around his own favorite activity: cycling. With the goal of raising $100,000 in pledges, he announced a long-distance bike ride in the name of charity, from Greenville, NC, to Key West, Fla, the southern-most tip of the United States.
On May 12, 2012, Ross set out, riding south and completing the 1,200-mile journey in about a week. Everything went according to plan, and he even stopped at other Boys & Girls Club outposts en route to educate kids about good oral health. The only problem, in Ross' eyes, was that he had set out to raise $100,000 for the ride, but wound up with $70,000. Though this is still an impressive total by any measure, for the driven Ross, it wasn't enough. So, 3 months later, in August 2012, he set out on another fund-raising ride, this time from his office to the Canadian border.
This time around, Ross didn't stop at the clubs to talk to kids. Instead, he focused on the ride, completing the 1,300-mile journey in only 6 days, and averaging more than 200 miles a day. He also completed his goal of raising $100,000 for the Boys & Girls Club. By now, he was pedaling more than 300 miles a week, and he was only just getting started.
Getting Ready
In March 2013, Ross began planning his longest, most difficult ride yet, a coast-to-coast trek from Atlantic Beach, NC, to the sunny shore of San Diego. Once again, he would aim to collect $100,000 for the Boys & Girls Club of America, but now he had a different, possibly even more challenging goal in mind.
As Ross began putting "6 really hard months of training in" for a launch date of September 26, 2013, his distance count went from 300 to between 500 and 600 miles per week. "I kept getting faster," Ross said. "I don't know if it was a gift from God or whatever, but biking has never been that hard for me. I can push, and I can go fast, and I can go long distances."
PRACTICE PROFILE
---
Ross Orthodontics, Greenville, NC
Office square footage: 3,400 square feet
Number of chairs: five treatment chairs and two full consultation rooms that can be used as overflow chairs for retainer visits, etc.
Education: DDS from the University of North Carolina, Chapel Hill, 1983; MS Ortho from the University of North Carolina, Chapel Hill, 1991
Starts per year: 300-320
Average patients per day: 70-80
Days worked per week: 3
Years in practice: 22 years
Top 5 products: American Orthodontics brackets; Nola cheek retractors for bondings; Reliance Orthodontic Products bonding agents; Phosfluor to decrease decalcification incidences; mouth guards for all athletics
Exhilarated by his rapid improvement, Ross "started looking at [Guinness] world records, and what it was for someone my age to get across the United States." He determined that if he could average around 300 miles per day, he could complete the journey in less than 9 days and 10 hours, thereby setting the world record for fastest cross-country bike ride by a man over 50 years of age. To accomplish such an astounding feat would require an incredible amount of planning and preparation, in addition to the rigorous training. For Ross, it all just sounded like fun.
"Being an orthodontist, you know, we tend to be detail people," he said. "[Preparing for the ride] provided a real challenge of nutrition and how much you need to eat and drink, and how to pace yourself and still be able to chase that world record at the end."
To help him with the ride, Ross assembled a small support team composed of family and friends, including a local bike mechanic. "It was like mission control at home," Ross said. "Part of the fun was strategizing, getting the maps of the 10 states we would cross. We had maps of every state laid out, always looking at three different routes in case [the team] didn't like the look of a road, found it too busy, or whatever."
In addition to his daily rides before or after work, Ross would take 1 day a week for an extra-long trek, setting out at 5 AM on a route such as Greenville, NC, to Emporia, Va, a round trip of 220 miles. Some nights he would go out to the country and practice riding with a support vehicle, which would be driving right behind him the entire length of the journey. With one team member manning the support vehicle, another member would pass by in a regular car at a faster rate of speed. The goal was to determine the optimum distance the support vehicle needed to keep behind Ross' bicycle.
"You would think you would want the support vehicle right behind the bicycle," Ross explained, "but if it gets hit, then the bike gets hit. But you [also] don't want it to be so far back that if people pass and then start to pull back in, the biker's in danger. There was a pretty good strategy to it."
During the ride itself, the support vehicle—a rented Suburban—not only served as a safety precaution, but supplied Ross with his nutritional needs, pulling up next to him to distribute food and water. With no time to spare, Ross was unable to pull over for meals, and ate and drank on the bike. He also slept in the Suburban, grabbing 4-hour naps in-between 20-hour riding sessions.
On the day of the accident, he had been averaging 320 miles a day, and only needed to average 270 miles over the next 46 hours to complete the remaining 540 miles in time to achieve the record. With the Sierra Nevada mountains still ahead of him and exhaustion beginning to take hold, Ross can't say for sure if he would have broken the record before the accident. All he knows is that, "We were on the stretch run, and my legs felt good. It was just bad luck."
Going the Distance
On November 14, 2013, Ross set out to finish what he had started. He flew with his support team to Phoenix, then drove to the site of the October 4 crash, where he proceeded to cycle the remaining 540 miles to San Diego without incident. At Imperial Beach, Ross dipped his tires in the Pacific Ocean, took a few pictures, and felt that, "It was nice to have the journey over with." At the time of this writing, he had once again pulled in close to $70,000 for the Boys & Girls Club with more donations streaming in.
Ross finally made it to San Diego in November. Courtesy of Dennis Ross. Bad luck may have prevented Ross from breaking a world record in September, but he's not the type to dwell on it. On the contrary, he feels fortunate to have been able to try for it at all. For Ross, a career in orthodontics means not only "changing people's lives, improving self-esteem, [and] making the kids feel better about themselves," but "the flexibility and scheduling to be able to do the things you enjoy as far as charitable work or time with your family.
"We're very blessed and have money to give back to others who don't have as much," he said. "There are a lot of benefits to being an orthodontist. I feel very, very lucky." OP
To read more about Dennis Ross' charitable endeavors, or to contribute to his cause, visit his website, riding4areason.org.