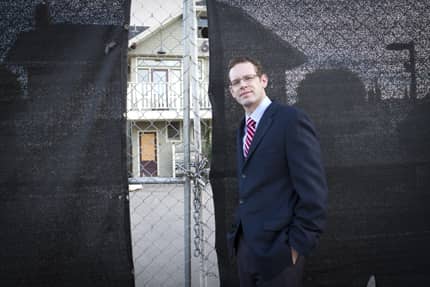 By Alison Werner | Photography by Jason Wallis
Late on a Sunday night last December, Shawn L. Miller, DDS, MMedSc, got a call no one wants to get: The historic two-story, 98-year-old converted house where his 4-year-old Orange, Calif, orthodontic practice was located was burning down. When he arrived, the street was closed off by fire trucks, and firefighters were still working to put the blaze out.
Once the last flames were extinguished, Miller was able to go in and grab a few things, most importantly some personal belongings and his computer server. But it wouldn't be until the sun came up that he could really see the damage.
"The firemen did a great job, but unfortunately water got everything wet and smoke got entrenched into everything. The fire itself damaged not only my equipment but the building's structure as well. The firefighters had to break all the windows and doors to let the smoke out, and they tore open walls because the fire traveled up so quickly. There was a tremendous amount of damage," Miller recalls.
Initially, though, he didn't think it was too bad. "Your first instinct is, 'We'll recover. We'll clean up, make some repairs, and we'll be back to normal in about a month.' " But reality set in a couple of weeks later when Miller found out that, due to the structural damage, it would be a year or more before the building would be ready to be occupied again. This presented him with a dilemma: Should he stay and wait out the year, or should he find someplace new?
Rebuild or Relocate?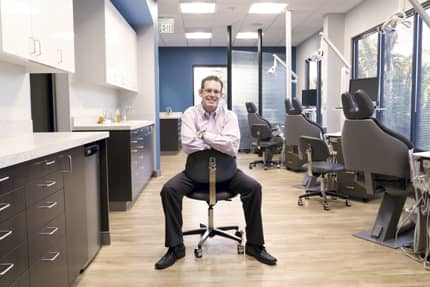 After months of running what he calls a "traveling circus," Miller is settling into his new practice. Miller had purchased the Orange practice in 2008 from an orthodontist who had been in practice for more than 30 years. A new location would allow him to build his dream office, rather than making do and retrofitting a space that wasn't intended for a modern and growing orthodontic practice. So he made the decision to start fresh.
He found space two blocks away, in a modern professional building. He enlisted Green Curve Studio to design the new office, with the goal of creating an efficient space with an orthodontic-friendly layout for proper patient flow and equipment usage.
The new office, which opened in mid-September, was fully digital from the get-go: a new large-field cone beam CT (the Kodak 9300 CBCT) replaced the limited-field-of-view cone beam CT damaged in the fire. The new office has consultation and records rooms, each with one patient chair, and a treatment bay with five chairs, one of which is semi-private with a glass partition. The space also includes a staff lounge and private office for Miller—two features the previous space lacked. Patients also get some new perks. In addition to video game systems, the new office has an Internet bar with iPads for Web surfing and a fun on-deck waiting area.
"The new office is everything I always wanted in an orthodontic office. It's properly planned," Miller says. It even features 400 more square feet than his former space, which will allow him to add either more operatories or a conference room in the future.
But before Miller could even envision this new space, he and his staff had to scramble and strategize that Monday morning in early December—less than 24 hours after the fire. They had patients to see.
Surviving the Crisis
Miller was due to see patients at his smaller, 6-month-old, three-chair satellite office in Aliso Viejo, Calif, that Monday morning and patients in his now-destroyed main location in Orange on Tuesday. On Monday, he and his full staff gathered at Aliso Viejo to set up a makeshift situation room. It was there that Miller plugged in his salvaged server to see if it would work. Fortunately, it did, and he and his staff were able to access the patient schedule. They then got to work calling patients to cancel some of those Tuesday appointments and to secure a temporary space for his Orange practice with a local orthodontist.
For the first week, they continued to see critical patients, canceling those who could wait. Amazingly, they actually didn't cancel a single day of clinical care. And in the midst of business as usual, they started to plan for what lay ahead. "We didn't really have Internet, fax, or phone that first week," Miller remembers. "My staff and I were using our cell phones to call patients and trying to post notices on Facebook or through a mass e-mail. We were calling our phone company to see if we could get at least one of our phone lines forwarded to the other office or to a cell phone. Patients had no way to reach us—it was chaotic. Not to mention I was preoccupied, dealing with the insurance company, the landlord, the fire restoration company, and many others. Our cars were filled with smelly, smoky instruments, supplies, and small equipment. We were like a traveling circus."
While the Orange server was intact, with patient records backed up online through Oak Tree Storage, Miller did lose older paper patient charts, including many x-rays, since the practice had only switched to computers 3 years prior. In addition, the fire destroyed all his traditional models, which impacted him personally.
"I was supposed to take my boards this past summer, but I couldn't because I lost most of my models and records," says Miller, who received his Master's from Harvard University and his dental degree from the University of Pennsylvania. He was given a 1-year extension on his boards.
Home Away from Home
While renting space worked for a few days, Miller and his staff decided it wasn't a good long-term solution. "It was a little uneasy to be in another orthodontist's office and a little awkward for patients. Plus, that orthodontist had his own patients to treat as well, so we didn't really have full access to the location," Miller recalls.
He was able to turn to his own family for a solution. His wife, Marlene L. Miller, DMD, MMedSc, a periodontist, had a little extra space in her office in nearby Tustin, Calif. So they figured out a schedule that would work, and Miller and his staff moved in while they waited for their new office to be built. The space, however, which is set up for a periodontal practice, required Miller and his staff to improvise.
"The layout is not for ortho. There's no open bay. We didn't have a panoramic or cephalometric machine, and we really didn't have a consult room," Miller says. He had to send patients to a lab for imaging. "We tried to make the best of a difficult situation. It was kind of like living out of a suitcase in a hotel. It wasn't home, but her staff was very gracious and accommodating."
Managing patients required a reassessment. Appointment times, for example, were extended from 20 to 30 minutes to accommodate the fact that routine visits took longer, and consultation exam appointments were reconfigured, with patients coming in for exams first, then being sent out for x-rays, and finally returning to get treatment started.
Banding Together
Miller says the fire brought him and his staff closer together. Despite the inconveniences, Miller's patients remained loyal. "Current patients were all so understanding and nice. They love our office, and we love them too. No current patients left us. We really didn't think they would. The only tough part was attracting new patients and new exams," Miller says.
He and his staff did everything they could to show their appreciation for their patients' support and patience. He discounted treatment for the inconvenience. He reminded patients that the situation was temporary and that they would have a new state-of-the-art office come September—and that everyone was invited to a big grand re-opening event.
Fortunately, Miller didn't have to cut back patient days or his five-member staff. "That was a big worry of mine," he recalls. "The insurance company suggested I might have to do that, but I didn't have to. We've had some slow months, but surprisingly, we also had some really good months." While the staff rallied in the beginning and stuck with him, he admits the situation wore on everybody. To keep morale up, he reminded them that they would soon have a new "dream office," and made a point to include them in the design planning. He is grateful that they stuck by him. "With this tragedy, they went well above and beyond anything I would ever ask them to do. I was amazed by what the staff was willing to do—working Saturdays and Sundays and doing all this extra work. It has really brought us closer together," Miller says.
Well-Laid Plans
Miller is also thankful that he had made some good business decisions when first setting up his practice. The recovery process was made easier by good insurance coverage through State Farm and a knowledgeable agent. "No one reads their insurance policy. It's 30 pages of fine print. But make sure you have an agent that understands dentistry and are with a reputable company," he advises other orthodontists.
Miller's agent had ensured that he had riders covering special equipment, including his cone beam CT and computers as well as moving expenses, extraordinary expenses, and loss of income. "The loss of income is the biggest one that helped me, especially that first month. I had my worst month of all time. Just to pay the bills, you need a little extra from the insurance company." And while his insurance policy didn't cover building the new practice, he was pleased with the help he got from Wells Fargo Bank in securing a loan.
Still, the ordeal has been stressful. Miller spent hours every night gathering all the documentation the insurance company needed, from payroll stubs and equipment receipts to lease information. Along with the task of building and planning the new office, the additional work has taken precious time away from his family, including a newborn and a 2 1/2-year-old. "The insurance claims adjuster said to me, 'It's like having a second full-time job that you don't get paid for,' " he recalls. In addition, he has had less time to invest in the Aliso Viejo office, which meant he wasn't able to focus on the marketing and community outreach he wanted to do to grow the office.
But with the Orange practice reopened as of mid-September, Miller and his staff can finally retire the traveling circus and enjoy their new home. "I built the new office with an eye to the future," he says. "I plan on being here for 30 years or longer."
Practice Profile: Shawn L. Miller, DDS, MMedSc
Practice name: Miller Braces
Locations: Orange and Aliso Viejo, Calif
Office square footage: 2,400 (Orange is solo) and 2,700 (Aliso Viejo is partially shared with a pedodontist)
Number of chairs: 5 (Orange), ?3 (Aliso Viejo)
Years in practice: 4.5
Education: Harvard University (orthodontic), University of Pennsylvania (dental)
Average patients per day: ?50 (Orange); 30 (Aliso Viejo)
Starts per year: 350
Day worked per week: 5
Top five products used: ?Kodak 9300C CBCT, Rocky Mountain Orthodontics TADs, Incognito Lingual Braces, Dolphin Management and Imaging, 3M Unitek APC II Clarity, and Victory Series brackets
Web site: millerbraces.com
---
Alison Werner is the associate editor of Orthodontic Products.
---
Speedy Teeth
From IncognitoTM lingual braces to TADs, Miller's new practice strives to be on the cutting edge of orthodontic treatment and to set itself apart. Wilckodontics®, or Accelerated Osteogenic OrthodonticsTM, is one treatment option that differentiates his practice. After Miller places braces, a periodontist or oral surgeon surgically performs corticotomies around the teeth to be moved, while also bone grafting the area. The bone around the teeth is temporarily "softened," allowing Miller to then move the teeth into their ideal positions more quickly. Patients visit Miller every ?2 weeks to adjust their braces because of the speed at which they are moving. In the end, treatment time is reduced from 18 to 24 months with traditional braces to only 6 to 9 months with Wilckodontics.
In addition to the reduced treatment time, Miller has found that Wilckodontics allows the teeth to move a little farther than with traditional braces. He has also been able to use the procedure in cases that might otherwise have required extractions or jaw surgery.
Wilckodontics, which can be performed on adults and adolescents, excites patients and parents. Still, there are considerations to be made: first, cost, and second, the fact that it is surgery. But for those who decide to go forward, the rewards are worth it. "Once the procedure is done, no one has ever said they regretted doing it," Miller says. "It's been really successful, and patients are really happy with the results." —AW