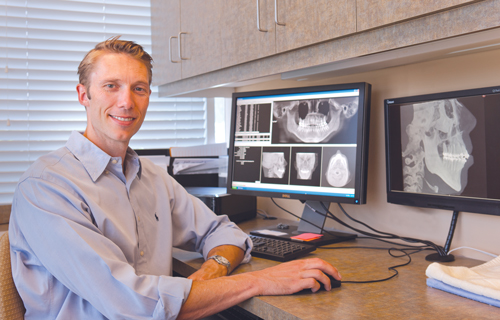 By Justin W. Sanders | Photography by Gene Sasse   
On any given morning of any given week, Todd Ehrler, DDS, MS, wakes up between 4:30 and 5 am. After answering emails for an hour and a half, he heads to Ehrler Orthodontics, his practice in the Southern California town of Upland, and starts seeing patients at 8 am. In-between patients, he continues working, answering more emails, participating in conference calls, and the like.
At lunchtime, "if I'm lucky," he says, he sneaks in a workout at the gym, scarfing down a burrito during the drive back to work. From there, Ehrler sees more patients until 5, and arrives home around 6, devoting the next 3 hours to family time with his wife and twin daughters. Then, after putting the kids to bed, he starts working again, and doesn't stop until bedtime, generally somewhere around 11 pm or midnight.
Five hours later, Ehrler begins the process all over again.
[sidebar float="right" width="200″]Practice Profile: Ehrler Orthodontics
4 locations in Southern California
Office square footage: 3,000
Number of chairs: 7
Average patients per day: 60
Days worked per week: 4
Starts per year: 250
Years in practice: 9
Education: Doctor of Dental Surgery, Master of Science, and Certificate in Orthodontics & Dentofacial Orthopedics from Loma Linda University School of Dentistry
Top five products used: Orchestrate 3D, Ortho2 practice-management software, Forestadent 2D lingual brackets, NextEngine desktop scanner, Roncone Physiodynamic system[/sidebar]
"I guess I'm too busy to think about how crazy it is," Ehrler tells Orthodontic Products during one of his rare windows of free time. "All I can say is, my wife is extremely understanding."
Such is the life of a man who is both an orthodontist and an entrepreneur. In 2007, Ehrler conceived of and began developing a company called Orchestrate 3D, which provides orthodontic treatment planning software and 3D printing solutions. He engineered the system's core software himself, and after years of gathering successful case studies, launched the company as an official business in 2012. But while juggling the double duty of both a multi-office practice and a thriving business outside of the practice has been incredibly taxing, Ehrler insists that for a product like Orchestrate, it couldn't have been done any other way. After all, no one knows what an orthodontist needs better than an orthodontist.
There was nobody else to fill that role," he says. "It had to be one person that had the perspective of the product. It couldn't be handed off to a MBA, because they would not have the background and training that an orthodontist would. I had to bridge the gap between the orthodontics and 3D technology and bring [the two] together, because no other orthodontist was going to spend the time to do that. … My role was to make that technology into a form that was easy for the orthodontist to use."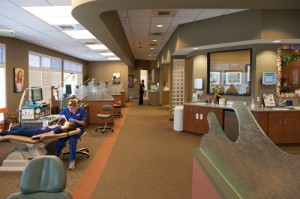 Next Generation
Ehrler was born into a dental family that goes back generations. His grandfather was a general dentist, and today, Ehrler operates the same orthodontic practice his father spent 45 years building. But while Ehrler embraced his legacy profession as a "very good career that feels like I'm helping people as part of my job," it was clear from the get-go he was going to be doing things a little bit differently.
"When I came into practice back in 2004, my dad practiced in a very traditional manner," Ehrler recalls. "Beyond photographs, little was digital. I was very interested in digital technology, and I was also aware that orthodontics, particularly in Southern California, is a very competitive profession."
In particular, Ehrler was interested in 3D digital technology, which he had first encountered while in his orthodontic residency at Loma Linda University. There, he became so fascinated by 3D that he eventually worked it into his master's thesis, using data from a CBCT machine to measure the nasal cavity's volumetric increase following rapid maxillary expansion. Faced with a practice in need of an upgrade, Ehrler started wondering if 3D might be part of the answer, offering not just a "better way to treat my patients and provide higher-quality care that was affordable," but also provide "a way for me to differentiate myself from the competition."
In 2007, Ehrler purchased his first 3D printer, a model "about the size of a commercial refrigerator that wasn't very accurate and was very slow and very expensive." (Today's 3D printers are in the slightly more attainable range of around $15,000, are extremely accurate, and the smallest models are the size of a large coffee maker.) He added to that a 3D scanner and a software platform called Rapidform, which facilitates the printing of real objects directly from digital input. With those three basic tools, he was able to start experimenting, aiming to produce a connected system that for the first time would adapt this cutting-edge technology to the unique workflow of an orthodontic practice.
"I had to teach myself a lot of things," Ehrler says. "I had the orthodontic knowledge, but I did not have the CAD/CAM [computer-aided design and manufacturing] knowledge. I had to teach myself to almost be a software engineer. It was a ton of trial and error—a lot of reading, a lot of experimenting with different scanners, with different 3D printers and different software algorithms."
Some nights, Ehrler found himself up until 2 or 3 am, still hunkered over the computer. However, while inventing a new technology was exhausting, it didn't feel like work. "It started off as just, I wanted to create a system that would be for my own patients and my own use," Ehrler says. "Then, I told some of my friends and colleagues about it because it was fun. I was having a blast with it. I said, 'Check this out,' and a couple of them saw it and were like, 'Wow. We want the same thing in our office.'?"
Ehrler's late nights had paid off. He had harnessed an in-office orthodontic 3D scanning, treatment planning, and 3D printing system that could be implemented in all aspects of his patients' care. Though it hadn't been fully tested yet, his new system had the potential to streamline 3D modeling, diagnosis, appliance design, and the 3D printing of those designs and models—all of which he could now do right from his office. He could take a 3D image of a patient's teeth, align the image using the system's treatment planning software, and then 3D-print a model of the aligned image. He could then manufacture the appliance required for the patient using the 3D-printed model.
It wasn't long before Ehrler and the small group of peers who knew of his creation "all got together and said, 'All right. Let's ramp this up and take it to the next level,'?" he remembers. An all-in-one 3D-printing solution designed for orthodontics, by an orthodontist, was a brand new thing, and there was nothing like it currently on the market. The time had come to turn what would eventually be named Orchestrate into a product that could be sold to the orthodontic industry at large.
First, however, they had to make sure the product worked. The theoretical implications of Orchestrate were breathtaking, but because of the prolonged duration of most orthodontic treatments, measuring the success rate of its early adopters took a long time.
"Some of the very first patients I started on it at the end of 2007 were not even finishing their treatment until 2009," Ehrler recalls, "And that was just for the first patients I started with. We wanted to make sure we had an adequate sample size of patients before we could responsibly offer this to other orthodontists. We spent many, many years in research and development, just making sure we were getting good patient outcomes, predictable outcomes. Before we rolled out to anybody else, we made sure that there was no question that the system was very reliable and that you would get great patient results."
Ehrler and his team of investors would form Orchestrate into an official company in 2010, but they wouldn't be ready to sell a single unit of it until 2012, 5 years after Ehrler first started dabbling with the product in his spare time. The duration allowed them to not only make sure Orchestrate worked well, but to make sure it worked well with every model of 3D printer and scanner on the market.
Though the company would offer remote printing services to those who didn't own 3D printers, Ehrler wanted to be sure that those orthodontists who did own printers would be able to integrate Orchestrate into their already existing setup as smoothly as possible. For that, Orchestrate had to work with any existing 3D printer or scanner available.
Surviving Contact
Once set up, the applications of Orchestrate are vast. It can be used simply as an extremely effective tool for archiving and referencing saved 3D images, or it can directly impact every stage of diagnosis and treatment. Ehrler even uses it to perform what he calls "remote orthodontics" for patients who "are busy and don't want to come in and see me every month, or even every 10 months."
Ehrler lets these folks take their own photographs of their teeth, typically on their cell phone. Using Orchestrate, he then diagnoses and treatment-plans new appliances that are then fabricated and shipped directly to the patient.
In addition to being a time-saving device in terms of scheduling, such a process can also reduce the time patients spend in braces. For complicated cases, Ehrler will routinely use fixed appliances for the first portion of the patient's treatment, then deband and finish with some Orchestrate aligners. He finds this approach is very popular, particularly with adults. "I find that adults are much more likely to accept orthodontic treatment if the braces will be on for 12 months or less," he says.
By following this protocol, Ehrler is able to drastically reduce the time his patients are in braces, deliver a high-quality result, and keep his overhead under control. Through this perk, he achieves one of his earliest goals with the technology, which was simply to stand out from the competition. "Everyone wants a shorter amount of time the braces are on," he says, and an orthodontist who can offer that will be very popular indeed.
But even with all these amazing capabilities, Ehrler stresses, "The system is different for every orthodontist in how it's used. That's why it's called Orchestrate—because it allows the orthodontist to be completely in control of the digital application in their practice. So my use of Orchestrate may be totally different than the next orthodontist's."
Many orthodontists, especially outside America, haven't even caught on to the benefits of 3D technology, and one not-insignificant component of Orchestrate's success is outreach, the ability to spread awareness of 3D scanning and printing, and execute the training required to use it properly.
In the early stages of the business, even this task was part of Ehrler's duties, and he often found himself traveling afar to educate a new customer on the ins and outs of the system. Since then, Orchestrate has partnered with Forestadent® USA and Ortho2 to handle such matters, which has allowed Ehrler to "spend more time on research and development, which is what I love the most."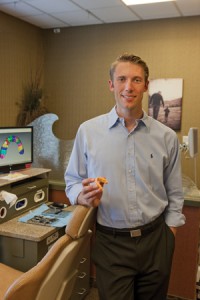 As 3D printers become smaller, more accurate, and, most importantly, more affordable, Ehrler says that, "In the next 5 years or so, I wouldn't be surprised if a very large portion of orthodontists had a 3D printer in their office. Once that happens, there's very little limitation as to what the orthodontist can do with the different products and appliances that can be created.
"I don't think it's too far off in the future when the orthodontist can start printing their own supplies, things they use on a day-to-day basis. Instead of looking at a catalog and ordering a certain disposable supply, they'll just print that in their office and use it. That's going to be the evolution—the in-sourcing."
In the meantime, Ehrler will continue to find ways to innovate Orchestrate's patient applications. As the spokesperson for the company, he finds himself giving a lot of speeches and presentations, and "traveling a bit more than I'd like to be." He also welcomes a steady stream of potential customers into his office, who fly in from all over the world to see Orchestrate in action and learn how they might bring it into their own practices. Though the days of wearing many hats within the company are behind him, Ehrler is as busy as ever and doesn't see it changing anytime soon.
"I still don't consider the company a complete success yet," he says. "Our philosophy from day one has been, you can really never rest. You always have to keep pushing and trying to make it better.
"There's an old military saying that no plan ever survives the first point of contact. I've found that to be very true. You can sit down and spend hours and hours working out a detailed plan, and one little thing comes along that you weren't aware of, and it blows the entire plan out of the water. What I've learned, maybe painfully over the past several years, is that every single day I have to have an absolutely open mind and be very curious about everything, and focus on a perfect effort for the day, to do my best that day. But realize that sometimes, almost all the time really, the outcomes may be far different than what you thought at the beginning." OP