For Theodore J. Kula III, DDS, MSD, working in a one-location multi-specialty practice in Indiana provides a unique opportunity to offer comprehensive care to his patients and reap the benefits of comprehensive service from his suppliers
By Greg Thompson | Photography by Chris Bergin
Clinical skills are essential to succeed in orthodontics, but Theodore J. Kula III, DDS, MSD, is convinced that people skills are just as important. Assembling the clinical puzzle and relating to parents and children is what Kula does best.
"If there's one skill I have, it's that I enjoy being around people," says Kula, a partner at Dentistry Just For Kids + TK Orthodontics, a one-location multi-specialty practice in Terre Haute, Ind. "I genuinely enjoy spending time with my patients, parents, and staff. When you love what you do, it doesn't feel like work. There's nothing more satisfying than having a patient or parent leave your office feeling like they've not only received the best treatment possible but also had a memorable, positive experience…I see orthodontics as a puzzle. It's like a chess match trying to get everything lined up properly."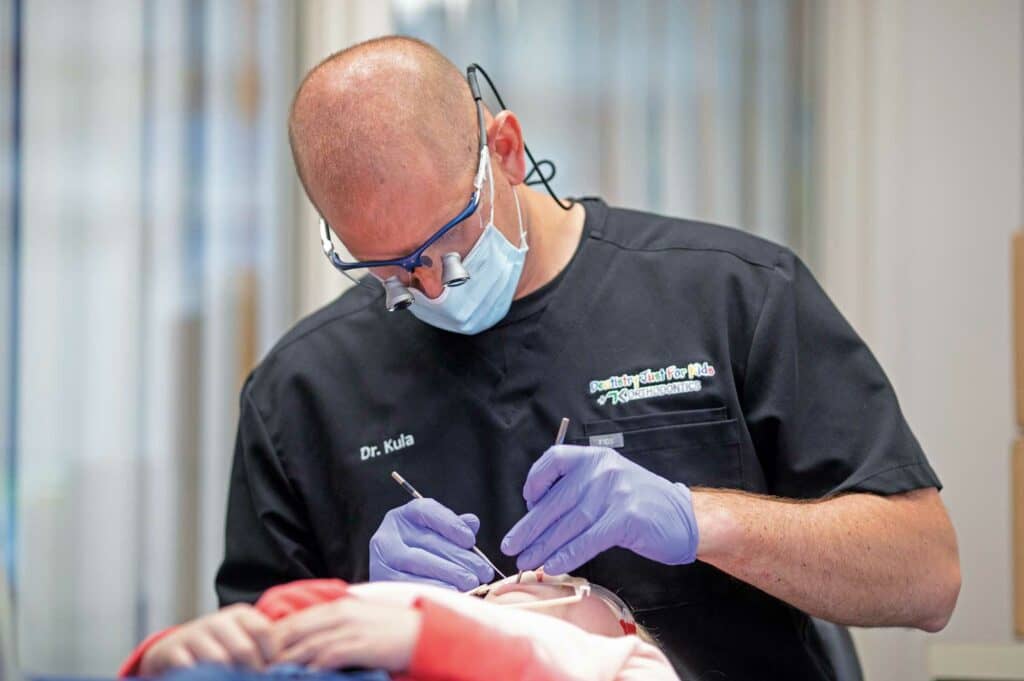 On the clinical side, Kula began his odyssey as an undergrad at the University of Missouri, obtaining a bachelor's in biology and eventually a masters in biology from Purdue. Dental school and an orthodontic certificate followed at the University of Indiana.
As a newly-minted orthodontist, Kula, known to friends, family, and patients as "Tadziu" or "Tadz" (pronounced Tod-ju or Todge), quickly built a reputation in the western part of the Hoosier state based on results and relationships. Kula's TK Orthodontics side of the practice draws heavily from the pediatric dental wing. As a built-in referral source from the pediatric dental side, partner Steven M. Pilipovich, DDS, and associate Jayme M. Norris, DDS, provide a steady stream of patients.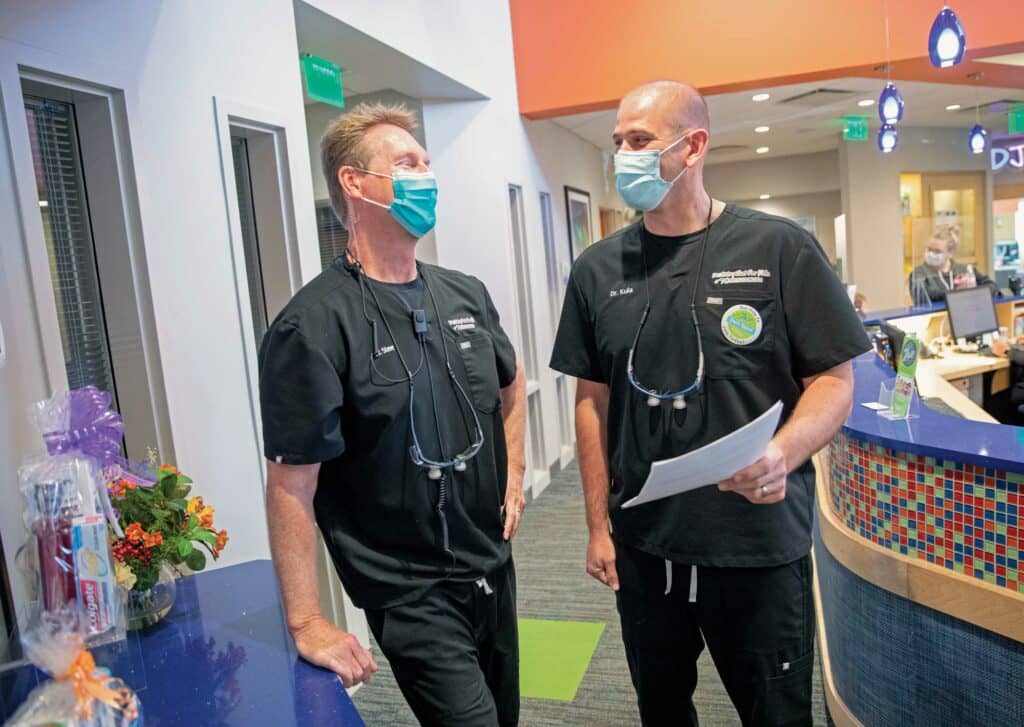 With Pilipovich and Norris establishing a base of trust with patients and parents, it makes it easier to digest Kula's treatment plans. "Not everyone wants to hear that their child needs extractions," he says. "However, they trust our pediatric dentists, and they trust my treatment plans. If the patient comes to see me and I refer them over to the pediatric dental side, the same thing occurs."
Multi-specialty advantages tend to build in unexpected ways. For example, monitoring hygiene is easier thanks to reinforcement from all sides of the practice. "We also have a 3-month hygiene plan where we try to get ahead of hygiene issues if they occur during treatment," says Kula. "Whenever I need a procedure done, such as extractions or restorations, it's easy to coordinate appointments. I can see them on my side for 5 minutes to remove brackets, then they go to the peds side to have the laterals built up. They can come back to me to put the brackets on—that makes life easier for clinicians and patients."
With an eye toward making the process as seamless as possible, Kula makes all decisions based on patient comfort and eventual results. "I don't like to be on the bleeding edge of technology, but if the technology makes sense for the patient and for me, then it's a win-win, and I'm going to do it," he explains. "I may still be the only orthodontist in the area who has a scanner. I know scanners are no big deal now, but when I first started here, I insisted on having a scanner. Scanners increase cost compared to impressions, but we also have a lot of pediatric cases. Realistically, I can't routinely take impressions on 7- and 8-year-olds for space maintainers and expect them to feel comfortable returning when it's time to actually deliver the appliances."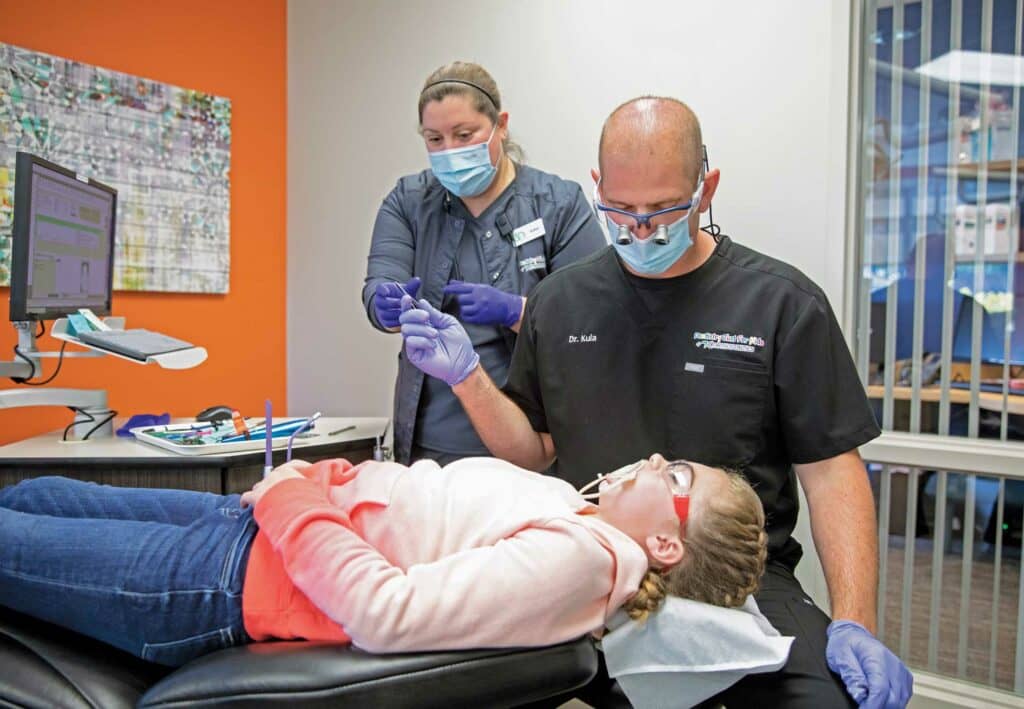 When it came time to choosing who would deliver appliances to him and with several manufacturers vying for his attention, Kula took his time and eventually chose G&H Orthodontics based out of Franklin, Ind. It helped that G&H resided in Indiana, but Kula is more impressed by the company's "consistency, functionality, excellent brackets, and quality wires."
"Their brackets don't deform," he explains. "They have the proper tips and torques in them. They make rubber bands for me, and those rubber bands have my logo on them. They make color ties, and I'm able to buy all this stuff from one place. I know where I'm getting it from. It's not outsourced, and I know the quality I'm getting."
Relying on fewer suppliers to take care of the practice also carries several advantages, such as easier ordering so "you're not going to 10 different websites looking up who has the best deal or who is in stock or out of stock." On the business side, a single source helps to standardize procedures for staff members.
Another advantage is automatic quarterly shipments of products that get regular use. That means that the office manager at TK Orthodontics does not always have to put in an order for the brackets, except for some rare ones that may be needed.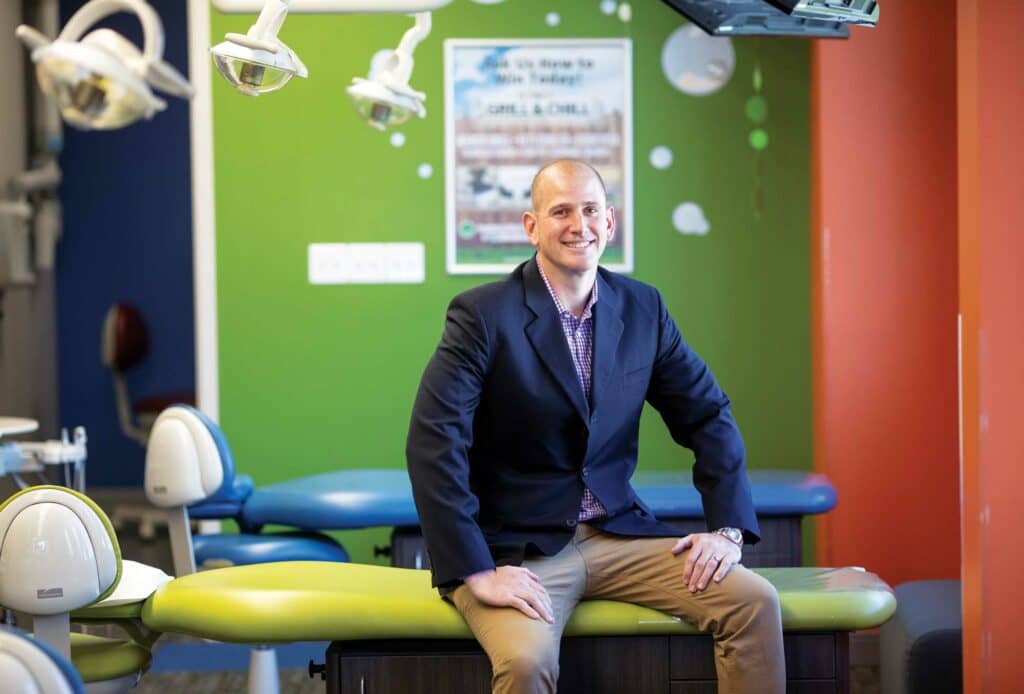 "G&H is constantly shipping us bulk orders every quarter so we don't get behind, and we can adjust that as necessary," Kula enthuses. "By having these products that keep rolling in for us, we're able to keep up our stock. Whereas if we weren't getting that in, we'd constantly be on the phone saying, 'Hey we need this, we need that.' We were not expecting to treat this many new patients, yet they are coming in the door. We've got to be prepared for that, and ordering from G&H allows us to do that."
Building on a growing practice with the help of a midwestern company naturally feeds into the culture that Terre Haute residents value. As a resident of the 60,000-population community in the Wabash Valley, Kula knows the rural expanses, and he's aware that people need a reason to make the drive.
"We're a very tight-knit community, and people have lived here for a long time," he muses. "Everyone seems to know each other, and a lot of these people have varying degrees of economic backgrounds. These people are just looking for their children to be cared for, and that's what we provide. In return, the community embraces us, and that's one of the things I love about it here. We're part of the community, and I think that's important. People look forward to coming here and seeing us, and I don't just mean the ortho side—the pediatric side, too."
With a grandpa who grew up in war-torn World War I Poland and another who served as a combat soldier in World War II, Kula often reflects on the struggles of his parents and grandparents who grew up poor. He is quick to say, "I've had it easier, and if they could do it with what little they had in front of them, I can do it. That's what drives me."
That kind of gratitude fuels a love for the profession that is built case by case. Acknowledging that the "big reveals" of perfect smiles are always gratifying, Kula manages to find a more enduring satisfaction in the "day-to-day conversations we have with patients and families. Connecting with each patient is incredibly important to me."
That does not always happen, but Kula and his assistants certainly make the effort. "Maybe the assistant or I can crack that hard shell and make a kid's day a bit better," Kula says. "We've got a lot of kids who just need to be heard. You've got those teenage boys who never brush their teeth. We do a million hygiene checks with them, and we wear them down so they start brushing better. That decalcification, all those white spots, become hard. That's much more important than getting Class I occlusion. We put that kid on the right path for success—so for me that's much more important."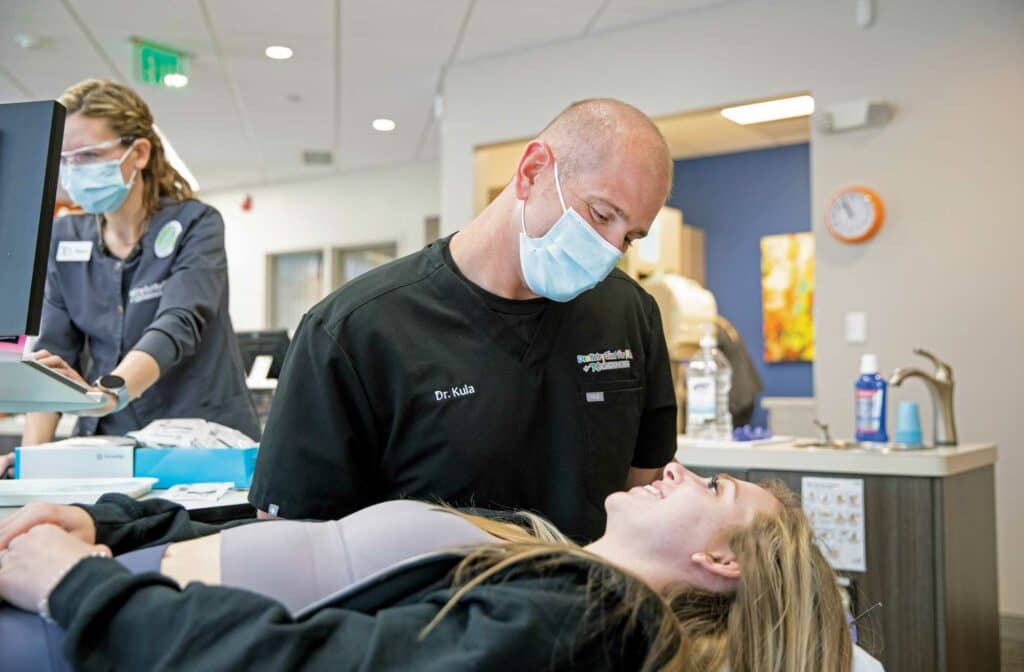 Another part of the care continuum is seeing more parents. They're not always coming for orthodontics, but instead need full dental care. They feel like they can talk to Kula, and these conversations can be the gateway to fixing some long-term problems.
Kula explains: "Sometimes, they're just afraid of the dentist, and they come to me for a plan. They trust me to get them on the right path. I just had this happen last week. We finished up a case with a child and mom came in for a consultation. She hadn't been to a dentist in 20 years. We set her up with the appropriate specialties—she needed some extractions, a cleaning, and a few other procedures. That, to me, is more rewarding than nailing the midlines on a case."
When he's not improving smiles, Kula spends time with his wife Maren and their young daughter Ellis. "I actually don't have that much free time," Kula says with a chuckle, "but in my free time, I spend it outdoors. I'm lucky enough to have a lake next to the house, so I enjoy fishing. I actually had a fishing tournament this past weekend with a bunch of friends. We caught a ton of fish and followed up with a pretty tasty fish fry." OP
Greg Thompson is a freelance writer for Orthodontic Products.