The combination of orthodontics and pediatric dentistry isn't a terribly common one. But for Ann Guerra, DDS, of Briarcliff Children's Dentistry and Orthodontics in Briarcliff Manor, NY, combining two specializations she is passionate about is what sets her practice apart from others in her area and helps it to thrive.
Guerra, who has been in practice for 23 years, always knew she wanted to work with kids, even early on in dental school. People told her to keep an open mind about her path, though, and told her to make sure she wasn't more interested in periodontics or other specialties first.
As time went on, it was clear to her that she wanted a practice dedicated to serving children and impressing upon them at an early age the importance of dental and orthodontic health. But she also realized that by working with children and young people, she could better shape not only their mind-set about oral health, but also their oral development.
"I love how when a child is young and growing, you have a lot more control over the development. You can make such a huge difference in how their jaws grow. It is such a neat part of it," Guerra says. "As a pediatric dentist, you're seeing people at a much younger age than orthodontists will generally see them. If they're in your practice from the age of 3, you're getting such an advantage of getting to see things that are starting to develop poorly."
So, after completing her degree at the University of Stony Brook School of Dental Medicine, she put in extra years of work to earn a certificate in pediatric dentistry from the Columbia Presbyterian Medical Center and a certificate in orthodontics from the Columbia University College of Dental Medicine.
"I know people who have done the dual training, and I know of a few who end up not doing pediatric dentistry and only focus on the orthodontics," she says. But for her, the passion remained to combine the two. "I really like doing both."
Still, when asked what she considers herself first—a pediatric dentist or an orthodontist—Guerra admits that she would call herself a pediatric dentist first, only because it shapes how she looks at a patient. "Not all my dental patients are orthodontic patients, and not all my orthodontic patients are also my dental patients," she says. But looking at the patient from the perspective of a pediatric dentist "helps me look at the whole picture."
In Practice
At Briarcliff, everything down to the layout of the office is designed to cater to younger patients. While the office has an open bay treatment area with three chairs in plain sight of one another, she also has four private treatment rooms so children have a more intimate setting. For her, a large part of the practice is learning how to influence a younger patient's emotions toward going to the dentist from the start. If they feel comfortable, not only will they become long-term patients, but they will also be dedicated to keeping up their dental and orthodontic health.
But having a specialization that focuses on children has its challenges. One challenge in Guerra's practice has been how to cater to children through her dual specialization while still providing services for other ages.
"We have to cater to a much broader range of ages, and that's a little bit of a challenge; having an office that appeals to young moms or young kids, but on the other hand not alienating the teenagers," she says. "I don't have a lot of adults, and that's one way my office is different, too."
In the last 2 years, however, Guerra has seen an uptick in adult patients, which she attributes to people being able to browse the Internet until they find an office that sounds like the right fit for them. She finds many new patients come in already knowing about her dual specialty because they've done thorough research online before making a choice.
Guerra has also realized that in the age of searching the Internet for doctors, her website is no place to be modest. By making sure to advertise herself as being trained in both orthodontics and pediatric dentistry, she hooks young patients in early and is able to streamline their treatment into adulthood. Parents love the convenience, too, and she's starting to see adults she treated earlier in her career start bringing their children to her for the same services.
And for a practice so specialized, the Internet is a huge help. Many general dentists in her area don't want to refer patients to her for orthodontic treatment for fear of the patient hopping to her practice for dentistry, too. Her all-under-one-roof approach is, after all, a big part of the appeal.
"It's very different from the orthodontic-only practice," Guerra says. "That creates a little challenge. Our biggest referral now is word of mouth."
And her practice is also very different from a pediatric dental office that has an orthodontist on staff, as Guerra is wearing both hats at one time. "I know the child as a dental patient and an orthodontic patient. There is a continuity of care that is a little more streamlined," she says.
What's more, her dual specialty has protected her practice from downswings in the economy in recent years. As orthodontic-only practices struggle with fewer patients walking through the doors and competition from general dentists doing Invisalign and other basic orthodontic treatment, the pediatric end of Guerra's practice has kept her practice going. "I'm happy I kept my skills up for both specialties because we're not all as busy as we once were. It's kept me busy enough and has also helped me with patient referrals," she says.
Making it Work
But even as her unique practice might hurt referrals in some ways, she believes the practice makes up for it by filling a niche that many people value. For some pediatric patients, the convenience and relationship-building aspect of Guerra's office is about more than having several services in one place. Many of her patients are special needs children, specifically children with autism or learning disabilities, but having them first as dental patients and possibly later as orthodontic patients can make the whole process of doctors poking around in their mouth a little less worrisome and difficult.
"We're able to establish a relationship with those kids at a young age, and when and if they do need orthodontics … we have the benefit of getting their confidence built at a younger age," Guerra says. "With kids who are more anxious, they're more comfortable and we know their quirks, and that makes our office unique."
Patients can also have dental and orthodontic appointments all in one day. If someone needs to have his or her braces off for a teeth cleaning, Guerra's practice can remove wires, perform a thorough cleaning, and then put the wires back on, all in one place and in one appointment. The same goes for procedures involving cavities, a buildup of an undersized tooth, or any other problems a patient may have.
But creating a practice so streamlined wasn't easy to do, and required some changes to the business model that other orthodontists and dentists might not usually have to deal with. First, Guerra has had to find work-arounds for technology that caters to either dentistry or orthodontics, but not orthodontics and pediatric dentistry at the same time. "For the software programs, there are a lot of great ones out there, but I haven't been able to use them because of the pediatric dental aspect of my practice," she says.
Guerra admits her practice isn't the most high-tech, but that's largely by choice. "I'm about the relationships with patients and doing great work. Believe me, I do keep up with technology, and I try and incorporate it when I feel it's definitely going to be a help. But at the end of the day, what's really most important to the parent and the patient is the relationship and the human touch," she says. "I know a lot of stuff behind the scenes can be done by computers and technology, but there still has to be this person who cares about the child."
[sidebar float="right" width="250″]Practice Profile: Briarcliff Children's Dentistry & Orthodontics
Location: Briarcliff Manor, NY
Average patients per day: 35 to 40
Number of chairs per location: 7
Office square footage: 2,500
Years in practice: 23
Days worked per week: 4
Education: DDS degree: Stony Brook University School of Dental Medicine; Pediatric Dentistry Certificate: Columbia Presbyterian Medical Center; Orthodontic Certificate: Columbia University College of Dental Medicine
Top four products used: Various Edgewise fixed braces, Invisalign, Herbst appliance, bonded and banded palatal expanders
Website: briarcliffchildrensdental.com
[/sidebar]
And when it comes time to schedule those patients, Guerra has had to create her own model. While many practices recommend doing block scheduling like seeing all of your pediatric patients one day and all of your orthodontic patients another, that doesn't work for Guerra's practice, which touts the ability to do everything in one visit for patients. That can occasionally be a challenge when she and the three other members of her team—her pediatric dentist associate, dental hygienist, and dental assistant—aim to do such a wide variety of things for patients of a wide age range in one day.
"Rather than being strict about blocking, I do it a little bit, and have learned to go back and forth between the two [specialties]," she says.
And of course, Guerra's practice is also inherently unique because, in a field that is mostly dominated by men, she is not just a woman, but a woman with specialized services running her own practice.
It was definitely tough when she started working in the early 1990s, she says, because she was "really a minority at the time." She experienced patients coming to the practice she worked at during that period, and preferring her male colleagues perform work on them.
Today, though, she says her gender isn't an issue, and she focuses on looking toward the future for how her practice and profession will be changing.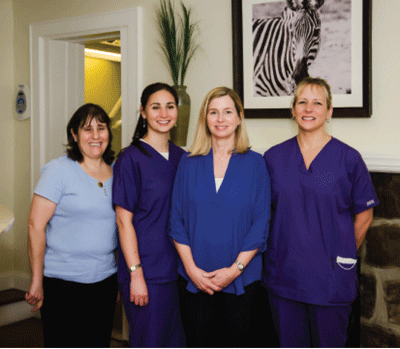 "What I've envisioned for myself is a more multispecialty practice in one dwelling. Medicine has moved in that direction—where you have everything under one roof," she says. "I love the idea of having an oral surgeon, a couple of general dentists, pediatric dentists, and orthodontists all in one. I have a feeling dentistry is going that way anyway because of all this managed care and the way the insurance is going to work.
For Guerra, the decision about her specialty was based around her long-time passion for working with children to improve their lives through their health. Above all, she believes the combination of pediatric dentistry and orthodontics in one practice makes more sense than anything.
"They really do both go hand in hand." OP
A.J. Zak is a freelance writer for Orthodontic Products. She can be reached at [email protected].