by Rich Smith
Percy "Bud" Luecke, DDS, MSD, treats his patients like rock stars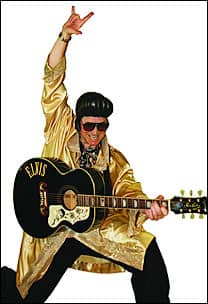 Contrary to reports in certain supermarket tabloids, Elvis Presley was not abducted by an unidentified flying object in 1977 and transported to a planet 1 billion light-years from Earth, leaving the rest of humanity to believe that he had died on August 16 of that year. The truth is, he was transported only as far as San Antonio, Tex.
Well, actually, no. But you would be forgiven for thinking so after a visit to the office of solo orthodontic practitioner Percy Edgar (Bud) Luecke III, DDS, MSD, where Elvis is indeed alive—in spirit, anyway.
Luecke's facility, which goes by the name Braceland, is a veritable shrine to all things Elvis. Strewn throughout are items in one way or another connected to the King of Rock 'n' Roll: electric guitars adorn the walls, lifesize cardboard cutouts of Elvis stand near the operatory, and the reception desk is done up to look like Lonely Street's Heartbreak Hotel. It is clear that Luecke holds he of the wildly gyrating hips in supremely high esteem; even clearer that this is the coolest orthodontic clinic in town.
Another Man's Treasure
Braceland debuted in 2003, some 16 years after Luecke entered practice. Braceland occupies 3,800 square feet of a 10,000-square-foot, warehouse-style commercial property in San Antonio's northwest quarter. Luecke (pronounced LOO-key) co-owns the building with the operators of an accountancy and a karate studio. He moved his practice to this site after its former home was destroyed in an apparent arson blaze at a neighboring drug-testing lab.
Luecke invested heavily in outfitting the six-chair, open-bay office with state-of-the-art equipment. When he was done buying, he realized he had scarcely any money left over for decorating. As it happened, Luecke's brother Alan, an Elvis superfan, was getting married. A sizable part of the groom-to-be's home in Austin, Tex, bulged with Elvis memorabilia, of which his future bride was none too fond. Shortly before their trip to the altar, she told him to lose the trove or forget her troth. "Naturally, my brother couldn't bear the idea of disposing of his collection to strangers, so he offered it to me," Luecke says. "That solved my decorating dilemma."
Transplanted to Luecke's new address, the massive store of Elvis artifacts gave rise to a suggestion from clinic coordinator Sandra Martins that the office be christened Braceland, a play on the name Graceland, Elvis's sprawling estate in Memphis. Office manager Mylene Decker (Martins' younger sister) and Luecke's wife, Sarah, oversaw placement of the Elvis items. "Their goal was to prevent me from crossing the line from tasteful to tacky; that was quite a challenge for them," Luecke sheepishly admits.
Today, while Elvis may visually dominate Braceland, he does not rule the stereo. "We play quite a few Elvis songs over our sound system, but we mix those with a lot of different types of music from a lot of different artists and groups so that there's a little something for everyone—the kids and the adults," Luecke says. "Originally, during Braceland's first year, it was all Elvis all the time, but then my staff rose up in rebellion and demanded I vary the playlist."
PRACTICE PROFILE
Name:
Braceland
Location:
San Antonio, Tex
Owner:
LueckeIII,
Percy Edgar (Bud)
DDS, MSD
Specialty:
Orthodontics
Years in practice:
17
Patients per day:
55
Starts per year:
175
Days worked per week:
4.5
Office square footage:
3,800
Still, it is the Elvis tunes from the 1950s and 1960s that are perhaps most beloved by patients and parents. "Elvis is the one musician pretty much everyone knows and likes," Luecke says. "He's never out of fashion. He's a pop-culture icon even today. Elvis or Elvis-type characters show up in TV commercials, cartoons, and movies all the time, so even the youngest kids I treat have been exposed to him and have an appreciation for his music."
Music, notes Luecke, plays an important function in the office besides entertainment. "It gives me common ground with the patients," he says. "Everybody loves music, so I've always got that to talk to the patients about. I can put new patients at ease just by spending a few minutes asking what music they like or what they think of this or that group."
Home to Serious Care
Luecke (himself a bassist) knows firsthand what a rush it is to stand on a stage and take a bow to thunderous applause at the end of a show. Wanting his patients to sample that same psychological high, it is Braceland custom for patients whose braces are removed to walk to a raised platform in the center of Luecke's office and there wave to well-wishers or say a few words about how good it feels to be debanded.
And this is no amateur production. Anchored to the high ceiling above the platform is genuine concert stage lighting, and just to the side of the stage is a large red button. When the patient steps onto the platform and slaps that button, the room lights dim, discotheque lights begin to strobe, a brilliant single spotlight comes alive, and game-show-triumphal music plays. After patients have their moment on stage, they walk over to a life-sized statue of Elvis to have their photo taken with it. In his role as emcee, Luecke sometimes dons a flamboyant gold lamÉ lab coat. (But, no, the staff do not put on white sequined jumpsuits or wear fake sideburns).
This ceremony serves a dual purpose, Luecke explains. First, it allows debanded patients to take a victory lap, which helps them and their parents feel a greater sense of satisfaction with the entire Braceland experience. Second, it provides an opportunity for Luecke to reinforce to other patients and parents the importance of compliance. "While the patient is on stage," Luecke says, "they're asked to tell everyone in the room how it was they got to where they are, and the answer I elicit is always the same: 'you got here by wearing your rubber bands.' "
Despite all the whizbang electronic stagecraft, the debanding ceremony is a surprisingly nondisruptive event. "The music only plays for about 15 seconds, which is just about exactly how long most of the kids can handle being up on the platform and the center of attention," Luecke muses. "They're almost always ready to climb down in under a minute. It's so short a time that it has virtually no impact on our workflow."
Gold lamÉ attire notwithstanding, it should be pointed out that Luecke himself is not an Elvis impersonator, although he can drawl out a pretty good Southern-fried "Thank you, thank very much" when necessary. If you want an Elvis impersonation at Braceland, you have to phone the office and be placed on hold. The message loop features the voice of Elvis, supplied by an Austin DJ who goes by the name Airwave Dave.
Braceland clearly is a fun place, but it is also home to serious care, which is what most often brings new patients (roughly a quarter of whom are adults) to the office. "The idea is to blend good times with good-quality treatment," Luecke says.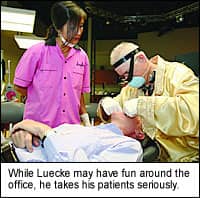 Computers play a leading role at Braceland; however, the office (which was floor-planned with ergonomics and optimized workflow in mind) is not yet fully electronic. "Our goal is to be paperless within the next 2 years," Luecke says. "We first have to convert over to digital imaging, and we also have to upgrade our practice-management software. Right now, we do all the charting, scheduling, and financials on computer. Our photos are digital; our x-rays are not."
The office operates 4 full days per week, and a half day on Wednesday (the day Luecke teaches at the University of Texas Health Science Center in San Antonio, where he is an associate professor of orthodontics). To accommodate patients who prefer later appointments, on Mondays the office opens midway through the lunch hour and stays open until 6:30 pm. "If I ever add an associate to the practice, we might even go back to having Saturday appointments, as we did in the early days when my teaching schedule stretched across most of the entire business week," Luecke confides.
A Musical Interlude
Luecke was born in St Louis while his father, a pediatrician, was in residency at Washington University School of Medicine. His parents both hailed from Texas; accordingly, after his father completed residency, the family moved back to the Lone Star State, where Luecke's father entered practice alongside his own father, a popular Dallas children's specialist. Luecke says he developed an interest in health care from watching his father and grandfather at work. "When I was a little kid, I used to hang out at my dad's office. I liked the way the office was always filled with nifty toys—like big, rubber lizards and such. My dad always seemed to be having fun with the kids, telling them jokes and doing crazy things with the toys to get a laugh."
By the time he went off to college, Luecke was intent on following in his forebear's footsteps. He enrolled at Macalester College in St Paul, Minn, a small liberal arts college. It lacked a strong science program at that time. So, after 2 years, he transferred to the University of Texas in Austin. Luecke graduated in 1975.
But a funny thing happened on the way to medical school. "After I completed my undergraduate work, I decided to take a year off, like a lot of students do before they get serious about starting their adult life," Luecke remembers. "Usually, they take a backpacking trip and tour Europe. Me, I just wanted to pack my bass guitar and tour the clubs with a band. I did get in with a band, in fact. And, 8 years later, I was still playing and touring with that same group."
Those 8 years were not squandered on a frivolous pursuit. Luecke's band—a progressive country group by the name of Morning—enjoyed a degree of commercial success. "We toured all over the state and beyond: New York City and Reno, Nev," Luecke enthuses. At one point, Morning self-produced an album of its most popular tunes, and even came a guitar-pick's breadth from landing a recording contract (which the group turned down because of the deal's glaring deficiencies).
Luecke might have continued on with a full-time career in music if he had not gotten married in 1983. "Marrying Sarah changed everything," he says. "I saw that other guys in the band and in other groups who got married, their marriages fell apart because of the musician lifestyle. I didn't want that to happen with me and Sarah, so I decided I'd better do the responsible thing and get a day job."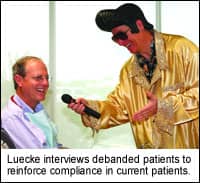 That's when his attention returned to health care. Luecke considered pressing on with medical training, but he opted to go to dental school instead so that he could more quickly get into practice. He also liked the idea that, in dentistry, there would be opportunities galore to indulge his fondness for craftsmanship, much more so than would be possible in medicine. "Once I started in at dental school, I really liked it and I knew I'd made the right choice," he says.
However, it was orthodontics that most captivated him. "I really like solving puzzles, and I found I was deriving the same sense of satisfaction from orthodontics that I would get from working a puzzle," he says. "Not only that, but I didn't have to hurt my patients in order to make them better. Also, there was the aspect of working with kids—just like my dad and grandfather, only in a different field."
Luecke's physician father, by the way, congratulated him for choosing orthodontics. "He felt this was the place to be. Insurance was starting to really make life miserable for medical doctors by inserting itself right into the care decision-making process. My dad understood that orthodontics wasn't going to have this kind of problem—at least not for a long while to come."
The Beat Goes On
Luecke didn't turn his back completely on music while in dental school at the University of Texas in San Antonio. Money ran short, so to see himself through training, he once again picked up with Morning, playing on weekends to bring in the extra cash he needed. "Sarah's job as an aerobics instructor kept her looking good, but didn't pay much," he quips. With his schooling behind him, Luecke could have again dropped out of the band—but he did not. "I loved playing too much. I'm still to this day with that same band. Mostly now we play at private parties, though. And all the other guys in it have day jobs too—one's an attorney, and the other two own a music store."
Luecke performed his orthodontic residency at St Louis University in the city of his birth. Call it a coincidence, but Luecke's oldest son, Percy Edgar (Luke) Luecke IV, was born in the same St Louis hospital where he himself entered the world. "I was in residency at the time of my son's birth, just like my dad was in residency at the time I was born," he marvels.
Initially, Luecke showed scant interest in starting a private practice; he wanted to teach. The School of Dentistry at the University of Texas Health Science Center, San Antonio, gave him the opportunity to do exactly that when it hired him in 1989 as a full-time instructor. However, that same year, he and another member of the orthodontics department faculty decided to open a private practice as a sideline. "It was a tiny office and we shared expenses, so there was very little overhead," Luecke says. "We didn't have to see a lot of patients to make ends meet, which meant we could devote most of our attention to teaching."
It wasn't long before they ended up spending increasingly large blocks of time seeing patients as word of their good work spread. About 10 years later, the partner retired and Luecke took over his patients. From this start, Braceland would later arise.
Elvis Back in Hiding?
Luecke's practice has grown steadily over the years, and its prospects for continued expansion are good. However, a cloud of uncertainty now hangs over Braceland. Earlier this year, billionaire media mogul Robert Sillerman (who owns American Idol) purchased the rights to Elvis Presley's image and likeness. According to published reports, Sillerman paid $114 million for an 85% stake in Elvis Presley Enterprises and plans to do to unauthorized Elvis impersonators what the recording industry has done to illegal music downloaders: put them out of business.
"I'm not sure how that's going to affect what I'm doing here in my practice, since I'm not an Elvis impersonator, but merely someone with a collection of Elvis items on proud display," Luecke says.
Still, Luecke frets he may be vulnerable nonetheless. In the event he one day receives a cease-and-desist letter from Sillerman, Luecke would no doubt take it in his typical relaxed stride, then pack away his blue suede shoes and announce that The King has left the building for good. But even if the hunka-hunka burnin' love turns to cold embers, music will still be a central part of the practice and the office will be rethemed accordingly. (Ever hear of The Beatles? The Rolling Stones? Jimi Hendrix? Waylon Jennings? Luecke is a big fan of their sounds and stylings, too.)
"We'll be able to adapt pretty easily," he assures. "In addition to the Elvis artifacts, Braceland is home to all kinds of guitars that adorn walls and occupy specially built glass cases between rooms. My three children—Jessica, Luke, and Hank—each have a different-colored Fender Stratocaster in the Braceland collection. When we have parties in the office for referring doctors and their staff, we get down the guitars and jam. Jessica's Hot Pink Strat, known as the 'Barbie Guitar,' is a popular choice."
Plainly, with or without Elvis in the building, Luecke expects his office to continue on as the jumpin'est joint in town for a good long time to come. At Braceland, rock 'n' roll will never die.
Rich Smith is a contributing writer for Orthodontic Products.