Hiring staff has always been a challenge for orthodontic practices. Many years ago a practice would put an ad in the newspaper and receive 50 or more applications for a position. Today with internet advertisements, the number of responses can be overwhelming, while the quality of applicants can be underwhelming. This presents a dilemma for many orthodontists. They need great candidates because building a great staff is an essential part of practice success. But how do you hire great orthodontic team members?
Three Ways to Hire a Great Ortho Team Member
Recruiting and hiring is not a perfect process. As one economist at a leading business school said, "Even if you're the greatest interviewer in the world, you'll probably get it right about 50% of the time." Want to increase your odds? Use the three strategies outlined below.
1. Find New Hires Through Your Existing Team. We recommend offering a substantial bonus for team members who refer a new employee that is hired and remains in their position for 90 days. It's one of the least expensive and easiest ways to recruit staff primarily because team members will only refer people that they believe will do a good job.
2. Recruit People You Have Met and Liked. You might not realize it, but people that you've observed doing great work elsewhere, could be a great fit for your team. We've seen people with job backgrounds ranging from restaurant servers to bank tellers that possess key attributes and skills—like dedication, positivity, and good customer service—that all translate well in an orthodontic office. The challenge with this strategy is timing. While you may not always have an opening when you meet a potential new hire, keep a list of people you like for future openings.
3. Interview Properly. Hiring a person after one interview just to save time and money often proves unsuccessful. The interview process should have three separate meetings. The first interview should assess the person's background, skill sets, and potential. The second interview should involve a deeper discussion about the candidate's goals, desire to work in the practice, and willingness to grow. Finally, the third interview should take place in a social setting such as a restaurant with one or more of the team members. When team members are involved in the hiring of an individual, they are often committed to that person's success. Additionally, team members might notice something—good or bad—that an orthodontist or office manager may miss.
There is an art and science to finding the right people for your business. Use these strategies to find the right people for your busy orthodontic office.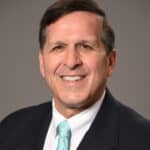 Roger P. Levin, DDS, is a third-generation general dentist and the founder and CEO of Levin Group Inc, a dental management consulting firm that has worked with over 26,000 dentists. Levin, an internationally known dental practice management speaker, has written 65 books and over 4,300 articles. He is also the executive founder of Dental Business Study Clubs—Dentistry's only All-Business Study Clubs, the next generation of dental business education.