by Seth Marguiles, DDS
A new orthodontist chats about opening his first practice
Orthodontic Products: Tell me your history: where did you go to school, and when did you start your practice?
Seth Marguiles, DDS: I went to the NYU College of Dentistry Orthodontics department for my residency program. I graduated in August 2008 and opened up my practice in October 25, 2008.
OP: What was the first thing you did after deciding to open your own practice?
SM: I found a location where I wanted to open up: Perth Amboy, New Jersey.
OP: What kind of research did you do to decide on that location?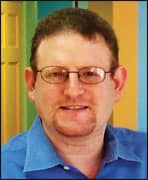 Seth Marguiles, DDS
SM: I did a little bit of demographic research. There was a company that actually did it for me, OrthoSynetics. I did not end up signing a contract with them, but part of the courting period was that they would do a demographic search for me. The nice things about the area were [that there were] no other full-time orthodontists in the city, there are 50,000 people, and the city is going through a gentrification period. So it was getting better, not worse.
OP: So you chose the area in which you wanted to set up your practice and then you went looking for real estate?
SM: Before I really started looking at real estate, I made sure that I had the availability for financing lined up. After that I started looking for real estate.
OP: And how was the shopping process looking for financing?
SM: Well, there are several companies that market directly to dental and dental specialties practices. I reviewed what each one had to offer. Based on ease of use and the people who I was working with I chose to use Henry Schein Financial to help me find a loan. And they connected me with ChoiceHealth.
OP: What did Henry Schein offer as opposed to other companies that made you go that way?
SM: I felt like there was someone negotiating on my behalf, as opposed to me doing all the talking. They coordinate the financing.
OP: How did you choose exactly where your practice would be located?
SM: I looked at a few places. I looked at some retail spaces and I looked at some office building spaces, and I just looked for a place where I could see myself for the next 5 years.
OP: What type of space did you end up renting?
SM: I am in a professional office building.
OP: What was the move-in process like? How much building and adding was done?
SM: I had a space analysis done by Ross Orthodontics. They basically evaluated my space. And then Henry Schein designed the spaces and Ross kind of drew it out. And then I had my architect finish up the plans. After that I went to five or six contractors to find out how much it would cost. I selected my contractor, and then I started construction in September.
OP: So you had Ross do a space analysis, and then Henry Schein did some of the planning, and then you had an architect. Why did you choose that path as opposed to getting a specialty architect?
SM: I was trying to control my cost. So everything I did was to control cost. Ross had a very good "new grad" deal to do the space analysis. Henry Schein does design and draws in the mechanical for free if you spend a certain amount with them, and I was already going to be using them for my equipment anyway. So basically, that was free. And my architect, if I gave him the raw material it was a lot easier for him, so he didn't charge me as much. The way I see it, if you go to a specialist who does a lot of this stuff—yes, they do it well and everything up to paint colors they come up with, but you spend a lot more money on that service.
OP: Is the office themed in any way? Or is it just a standard orthodontic office?
SM: It is a fairly standard orthodontic office. It is brightly colored; it has an open bay and a private consultation room, a lab, a sterilization area. The one area where I gave up a little is that I don't have a private office. But hopefully I'm not sitting in a private office too long anyway.
OP: And how many chairs total?
SM: Five chairs.
OP: So you have your space, and then I guess your next step is staff?
SM: Well, staff is another issue entirely—we're still working on that one. I have one person answering a phone, a family member, there 4 days a week. And he's my only staff at the moment.
OP: And are you hoping to change from that?
SM: Well, yes, eventually I am hoping to change it. But I'd like to get some patients started before I really start hiring people. Equalize my revenue stream to my output.
OP: How many starts have you had since opening?
SM: Since opening October 25, I've had about eight starts.
OP: Do you have a goal for what you'd like your production to be a couple of years down the line?
SM: So far I have several consults lined up, and this year I'd like to start 50 to 80 patients.
OP: What planning has gone into that number?
SM: That number will equalize my revenues to my cost and allow me to continue at 1 to 2 days in my office per week. This number of patients will allow me to continue at that.
OP: And where else are you working?
SM: I work at four other orthodontic offices in New Jersey.
For complete information on all the companies mentioned here, visit our online Buyer's Guide.
OP: Have other issues come up in the process of opening your own practice that you didn't think of?
SM: No, not really. I think you just have to be prepared and ask a lot of questions. Persevere. If you don't get the right answer, look somewhere else.
---
Seth Marguiles, DDS, is in private practice in Perth Amboy, NJ. He can be reached at References
O'Brien K, Lewis D, Shaw W, Coombe E. A clinical trial of aligning archwires. Eur J Orthod. 1990;12:380-384.
West AE, Jones ML, Newcombe RG. Multiflex versus superelastic: a randomised clinical trial of the tooth alignment ability of initial archwires. Am J Orthod Dentofacial Orthop. 1995;108:464-471.
Evans TJW, Jones ML, Newcombe RG. Clinical comparison and performance perspective of three aligning archwires. Am J Orthod and Dentofacial Orthop. 1998;114:32-39
Weiland F. Constant versus dissipating forces in orthodontics: the effect on initial tooth movement and root resorption. 2003;25(4):335-342.
Kusy RP. Nitinol alloys: So, who's on first? Am J Orthod Dentofac Orthop (Letters to the Editor). 1991;100:25A-26A.
Burstone CJ, Qin B, Morton JY. Chinese Ni-Ti wire: a new orthodontic alloy. Am J Orthod. 1985;87:445-452.
Miura F, Mogi M, Ohura Y, Hamanaka H. The superelastic properties of the Japanese Ni-Ti alloy wire for use in orthodontics. Am J Orthod Dentofacial Orthop. 1986;90:1-10.
Santoro M, Nicolay OF, Cangialosi TJ. Pseudoelasticity and thermoelasticity of nickel-titanium alloys: a clinically oriented review. Part I. Temperature transitional ranges. Am J Orthod Dentofacial Orthop. 2001;119:587-593.
Santoro M, Nicolay OF, Cangialosi TJ. Pseudoelasticity and thermoelasticity of nickel-titanium alloys: a clinically oriented review. Part II. Deactivation forces. Am J Orthod Dentofacial Orthop. 2001;119:594-603.
Santoro M, Beshers DN. Nickel-titanium alloy: stress-related temperature transitional range. Am J Orthod Dentofacial Orthop. 2000;118:685-692.
American National Standard/American Dental Association Specification No. 32: Orthodontic Wires. Chicago, III: American Dental Association; 2000.