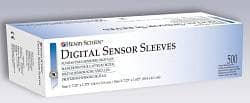 Henry Schein, Melville, NY, now offers digital sensor sleeves designed to fit digital x-ray imaging sensors. The sleeves are made of soft, clear plastic.
Curved corners at the end of the sleeves are designed to provide a snug and secure fit with insertion tabs at the base. Packaged 500 per box, the sleeves are available in two sizes: small (7.25 inches x 1.375 inches) and large (7.25 inches x 1.625 inches).
For more information on this and other orthodontic companies, visit our Buyer's Guide.