by Benjamin G. Burris, DDS
A visit to the practice of Mark Dake, DDS, MSD
In this series I will share the pearls and words of wisdom I pick up while pursuing one of my favorite pastimes: visiting highly successful orthodontic practices and talking to the people who made them what they are.
I was lucky enough to visit the offices of Orthodontic Specialists of the Ozarks. Mark Dake, DDS, MSD, a Baylor grad, has practiced orthodontics in southern Missouri and northern Arkansas for 23 years, and it seems he has no plans to slow down anytime soon.
"I have been very fortunate," Dake said when I asked about his Mountain Home, Ark, and West Plains, Mo, offices that I visited. (Both are brand new, state-of the-art, pleasing to the eye, and incredibly functional.) "I get to create beautiful smiles and enjoy being a contributing member of the community," he continued.
When I asked what has made him so successful, Dake answered, "It all comes down to solid systems that are well entrenched and reviewed often. If the staff feels comfortable and knowledgeable and their roles have been well explained to them, then they will do an excellent job and the whole thing will run with very little interference from me. These systems take years to develop by yourself, so I would suggest that the residents and recent graduates spend a great deal of time visiting offices, observing, and asking questions," Dake explained as we sat in his well-appointed reception area. "The goal is to deliver the product (great smiles) in an efficient and timely manner; upbeat, energetic, and fun atmosphere; and ensuring that the patients and staff enjoy the process. Orthodontics doesn't have to be work in the true sense of the word. We are in a great profession and should enjoy the freedom we are granted both at home and at the office."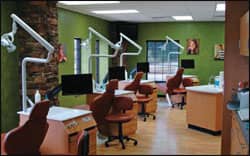 I noticed Dake's attention to detail and sense of time and space, as well as his wife's sense of style and taste, as we toured the 4,000-square-foot office in West Plains. From the arrangement of the treatment chairs and
chairside computers, to the hardwood floors, to the unconventional but highly ergonomic records area—and even in his efficient paperless charting and digital imaging systems—it was easy to see that every aspect of this floor plan and practice were well thought out before being put into service in West Plains or Mountain Home. The overall result is awe-inspiring!
Dake is also deeply involved in the world beyond his practice's doors. "Orthodontics is constantly changing just like the rest of the world. A responsible doc cannot sit in his office in isolation and think that the outside world will not affect him. … As chairman of the AAO's COGA [Council of Governmental Affairs], I am lucky to see how government can affect what we do and how we do it. It is essential that residents, recent graduates, and orthodontists in general become involved in the political process at the local, state, regional, and national level. Join the ADA, the AAO, and support the AAOPAC. … I firmly believe that much of my success is attributable to my interaction with other orthodontists in these various forums," Dake said.
Dake has recently brought in an associate, David Sander, DDS, MDS, and he is looking forward to passing on what he has learned to the next generation of providers. "I enjoy working with younger orthodontists and residents and trying to help them avoid the mistakes I've made. I feel it is important to give back to the specialty that has made my life possible."
I asked Dake about orthodontics versus other business ventures, and he said, "There just aren't many businesses that can compare to orthodontics when it comes to predictability and profitability. When done correctly—when you take care of your patient and his or her needs and put their best interest above your own—the rewards are too numerous to count."
That is sage advice from an experienced and highly successful man.
Be sure to read next month, but do yourself a favor and go visit some offices for yourself. There is no substitute for seeing with your own eyes. If someone else has already done it, it is probably possible! I don't know who said that, but these are words to live by.
---
Benjamin G. Burris, DDS, is in private practice in Jonesboro, Ark. He can be reached at
To read more articles by and about Burris, search for his name at top of the page.