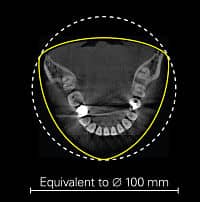 J. Morita, Irvine, Calif, has introduced Veraviewepocs 3D R100, the latest addition to the company's 3D product line. The unit's 3D Reuleaux Full Arch field of view (FOV) has a new, convex triangle shape instead of the typical cylinder. According to the company, by more closely matching the natural dental archform, this FOV (indicated by the yellow line at left) reduces dosage by excluding areas outside the region of interest and allows a complete scan of the maxilla and/or the mandible.
High-resolution 125-µm voxel images provide observation of the periodontal pocket, the periodontal membrane, and the alveolar bone, as well as soft-tissue such as the maxillary sinus membrane. A special dose-reduction mode lowers exposure to 60% of the standard mode. The unit also offers panoramic and cephalometric imaging options, and has a total ofof six fields of view, from 40 x 40 mm up to 100 x 80 mm.
Featuring i-Dixel 2.0 3D imaging software, the 3D R100 offers full TDO Practice Management Software integration, as well as certified compatibility with several popular third-party imaging software programs with a DICOM export function.
For more information about this and other orthodontic companies, visit our Buyer's Guide.