PlatypusCo is known for the Platypus Orthodontic Flosser and its line of patient hygiene focused products, but with COVID-19 it's taken on airborne virus mitigation.
Innovation is the name of the game in orthodontics, but when we talk about innovation we often focus on the high-tech. But what about the low-tech products that simply make patient treatment easier and the workday safer?
When PlatypusCo set up shop in 2008, it entered the market with a novel device—the Platypus Orthodontic Flosser, aimed at making flossing easier for bracket and wire patients. Co-invented by PlatypusCo founder Fred Van de Perre and Laura Morgan, a pediatric registered dental hygienist, the flosser features a patented design that slides under braces/archwires to floss between the teeth, while not harming orthodontic hardware.
While the Platypus Orthodontic Flosser launched PlatypusCo, which now offers a number of patient-focused hygiene products, the company was not Van de Perre's first foray into the dental product scene. He first entered the dental industry with the EzeeKleen 2.5, a device which replaced conventional distillation methods for many North American dental practitioners. And then in 2001, he founded Paradise Dental Technologies (PDT), focusing on developing ergonomic, ultra-light instruments.
With Van de Perre's interest in innovative ideas, it's no wonder he recently shifted the consumer-orientated PlatypusCo to meet the needs of the practitioners working amidst the COVID-19 pandemic. Orthodontic Products talked to Van de Perre about PlatypusCo's namesake product, the Platypus Orthodontic Flosser, and its latest product roll out, the V-Shield System—a high volume evacuation unit, designed to protect orthodontic staff and patients from airborne microbes.
Orthodontic Products: The Platypus Orthodontic Flosser started as a tool for orthodontic assistants and dental hygienists, co-invented with a dental hygienist. How did this product evolve as you tested it out?
Fred Van de Perre: The original prototypes I tested in my daughter's mouth when she was 12, wearing braces. The great thing about testing in a live patient's mouth, over CAD drawings and models, is that you have that immediate communication, both positive and negative, and have a clear idea of the new challenges that can and will arise throughout development. We expanded our research to test additional school-age children as well. Laura Morgan was, at the same time, using them in Texas at her practice and sending us feedback as well, so we were receiving communication from both patients and dental professionals.
For safety, at the beginning, the design was to be rigid enough (like a traditional floss) to hold the floss in place. To keep it rigid and be thin enough to fit under the wires, it could create damage to the hardware, so we had to create a far more flexible product. When it was flexible enough, there was not enough mechanical integrity to support the floss without collapsing the arm, therefore, we had to go back to the drawing board, where I realized that if we could use the anatomy to be the anchor, it might work. After some significant design changes and testing, we had the design you see now, which works very well. But even this design went through two small changes after it hit the marketplace to increase ease of use for the patient and practitioner.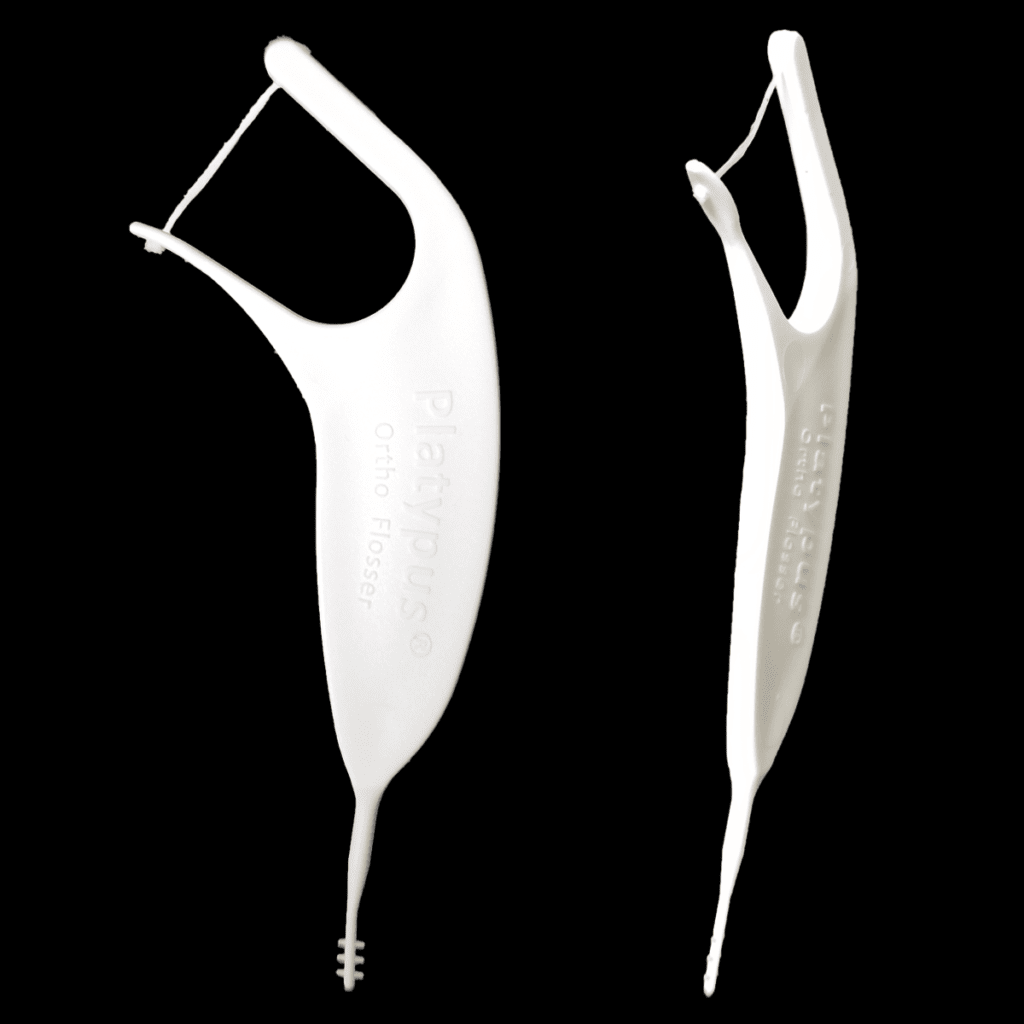 OP: How can the Platypus Orthodontic Flosser increase flossing compliance?
Van de Perre: Studies show that about 15% of the country flosses regularly that are not wearing braces. Our numbers reflected that approximately 4% to 5% of patients with braces would floss, and usually only once, because patients really get turned off by traditional means of flossing with braces. This is reflected in consumer retail purchases versus the number of active orthodontic patients.
With the Platypus floss device, orthodontists report approximately 85% reorder rates, as well as our in-house numbers, which tell us patients are flossing significantly more. Why? I personally believe that when we are wearing braces, we are far more conscious about our mouths and what gets caught in there as patients, and, as parents, we are more conscious of our $4,000 to $8,000 investment. The top-of-mind awareness is there with regards to oral hygiene, so because it's now as easy as not having braces, patients use it quite diligently. Flossing with the Platypus takes between 60 and 90 seconds and you can do it with one hand. For the ortho/dental professional, the benefits to having a patient that is practicing better hygiene include faster appointments in the chair, less post-ortho interventions, and better patient breath.
OP: With the COVID-19 pandemic, you released the V-Shield System. How can this unit aid the orthodontic practice in infection control?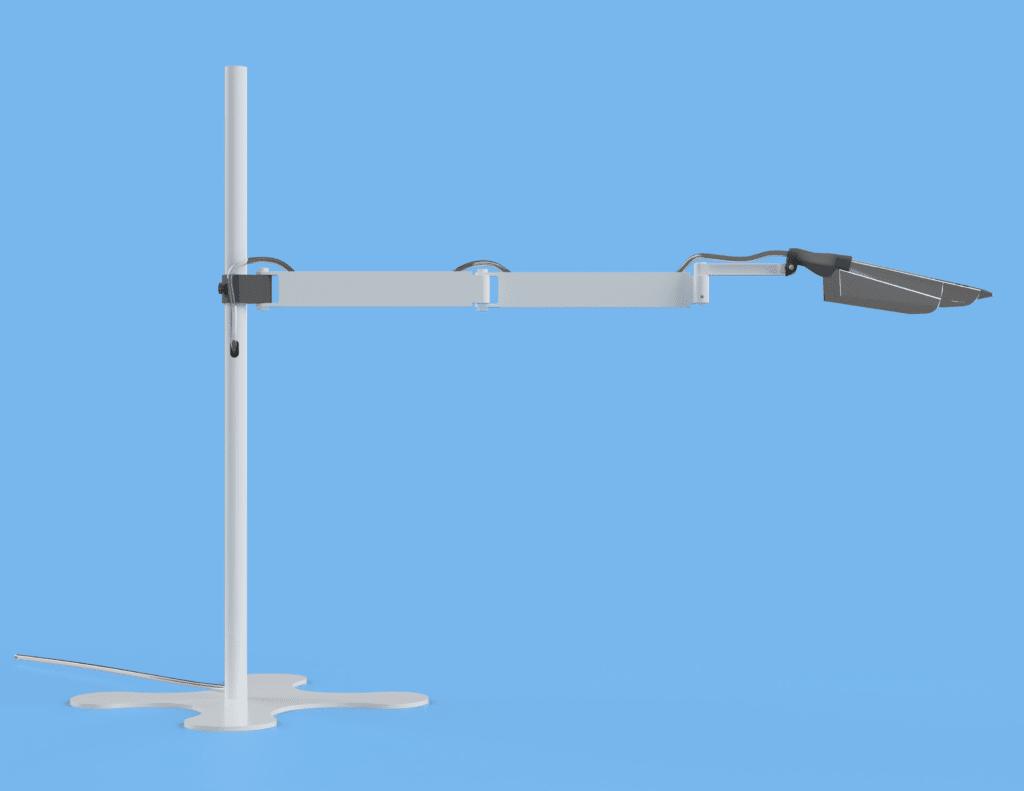 Van de Perre: The V-Shield System is a high volume evacuation unit, designed for use in dental, orthodontic, and other medical office settings. This patent-pending system attaches to most existing delivery unit setups to provide unrivaled protection from airborne microbes for both the patient and the practitioner. The V-Shield was designed in collaboration with Christian Kenworthy, DDS, MS, to mitigate the spread during the ongoing COVID-19 pandemic. It features an optical-grade polycarbonate head unit (shield) that creates a physical barrier between patient and practitioner, while still allowing for an unobstructed view.
Both Dr K and I believe this is not a solution for COVID—it's a solution for all-time. People carry bugs and viruses, and they get transmitted. We need a system that handles this, and we've needed it for some time. Our company is currently moving into the final stages of full production that will make the V-Shield System available, and very affordable, by March 2021. Prices will actually be coming down, with popularity, and still be 100% made in the USA.
OP: What are the PlatypusCo goals and market predictions for 2021, and beyond?
Van de Perre: With the COVID-19 pandemic, more than any other, patients have become far more educated than ever before. It's the patients who will be driving, to a certain extent, what will be perceived as acceptable precautions in the dental practice and other professional practices.
For better, or worse, I like manufacturing in America. I think Americans are the greatest manufacturers on the planet. Our goal for the business is to be the one company our customers can reach out to, talk to us, and expect real help, whenever we can. We don't need to be the biggest, we just need to be our best. We will also continue to apply our efforts in supporting Bikers Against Bullies USA/Worldwide (Note: Van de Perre founded the 501(c)(3) non-profit organization, where he now serves as executive director.), and will continue paying it forward into communities in both a physical and financial level. If we continue all of this, I can sleep at night. OP