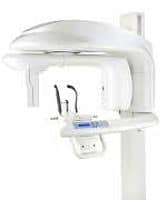 Carestream Dental LLC,Atlanta, has introduced a digital cephalometric module for its CS 9300extraoral imaging system, which was released earlier this year.
In addition to 3D and panoramic imaging, the CS 9300C offers a rangeof image formats from 30 cm x 30 cm to 18 cm x 18 cm, and includes afull cranial option. The CS 9300C acquires cephalometric images in oneshot, minimizing distortion, the risk of blurred images, and patientexposure to radiation.
The CS 9300C also features 2D digital panoramic imaging and 3Dimaging with up to seven selectable fields of view, from 5 cm x 5 cm to17 cm x 17 cm.
The CS 9300C uses KODAK Orthodontic Imaging Software, which offersautomatic tracing capabilities. The module also includes three automaticorthodontic enhancement filters.
For more information about this and other orthodontic companies, visit our Buyer's Guide.