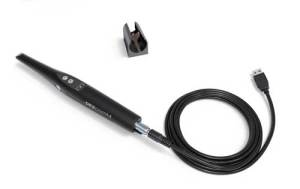 DEXIS, a brand of KaVo Kerr Group, has introduced the DEXcam™ 4 intraoral video camera. Designed for patient communication and case documentation, the DEXcam 4 can be easily integrated with DEXIS™ imaging software.
The DEXcam 4 intraoral camera features an aluminum housing and includes a high resolution sensor, dual capture buttons, one-touch focus, and a detachable cord.
In addition to providing high-resolution, color correct images, DEXcam 4 provides users with a zoom mode allowing for clearer communication with patients. The device has been designed with improved ergonomics in mind, making it suitable for both left- and right-handed users. Meanwhile, the detachable cord allows for easy transport in multioperatory practices.