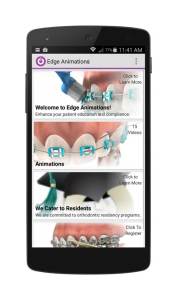 Ortho2, Ames, Iowa, has released the Edge Animations App, a free Apple/Android application. The app will be available at the upcoming American Association of Orthodontists Annual Session in San Francisco.
Available to all orthodontists and orthodontic residents, the app features an "Introduction to Orthodontics" video for patients and parents that explains why treatment from a certified orthodontist matters. The Edge Animations app also includes compliance videos aimed at informing patients about their treatment. Among the topics covered are brushing and foods to avoid.
According to the company, the app builds on Ortho2's library of practice and patient focused apps and is available to all orthodontists, regardless of practice management affiliation, and can be show to, or even installed and viewed by, prospective patients.
Ortho2 is offering orthodontic residents and Ortho2 customers using Edge Animations within their software the full version of Edge Animations videos, including more than 250 additional videos at no cost.