The concierge-level service SmileSuite and WildSmiles Braces have entered a new partnership that builds interest in the treatment modality and gets patients to treatment acceptance before they walk into the practice.
SmileSuite entered the orthodontic scene as a remote concierge service for orthodontic practices looking to outsource their patient follow-up and onboarding. Now the company has partnered with WildSmiles Braces in an industry-first integration that aims to build interest in the bracket system prior to the first appointment and to get patients to 'yes' to treatment before they've walked into the practice.
As WildSmiles COO Davin Bickford put it when the partnership was launched, "With SmileSuite, our providers can streamline the direct-to-consumer educational process by promoting why the practice stands out against its competitors through the unique product they offer."
For those practices that use both SmileSuite and WildSmiles, SmileSuite's presentation technology—which features a fully customizable slider, electronic contract signature, and ability to embed products and appliances—now includes a WildSmiles presentation option and the ability for patients to select the WildSmiles bracket style they want during the onboarding call. Providers then can enter this into the treatment plan before the patient even arrives for their first in-office appointment.
To learn more about the integration, Orthodontic Products talked to Bickford and SmileSuite founder Anthony V. Bonavoglia, DDS, MS.
Orthodontic Products: SmileSuite calls itself a "one-of-a-kind follow-up system." What can orthodontists expect with the SmileSuite platform?
Anthony V. Bonavoglia, DDS, MS: SmileSuite is orthodontics' only complete remote concierge team that manages orthodontic practices' new patient process from initial contact through to the signing of contracts. Our à la carte services include new patient scheduling, answering new patient phone calls, following up on new patient web leads, procuring and verifying insurance benefits, obtaining health history forms, and post-consultation follow-up. Our concierge team is working for orthodontic practices 7 days a week, days, nights, and weekends.
OP: As an orthodontist yourself, why did you think the orthodontic industry needed a platform like SmileSuite?
Bonavoglia: Orthodontics' unique nature of being primarily an elective healthcare industry means that prospective new patients need more touches to convert them from a prospect to an actual patient. For the most part, orthodontic practices are ill-equipped to properly manage this nurturing process. As a result, many patients fall through the cracks or are not handled properly and, as such, practices are missing out on a substantial amount of production. Our white glove, remote concierge team manages this process for practices both when the practice is open and when they aren't.
OP: Is this partnership with WildSmiles the first for SmileSuite?
Bonavoglia: Although this partnership is not the first for SmileSuite, we do believe this is unique in that WildSmiles brings our clients a unique bracket system that can be promoted before, during, and after the consultation appointment.
OP: What does the partnership bring to SmileSuite?
Bonavoglia: SmileSuite is a suite of remote services and technology designed to support practices to be successful in providing a high level and consistent new patient process. Practices offering WildSmiles Braces can now design their process to promote WildSmiles throughout the new patient process. This includes scripting before the patient walks in the door. The SmileSuite technology stack also offers our practices the only fully customizable presentation slider program which can be branded with product photos, embedded videos, and landing pages. As such, practices can display the uniqueness of WildSmiles brackets in the office during the new patient consultation. Prospective patients then have access to the WildSmiles photos, videos, and landing pages at home along with SmileSuites @home slider portal, which allows them to choose financial terms and sign contracts. For those patients that don't commit to treatment, SmileSuites remote team will reach out on behalf of the practice to encourage them to schedule their "start" appointment. It's a complete system designed around the practice's branding, which now can include WildSmiles brackets.
OP: When a patient's call to their local orthodontic practice is picked up by SmileSuite, how are they introduced to WildSmiles Braces?
Bonavoglia: SmileSuite is an extension of the practice. Patients calling SmileSuite practices are unaware that they are conversing with a remote team. As such, we use the practice's predetermined phone scripting. For practices offering WildSmiles, they can include promoting WildSmiles braces right from the initial call if they choose.
OP: Once a patient has gone through the onboarding process with SmileSuite, what can the orthodontist expect when that patient walks into their practice?
Bonavoglia: When a prospective patient walks into the practice, the orthodontist will have the patient's intake information (questions we've asked during the new patient phone call), verified insurance benefits, health history forms, and a log of any communication that happened prior to scheduling. Since we use the practice's scripting, the orthodontic practice can dictate how "primed" the patient is prior to coming in for their exam. This could include preparing them to hear about WildSmiles braces.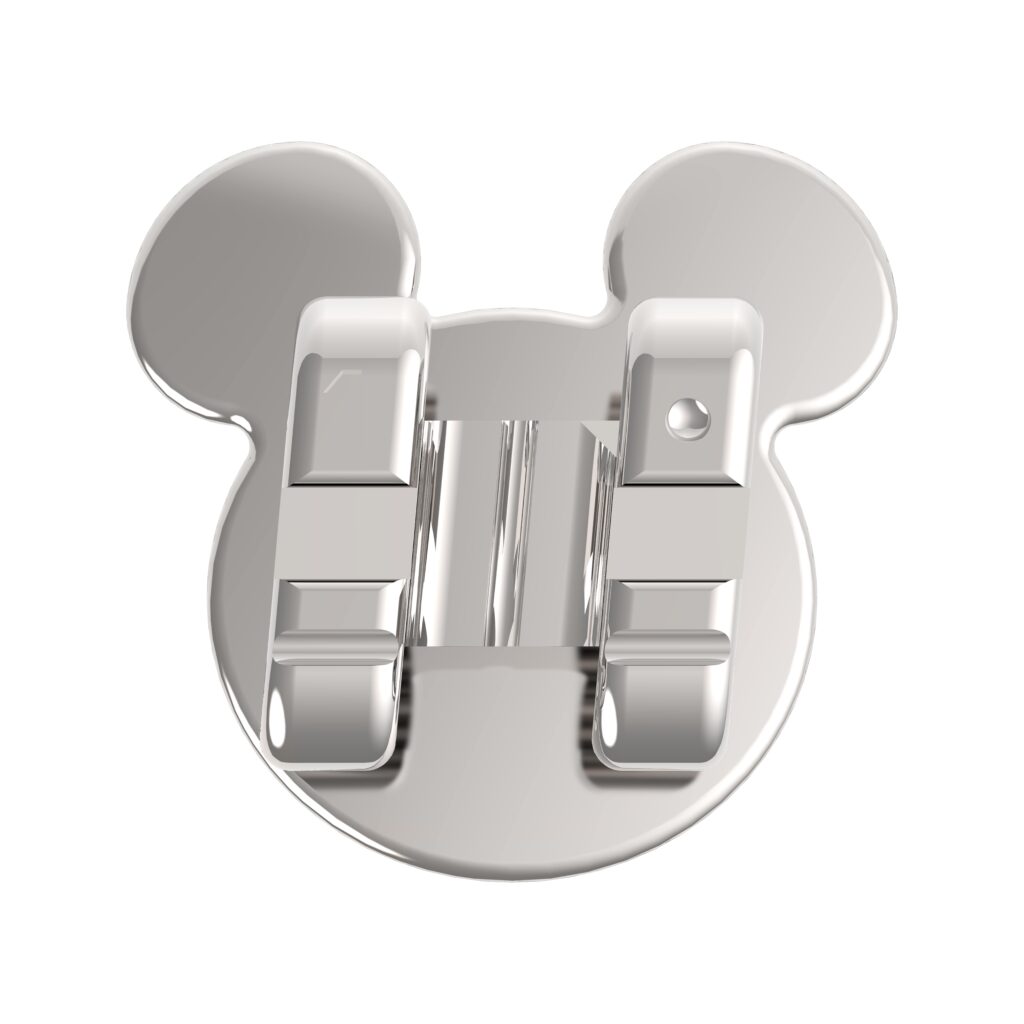 WildSmiles Braces' bracket designs include the Mickey bracket style from the company's Disney collection, as well as other shapes including hearts, stars, and various sports-themed balls.
---
OP: What does this partnership with SmileSuite bring to WildSmiles as a company?
Davin Bickford: What we share with SmileSuite is a commitment to provide a series of unmatched patient experiences that culminate in delivering the ultimate braces experience. Personalized experiences are a powerful differentiator as most buying experiences lack focus on the consumer in general. SmileSuite's end-to-end white glove service allows patients to have a personalized concierge experience throughout the orthodontic buying process. Choosing their preferred designer bracket style is a key part of the patient buying decision that can now be easily integrated and scripted for the practice through SmileSuite.
OP: The SmileSuite partnership allows patients to make a treatment-related decision early. Do you think this will translate into a higher case acceptance rate?
Bickford: In any buying decision, you want to offer consumers the opportunity to make a series of small agreements and commitments. These small 'yes' decisions in favor of your practice make the final decision—to start treatment—an easy win. The timing and frequency of patient choices throughout the buying process is critical and adds to the stickiness of the patient's commitment to your practice. When patients have the opportunity to choose their preferred designer bracket style early in the braces buying experience, it is a personalized touchpoint allowing them to make a 'yes' agreement with your practice. SmileSuite allows this proven strategy to seamlessly integrate into your treatment coordinator's process, leading to higher acceptance rates and observation program conversation.
OP: Given that a patient can select their WildSmiles braces style during the onboarding process with SmileSuite, does this streamline the product ordering from WildSmiles for the orthodontic practice?
Bickford: Our provided inventory management system makes holding, managing, and reordering products simple and streamlined. Practices have the flexibility to order brackets as needed to fill in inventory 'gaps' or order cases as needed for each patient with no minimum order requirements. Practices using SmileSuite concierge and presentation solutions have the option to easily introduce WildSmiles to prospective patients prior to the consultation through the scheduling process as well as during the consultation through SmileSuites presentation platform, which includes product photos, videos, and printable handouts. This integration allows practices to inject early visibility of the uniqueness of the WildSmiles braces into the patients' purchasing decisions prior to and during the consultation appointment.
OP: What are some of the more popular styles that patients will be able to choose from?
Bickford: All WildSmiles designer collection styles are available within the SmileSuite integration. Patients are able to choose from the popular Signature Collection styles of Super-Star, Wild-Heart, and Baller brackets, as well as the Mickey bracket style from our Disney Collection. Patients can also choose from over 16 popular mascot designs within the College Collection.
OP: If a doctor is already a SmileSuite member, but doesn't already offer WildSmiles braces in their practice, what do they need to do to expand their bracket offerings?
Bonavoglia: Practices would simply need to contact WildSmiles and become a WildSmiles client. At that point, practices can work with their SmileSuite customer representative to set up both their personalized intake process and presentation platform.
OP: Does SmileSuite expect to partner with additional orthodontic product companies?
Bonavoglia: SmileSuite currently works with other product companies. We work with companies that offer brackets as well as different treatment modalities. Our priority at SmileSuite is to provide practices with the tools to increase new patient consultations and new patient starts. This is accomplished through the pairing of both innovative technology and remote services that are working for practices 7 days a week—days, nights, and weekends. OP