On the Market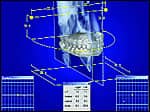 Diagnostic Tool
GeoDigm offers the Equilibration and Condyle Displacement Analysis for emodel® 8.0 software, which allows orthodontists to digitally mount their patients' cases in centric relation for treatment planning. The software replaces the lengthy manual process and allows customized, patient-specific geometric representation of the maxilla, mandible, and condyles with associated vectors of displacement. Additional tools allow the import of digital cephlometric images for more accurate condyle identification. Once a case is mounted, orthodontists can toggle between different occlusal relationships displaying different excursive or functional occlusal relationships graphically, quantifying mandibular condyle or dental displacements at each position. Orthodontists can then automatically rotate the mandible open or closed interactively to evaluate for analysis of occlusion.
For more information, contact GeoDigm Corp, 1630 Lake Dr W, Chanhassen, MN 55317; (866) 436-6335; www.geodigmcorp.com.
---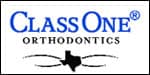 Orthodontic Adhesives
Class One® Orthodontics introduces the Jungle Line series of orthodontic adhesives. Tiger Bond is a light-cure band cement that incorporates glass ionomer particles and hardens under the influence of an ordinary blue-light spectral range. It is available in blue or a neutral color, and it comes in either a syringe or a capsule. Lion Reli-On is a one-step, no-mix bracket adhesive. Reli-On, which resembles a natural tooth shade, cures in 24 hours and maintains its strength throughout therapy. Leopard Light Cure is a medium-flow, light-cure bracket adhesive. Its high viscosity prevents bracket drift and helps bracket placement. The adhesive turns a tan color during bonding to help clinicians identify excess adhesive during cleanup, then gradually changes to a tooth shade. Its filler particle size produces the optimum filler loading, which minimizes shrinkage and water absorption, and maximizes bond strength.
For more information, contact Class One Orthodontics, 5064 50th St, Lubbock, TX 79414; (800) 343-5291; www.classoneorthodontics.com.
---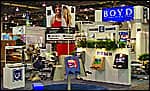 Gaming Systems
Boyd Industries offers Entertaining Environments (E2), a gaming system for the console or chairside that entertains patients while they wait to be seen. The console gaming system is built around the Sony PS2, Nintendo Game Cube, and Microsoft X-Box 360 gaming platforms. Console gaming systems allow two players to play at the same station, and are available in a variety of accent colors (any laminate) and mounts (wall, single, dual, tri, or quad), that help maximize space usage. Chairside gaming systems can have three mounts (post, cabinet/wall, or chair), and feature Game Boy Advanced and Sony PSP gaming platforms.
For more information, contact Boyd Industries Inc, 12900 44th St N, Clearwater, FL 33762; (800) 255-2693; www.boydindustries.com.