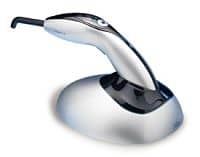 Great Lakes Orthodontics, Tonawanda, NY, has introduced the bluephase® 20i and bluephase® G2 curing lights. The lights can be used with both light and dark composites. Manufactured by Ivoclar Vivadent, the 20i and G2 feature cordless operation, a rotatable light probe, a "Click & Cure" function that enables the handpiece to be connected with the power cord of the charging base, battery backup function, and an integrated fan for continuous curing.
According to the company, the lights are noiseless and require no venting. The polywave® LED allows both the 20i and G2 to achieve a range of 380 to 515 nm and the capacity to polymerize all dental materials.
For more information on this and orthodontic companies, visit our Buyer's Guide.