On the Market
New brackets, wires, and mouse protectors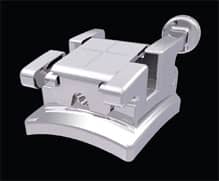 Self-Ligating Bracket
Dentaurum USA, Newtown, Pa, offers its Discovery SL bracket. According to the company, Discovery SL has been tested and proven to be the "lowest-profile SL bracket in the world." It is currently being sold in a five-patient trial kit for $995, which includes the brackets, archwires, DB tubes, and instruments needed for five patients. Discovery SL features a "passive" clip design, but includes standard tie-wings that allow optional "active" control.
Dentaurum USA
(800) 523-3946
www.dentaurum.com/discoverysl
---
Nickel Titanium Archwire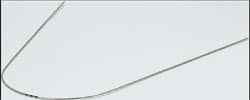 Masel, Bristol, Pa, announces the release of CV SuperForce™, a new heat-activated, nickel-titanium archwire that offers tooth-moving forces similar to those of copper-NiTi wire, with superior resiliency, according to the company.
At room temperature, the wire is consistently soft. Highly responsive to chilling, the wire can be softened even further so the most difficult cases can be ligated quickly. CV Superforce is available in round, square, and rectangular wire sizes, in a natural arch shape. It is offered with an etched center mark.
Masel
(800) 423-8227
www.maselortho.com
---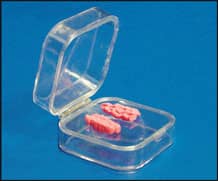 Bite Box
Great Lakes Orthodontics, Tonawanda, NY, offers a Bite Box that is made of lightweight, durable plastic. The box features two clear holding membranes that provide a protective cushion to hold bites securely in place, preventing damage during transport. The Bite Box measures 3 inches tall, 3 inches wide, and 1.5 inches high.
Great Lakes Orthodontics
(800) 828-7626
www.greatlakesortho.com
---
Digital Dental SLR Kit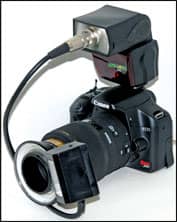 Lester A. Dine Inc, Palm Beach Gardens, Fla, now offers the Canon EOS Rebel XSI as a dental camera kit. The Canon XSI provides a live video preview of the photographic subject, helping to center the dental subject and ascertain focus prior to taking a picture. The video screen also allows users to review images after they are taken.
The Dine/Canon XSI System features the Dine ring flash for intraoral photography, plus an adjustable point flash for facial photography and descriptive anterior and lateral photography. Dine's Macro Ring and Point Flash is designed specifically for dentistry and meters the dental subject through the lens (TTL), providing consistent subject illumination.
The kit includes a 105-mm macro lens with Dine's dental standardization guide. This guide features graphic indications of the ideal lens setting for all of the most popular dental photography subjects, as well as recommended f:stops. All Dine Dental Kits include lifetime telephone support and written setup and use instructions. Complete kits also include an intraoral mirror, cheek retractors, a dental contrastor, a 1GB memory card, a memory card reader, a battery, and a charger. Dine Digital Dental SLR kit pricing starts at $1,750.
Lester A. Dine Inc
(800) 624-9103
www.dinecorp.com/
---
Debubblizer
Russman DeBubblizer & Dental Supply, Newmanstown, Pa, offers its DeBubblizer, which is chemically designed to reduce surface tension, produce sharper details, and eliminate bubble formation when pouring stone or plaster model casts from materials including alginate, rubber, silicone, wax, and investing wax patterns. It also removes acid layers from alginate impressions.
Russman DeBubblizer & Dental Supply LLC
(877) 576-0348
www.debubblizer.com
---
Dental Market Data Disc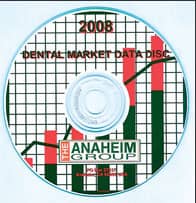 The Anaheim Group, Anaheim, Calif, publisher of Dentalfax Weekly, offers the 2008 Dental Market Data Disc. The disc includes information on companies, products, patents, trends, 510(k)s, financial data, lawsuits, acquisitions, acquisition data, and implant market shares. It includes 7 years of dental industry reviews (2001–2007); 6 years of dental industry metrics reports (2002 and 2004–2008); and DentalFax Monthly issues from 2003 through September 2008. The Dental Market Data Disc is $395.
The company is also offering a 50% discount on the China Connection Specialty Reports, compiled using product information from more than 300 firms that exhibited at the 2006 FDI Meeting in Shenzhen, the 2007 Sino Dental Meeting in Beijing, and the 2008 South China Expo in Guangzhou. The Specialty Reports are product-specific, and each specialty report is provided on a separate disc in Word and PDF formats with sample pictures of the products as well as contact information. Each report is $52.50 when purchased with the Dental Market Data disc.
The Anaheim Group
(714) 543-8007
[email protected]
---
Piezoelectric Generator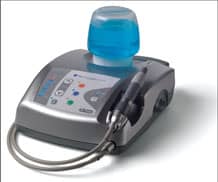 Hu-Friedy, Chicago, introduces the Symmetry IQ® 4000 Piezoelectric Generator. According to the company, the Hu-Friedy Symmetry IQ's large-diameter, lightweight handpiece features fiber-optic illumination, state-of-the-art circuitry, touchpad controls, and a compact design.
With the introduction of the Symmetry IQ 4000 Series, practitioners may now benefit from a dual-irrigation system for access to medicament and municipal water at the touch of a button. In addition, the Symmetry IQ 4000 offers an auto-purge feature that simplifies removal of residual medicament. The Symmetry IQ also features two self-contained fluid bottles and individual fluid controls.
Hu-Friedy offers a broad range of Symmetry Piezo tip designs to meet your clinical needs, including scaling, thin perio, curette-style, and diamond-coated.
S-Series tips are compatible with the Hu-Friedy Symmetry IQ generator line as well as all Satelec and NSK generators. E-Series tips are compatible with all EMS generators.
Hu-Friedy
(800) HU-FRIEDY
www.hu-friedy.com
---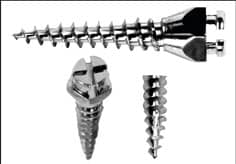 Mini Implant System
ClassOne Orthodontics, Irving, Tex, introduces the Infinitas™ Mini-Implant System. Created by orthodontist Richard Cousley, BSc, BDS, MSc, FDS, FDS(Orth), RCS, Infinitas incorporates the following features: a universal, low-profile head design for use with all forms of traction auxiliaries and archwire; an angled, transmucosal neck, ensuring close contact to the cortical bone at any insertion angle; self-drilling threads that eliminate the need for a pilot hole; and a guidance stent to stop users from inserting the implant into a root.
ClassOne Orthodontics
(800) 343-5291
www.classoneorthodontics.com
---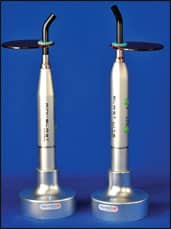 Curing Light
First Medica, Greensboro, NC, introduces its Blast™ Lite and Mini-Blast™ LED Curing lights that offer strong performance (700 mw/cm2 to 1600 mw/cm2). The lights are assembled in the United States and feature a long-lasting lithium-ion battery, a removable glass tip, and up to a 2-year warranty. The Blast Lite and Mini-Blast offer timer settings of 5, 10, and 20 seconds and an automatic shutoff after 3 minutes of inactivity.
First Medica
(800) 777-7072
www.FirstMedica.com
---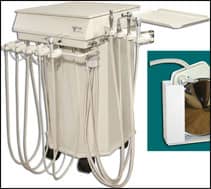 Foot Control Sleeve for Delivery System
ASI Medical, Centennial, Colo, introduces a foot control sleeve, a storage area for foot controls of delivery systems. The Triton™ Self-Contained Dental Delivery System is mobile and does not need any specialized or expensive plumbing. It requires a 115V/60Hz electrical outlet for operation. An oilless air compressor and dry vacuum pump with sound-reduction technology provide quiet chairside use. An aseptic, dual closed-water system delivers clean water for patient treatment and prevents biofilm formation in handpiece lines. Air, water, and electrical outlets are available in the back of the system for operation of tabletop instruments. A durable powder coat finish on a full aluminum metal chassis and solid surface worktop provide a low-maintenance design.
ASI Medical Inc
(800) 566-9953
www.asimedical.net
---
Sterilizer
Pelton & Crane, Charlotte, NC, introduces the Delta Q Sterilizer, which has the following features: closed-door drying to prevent the interruption of the full sterilization process, allowing instruments to dry completely in an enclosed, clean environment; an ergonomic handle and touch pad; a PC cable that allows the user to download sterilization history to his or her PC; a 6-month full replacement guarantee and a 3 years' parts warranty; and the ability to accommodate up to three large cassettes and three small cassettes per load.
Pelton & Crane
(800) 659-6560
www.pelton.net
---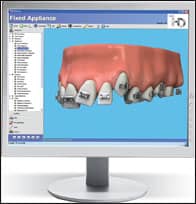 Patient-Education Software
PracticeWorks Systems LLC, Atlanta, offers MEDiVision new-patient-education software. Integrated with KODAK ORTHOTRAC Practice Management Software, the MEDiVision system helps orthodontists communicate some of the more complex conditions, procedures, and treatments to their patients. Features of the new patient-education software include: animations in 3D, patient information sheets, more than 100 "before-and-after" photos, and orthodontic animations.
PracticeWorks Systems
(800) 944-6365
www.kodakdental.com
---
Heat-Activated NiTi Wire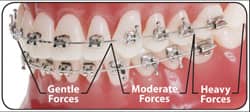 Masel, Bristol, Pa, introduces Tri-Force Thermal™, a new heat-activated, nickel-titanium archwire that has three preprogrammed forces. Gentle forces are programmed into the wire for moving light-rooted anterior teeth, moderate forces are provided for moving the heavier-rooted bicuspid region, and the heaviest forces are provided to move the strongest-rooted posterior/molar region. According to the company, Tri-Force Thermal is capable of torquing, leveling, and aligning simultaneously. It meets the demands that each section of the arch requires in order to move teeth in the most effective manner. Tri-Force Thermal is available in natural arch shape and round, square, and rectangular wire sizes with an etched center mark on uppers and lowers.
Masel
(800) 423-8227
[email protected]
---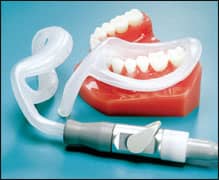 Saliva Ejector
Practicon, Greenville, NC, is now distributing Fast Dam saliva ejectors. Anatomically shaped Fast Dams can be used in place of cotton rolls to retract the cheek and tongue while maintaining a dry field. Fast Dams feature 17 suction holes along the perimeter to aspirate continuously. Smooth, rigid plastic is molded into an anatomical shape that stabilizes position and frees the clinician's hands by eliminating the need to hold evacuation instruments. Fast Dams fit into all standard saliva ejector valves and will not aspirate soft tissues.
Practicon
(800) 959-9505
www.practicon.com