by William A. Poss
Will intraoral scanning and digital appliance fabrication change the way you practice?

William A. Poss
The technology race continues in orthodontics. Next up: intraoral scanning technology and online order entry for custom-fabricated appliances. Orthodontists are no longer using scans only for aligner and indirect bonding applications, but for virtually any custom-fabricated metal or acrylic appliance. As with most digital tools, it doesn't come without a willingness to accept change in the daily operations of your practice, but intraoral scanner technology can significantly change the way you practice and can alter your workflow.
Types of Scanners and Scans
There are inherent challenges in 3D intraoral scanning systems. The first lies in the quality or accuracy of the scan. The quantity of data captured directly correlates to scanner technology and the time spent in scanning. It's quality versus speed.
To understand your options, you must first have a basic understanding of how scanning works. There is a significant difference in the fundamental technology used in various scanners. The Align iTero System is a true intraoral scanner that captures a series of images, like snapshots, as a wand moves over the anatomy. The wand captures data from multiple perspectives and angles, with varying light and reflective values of the anatomy. Line-of-sight issues and, in some cases, reflections from wet or metal surfaces can create voids or holes in the data. The system's software executes an algorithm to make "calculated judgments" when it has questions as to what is being scanned. That is why you can move the wand at different angles and at varied distances from the surface and still capture data. Recommended scanning techniques include "rocking" the wand to ensure maximum data capture.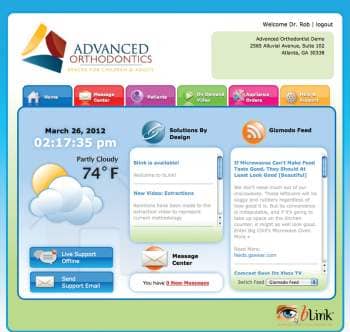 From the bLink landing page the orthodontist can access appliance orders, patient appointment reminders, SEO tracking, and on-demand patient education videos.
When reviewing the completed scan, the orthodontist has the option to add data to the scan or to allow the system to use algorithms to fill the "data holes" with calculated or simulated anatomy to complete a final scan. A scan of the interproximal areas must be of the highest quality to accommodate appliances such as aligners and custom-fabricated bracket systems. A lower-resolution scan may be adequate to fabricate metal and acrylic lab appliances, as well as for patient presentations and clinical review.
Ormco's scanner, currently under development, is also a true intraoral scanner that uses video sequencing to capture and create its files. The company projects that this approach will provide a high-quality scan with reduced scan time. The video capture technology incorporated in the Ormco scanner allows the scanner to see the anatomy seamlessly, eliminating the need to estimate and simulate the anatomy. The scanner and wand are both designed to be a lightweight and portable.
Motion View 3D takes a different approach to its scanner system. Users scan an impression, plaster model, and/or bite registration in a small desktop scanner. Once scanned, the digital models can be submitted to your manufacturer of choice. Motion View 3D saves its file in an "open file format" that allows unrestricted use for all manufacturers.
Matt Harmony of MME Consulting sees scanners becoming commonplace. "Intraoral scanners will someday soon be a utility like any other peripheral on a network, almost like a document scanner. And they won't be stand-alone, but will work with any computer or network. They will also be much smaller, much lighter, and much faster."
Most orthodontists require different scan types for different appliance types. iTero offers four types of scans, but the "Invisalign Scanning Protocol" Scan, which yields the level of data capture required for aligner fabrication, is proprietary and may be used for Invisalign cases only. iTero does offer this scan type at no cost to its users, while the iRecords, iCast, and IQ scan all have per-scan fees associated with them.
Most intraoral scanners instantly upload a completed scan to a cloud-based server, where it is accessed by the manufacturer. The DPI scanner from Ormco creates a local link that can be used to preview the scan. The iTero case manager allows for automatic case download for local case storage. The link to the uploaded scan can be sent to those manufacturers sharing resources for appliance fabrication.
Appliances still require a working model—the difference in the new system is that the models are digitally printed from a scan at the lab. When a lab receives an intraoral scan for appliance fabrication, it can immediately "print" a 3D model.
Workflow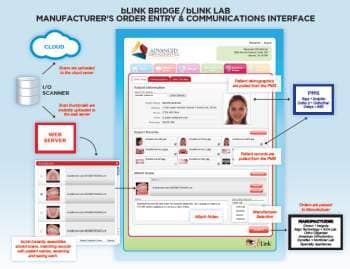 The bLink user interface is designed to connect many different practice-management systems to multiple manufacturers via cloud computing.
The next challenge in scanning systems is based on internal workflow. Although I believe the traditional dental impression will very soon go the way of the typewriter, implementing a new system will require open-mindedness. Challenges that face the practice, developers, and fabricators/manufacturers include efficient execution of the scan; the identification, transfer, and storage of the large files that this technology uses; and the efficient use of scans in the appliance-fabrication process.
The orthodontic staff will need to learn how to use a scanner, as well as how to place the orders online and upload files for fabrication. There is a potential bottleneck in eliminating impressions entirely and replacing them with scans for all lab fabrications. For example, how many scanners will your practice require to replace the current volume of impressions? You can take as many impressions as you like within an office at the same time, but only one scan at a time per scanner. Your needs will vary depending upon your scheduling protocols.
Perhaps the most important aspect of responsibility in a successful systematic change in the records and order-entry process falls squarely on the shoulders of developers. Its success depends heavily upon the graphical user interface (GUI) itself. A complicated user interface with redundant steps and clumsy workflow will surely hamper the willingness to adapt and therefore successfully implement new technology. A primary goal of developers must be to create simple, integrated workflows, with easy-to-understand steps.
The ultimate system interface ties all aspects of appliance order-entry into a single point of management that includes the following:
securing and attaching traditional patient records;
attaching identified intraoral scans;
selecting appliance preferences;
the online submission of prescriptions;
order acceptance and acknowledgement; and
follow-up and tracking to the point of patient delivery.
Each of these steps must be accomplished as simply as if you were depositing or withdrawing money at a bank ATM. Nick Slevkoff, lead developer at Solutions by Design, says, "We have a unique perspective on the application-development process, placing as much emphasis on the user experience as we do on the back-end data management. Typically, 20% to 30% of the application developmental life cycle is placed upon creating the ultimate user experience, making usage as simple and intuitive as possible. This is truly a matter of function following form."
Order Entry
The next challenge is universal access and reducing the number of points for order-entry. Most practices use several manufacturers, with aligners, acrylic and metal appliances, and digital model services each fabricated by different suppliers. This means multiple portals, multiple user names and passwords, multiple independent tracking systems, and record management—which can be a nightmare.
Management software, imaging, hardware, digital marketing, workflows, and systems all need to be managed and maintained. This leads to training issues, work-arounds, support conflicts, and installation challenges. As a designer and installer of integrated office systems networking from phones to scanners, Trey Borden, president of BroadRiver Technology, sees firsthand the complexities and frustrations of many practices. "We are faced with the challenges of connecting the dots, daily. Most practices are continually adding technology to increase efficiencies and to enhance the patient experience. Unfortunately, not all developers and providers understand the multiple integration limitations that are inevitably present when it comes to the point of installation and implementation. That makes our job a challenge, retrofitting existing technology and systems with new systems and creating communication paths between all aspects of the practice."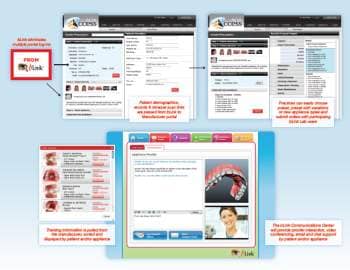 The system also facilitates video conferencing, e-mail, and online chatting between orthodontists and their labs.
3M Unitek will be unveiling its new UnitekTM Treatment Management Portal (TMP) at this year's AAO Annual Session in Honolulu. This newly designed orthodontic software offers 3D digital models, digital treatment-planning tools, and an enhanced ordering and case-management system for the customized IncognitoTM lingual appliance system. The Incognito system will interface directly from the desktop to the point of manufacturing, streamlining communications, and shortening cycle times. Brian Anderson, 3M Unitek's global brand manager for digital orthodontics, says, "Our new TMP is the result of extensive evaluation. Our GUI is intuitive and simple to navigate, reducing the learning curve and hopefully enhancing its appeal. We see this approach as the future for the fabrication of custom appliances and client communication." 3M Unitek envisions a move to "selective open" systems, accepting digital data from multiple input sources to produce and deliver custom appliances and customized treatment plans for orthodontic patients.
bLink is a Solutions by Design application that addresses many of these challenges and creates a single point of access for multiple manufacturers. bLink allows the practice to basically link their practice-management software and desktop with all of their suppliers with bidirectional communications for order entry and order tracking by patient.
bLink also provides full-featured patient communications with patient notifications and reminder services integrating with the leading practice-management software applications. Manufacturer communications as well as patient communications all in one can make implementation easier and less expensive.
John Dargis, general manager of AOA Labs, says, "We have to make it easy to submit and track orders once the records are completed. That is exactly what we are doing with our new order entry web portal, AOA Access, which is scheduled to launch in 2012. AOA Access (aoaaccess.com) allows our clients to dynamically build virtual appliances to their individual specifications for all appliances utilized in their practice. This creates Order Preferences for the appliances. Once the Order Preferences are created, any order can be placed instantly along with records and notes, as well as the link to the cloud-based intraoral scan. Any variations from the standard prescription can be instantly changed on a per-order basis. We will be interfaced bidirectionally with Solutions by Design's bLink application to assemble and pass orders directly from the doctor's practice-management software to our internal production software for scheduling and fabrication. An orthodontist will be able to order an appliance online, and we can actually begin fabricating the appliance faster than he or she can package a model and ship it … pretty amazing stuff."
Appliance Fabrication
Darren Buddemeyer, president of Dynaflex Labs, is "all in" on digital fabrication of appliances. "As a percentage of our overall lab business … at this very moment … digital is small. But this grossly understates the reality of where this is heading. Perhaps a better perspective is to consider the increase in the number of orders that are placed via our portal accompanied by an IO scan. We are seeing a significant increase in digital orders in the area of 90% month over month. The floodgates are opening. It is very exciting. I can see a point where virtually 100% of our orders are based on SLA files."
Buddemeyer adds, "We see the digital interface as a tool. Our products are only as good as the craftsmen who fabricate them at the bench. You haven't eliminated the need for creativity and experience or, for that matter, quality control and customer service. We are not replacing our lab technicians with robotics. … There may be a day where wire is bent, robotically, but I'm not sure that you can ever replace the guys and gals bending wires and applying acrylic. They are true artisans. We have just given them a better canvas."
Arlen Hurt of Specialty Appliances sees the future of appliance fabrication moving even further toward technology. "The technology is there and utilized in other industries. Eventually, a medical-grade acrylic will be printed to a plotter with exacting precision. Then robotics will bend even the most intricate configurations of wire in a matter of seconds. The wire is married to the acrylic, and that's that: a perfectly manufactured appliance with minimal manual labor and obviously no models, conventional or printed. This technology is going to change orthodontics very quickly. As with any new technology, there are bugs and kinks to work out. For example, currently there is a lag from the time a file is uploaded from the scanner to the provider's server and processed and exported to Specialty. This lag is a short-term problem. I am certain processing will speed up with competition."
NorthStar Orthodontics, another leading orthodontic lab, is no stranger to digital production. Cindy Kelly says that NorthStar has surpassed the 10,000-unit mark in printed models. Although NorthStar's digital model portal is up and operational, they have not fully integrated electronic prescriptions sheets, but will be launching them in the near future. Kelly says, "Client education is probably the most challenging aspect of this technology. Most offices don't have a strong working knowledge of the nuances of scanner technology, order entry, and fabrication. Even the standard terminology used in the 3D modeling world can cause confusion. I do agree that technology will never completely replace craftsmanship. There are so many variations in the products that we produce it would be almost impossible to completely replace the human element. I think the long-term result is a combination of technology and craftsmanship."
The Orthodontist's Perspective
William J. Quest, DDS, and Diane Johnson, DDS, of Mooresville, Ind, use intraoral scanner technology in their practice. "I think the biggest benefit that we see from a clinical perspective is the accuracy of the appliances that are fabricated from the scan. Aligners fit much more accurately, indirect bonding trays are spot on," Quest says. "At this point we only scan patients with full permanent dentitions, so this equates to roughly 30% of our total patient base, so the scanner is not a universal fit. A ceph and pan are obviously still required, so you are not really saving time in the records process for fixed appliances, since the scan takes about as much time as impressions. For aligner cases, there is definitely time saved using the scanner, both in the scanning process and in the submission and ClinCheck® phases. When we begin to submit scans to other labs for construction of appliances, I am sure that there will be some challenges in workflows and logistics."
"Training wasn't a big obstacle," Johnson says. "Our initial scan times were in the 25- to 30-minute range. We are probably at the 10-minute mark now for both arches."
Lisa Wendling, DDS, MS, of Flint, Mich, is also currently using the Cadent iTero System for IO scans. She says, "Aligners definitely fit better when produced from a scan as compared to those fabricated from an impression. There is an obvious difference. We currently only utilize the scanner for aligner cases and initial records. We are a busy office, and it is not unusual for us to take 15 to 20 traditional impressions per day. We can take an impression at any chair in the office and in multiple chairs at the same time. When we start to submit all of our appliance orders online with scans, there could be a significant bottleneck. I'm not sure how cost-effective it would be to have two to four scanners in the office, and that is what it would take to keep up with our caseload if we convert to 100% digital order-entry." When asked how the staff feels about this new technology, Wendling said, "I think the staff takes real pride in the fact that we utilize the latest technology. The wand is a bit heavy when you have to hold it or 10 to 15 minutes at a time, but overall, I think they prefer the scanner over impressions."
From intraoral scanning to online order entry to 3D digital models and tracking of individual patient appliances, the future of orthodontics is all about technology. It is both an exciting and a challenging time in orthodontics.
---
William A. Poss is the president and CEO of Solutions by Design. He has a financial interest in products mentioned here.