On the Market
Self-ligating lingual brackets and a retainer with a built-in monitor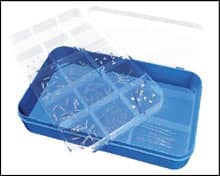 Temporary Anchorage Device Kit
Dentaurum USA, Newtown, Pa, offers a new version of its tomas® Auxiliary Kit, which includes attachments that provide practitioners with a setup for all temporary anchorage device (TAD) mechanics. The kit includes a step-by-step handbook that demonstrates various patient cases and diagrams on how to use each auxiliary. The company allows all Auxiliary Kit owners to attend any tomas seminar on TADs free of charge. Dentaurum is currently offering the auxiliary kit at an introductory discount of $150 off with the use of code DEN08.
Dentaurum USA
(800) 523-3946
www.tomasforum.com
---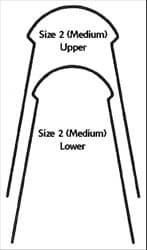 Lingual Archwires
G&H Wire Co, Greenwood, Ind, offers a line of lingual archwires developed to meet the challenging mechanics of modern lingual treatment. The "Mushroom" shape archform is available in G4™ Nickel Titanium and M5™ Thermal NiTi. Working and finishing wires are produced in a universal archform in S3 stainless steel and BT3™ Beta Titanium. A combination lingual archwire is produced by A.J. Wilcock® Australian Wire. The combination wire features a rectangular anterior segment with round posteriors that preserve anchorage.
G&H Wire Co
(800) 526-1026
www.ghwire.com
---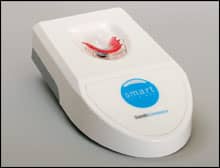 Retainer with Microsensor
Scientific Compliance, Atlanta, introduces its Smart Retainer, a retention-tracking system that includes a miniature microsensor embedded in a retainer, proprietary software, and a reader that displays precise retainer use on any PC. The Smart microsensor, which is slightly larger than a shirt button, combines stored measurements of environmental conditions with algorithms using encrypted wireless data transfer. It automatically monitors environmental conditions and stores either the data or a heuristic decision about the data in encrypted form. This information is later plugged into the software to determine retainer wear frequency and duration. Within a few seconds, a wireless communication link is established and all the information recorded since the last reading session is automatically downloaded, decrypted, analyzed using proprietary algorithms for trends and use patterns, and presented in easy-to-understand charts for evaluation by the orthodontist.
Scientific Compliance
(877) 32INLINE
www.scicomply.com
---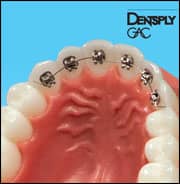 Self-Ligating Lingual System
Dentsply/GAC, Bohemia, NY, introduces In-Ovation LMTM for cases requiring minor tooth movement. Employing extremely small, easy-to-bond, self-ligating, lingual brackets, the In-Ovation LMTM system can be bonded to the six upper and six lower anterior teeth in just 30 minutes—including wire placement. For most cases, treatment can be completed in 12 to 24 weeks, often without an archwire change. According to the company, progress is predictable in nearly all cases.
Dentsply/GAC
(800) 645-5530
www.gacintl.com
---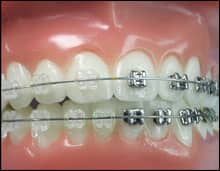 Clear Brackets
DB Orthodontics, Lubbock, Tex, introduces its Spa Brackets, which are crystal-clear brackets manufactured from a zirconium mono-sapphire that does not discolor. The Spa brackets are heat-treated and break-resistant. They are 2-mm high, have a low profile, and are slightly larger than conventional stainless steel brackets. They feature rounded margins and corners for patient comfort. The brackets are available in Roth .022 or MBT prescriptions and have an optimized slot design with only two-point corner contact. The slot is polished, reducing friction and providing smooth sliding mechanics. The base design features microprotuberances and has a special surface treatment, protecting the enamel from damage during debonding. The bracket is compatible with all popular brands of orthodontic adhesives.
DB Orthodontics
[email protected]
www.dbortho.com
---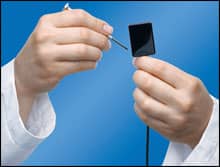 Sensor Cable
Schick Technologies, Long Island, NY, introduces its CDR PlusWire, which can be used by practitioners to avoid sensor cable failures that can cause loss of chairtime. Available in sizes 1 and 2, PlusWire comes in three cable lengths to cater to different operatory setups. With a two-phase procedure, the sensor cables can be replaced in less than 5 minutes. The PlusWire integrates with Schick's CDR DICOM imaging software and is available with an extra cable kit so a spare is always available. In addition to the standard 6-foot cable, practitioners can select a 3-foot cable, which integrates with Schick's SDX intraoral x-ray, or the 9-foot cable fit for large operatories.
Patterson
(800) 873-7683
www.schicktech.com
---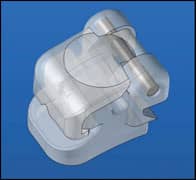 Self-Ligating Bracket
Gestenco International AB, Gothenburg, Sweden, introduces an upgraded version of its Oyster, clear, self-ligating bracket. According to the company, Oyster 2.0 is the only combined active and passive bracket on the market. It is reinforced with a metal hinge for safer use of the door, and it features a slimmer design and improved retention for easier bonding.
Gestenco International AB
(46) 31810035
www.gestenco.com
---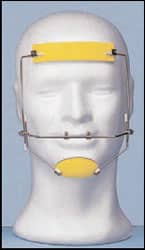 Face Mask
LeoneAmerica, Avondale, Ariz, offers its Universal Adjustable face mask, which features vertical and horizontal adjustments. Its elastomeric hooks are adjustable with set screws. The face mask is recyclable, with replacement forehead and chin pads made from soft leather. The frame is made from surgical stainless steel with nontoxic acrylic.
LeoneAmerica
(800) 242-9986
www.americantooth.com
---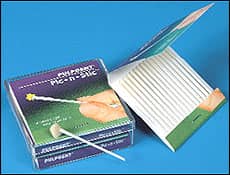 Adhesive-Tipped Sticks
Pulpdent Corp, Watertown, Mass, introduces Pic-n-Stic™, a disposable stick that acts as a small handle for picking up small objects that are difficult to manipulate. The 2-inch-long plastic stick with an adhesive pad at the end provides control when manipulating small objects in the oral cavity. It can be used to pick up and place crowns and veneers or to handle gems or other dental embellishments. Pic-n-Stics are available in boxes of 60.
Pulpdent Corp
(800) 343-4342
www.pulpdent.com
---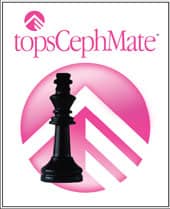 Digital Cephalometric Tracing Program
tops, Atlanta, introduces topsCephMate 1.0, a digital cephalometric tracing program with crisp visuals, flexible tools, and the stability and security of the Mac OS X operating system. topsCephMate creates pdfs that integrate easily with topsXtreme, the Mac OS X-based orthodontic practice-management system with imaging that is tops' landmark product. A step-by-step instruction window that can move anywhere on the screen guides users as they develop tracings. Among the flexible features: A spotlighting feature takes the eye along the linear aspects of a measurement; real-time measurement changes as landmarks and contours are moved, illustrating how other measurements are impacted; a radial menu for quick navigation; one-click access to facial, x-ray, blended, and treatment views; and fast fades from one image to another. topsCephMate will be available this summer.
tops
(888) 770-2488
www.iwanttops.com
---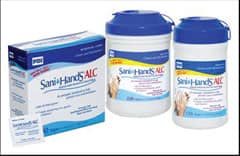 Antimicrobial Hand Wipes
Sani-Hands® introduces ALC Antimicrobial Alcohol Gel Hand Wipes, which, according to the company, have been proven effective at killing 99.99% of harmful bacteria, including methicillin-resistant Staphylococcus aureus (MRSA), and also remove soil from hands because of the friction of the wipe. ALC Antimicrobial Alcohol Gel Hand Wipes are made from a nonwoven cloth that is saturated with a fragrance- and dye-free ethyl alcohol gel solution. ALC Wipes are nondrying to skin and, according to the company, are clinically proven to moisturize skin after repeated use.
---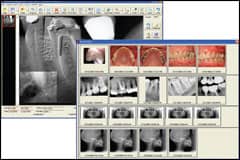 Imaging Software
Adstra Systems, Toronto, has added a Sorted View feature to its Imaging™ Dental Image Management software. The Sorted View is used for retrieving images from the current patient's file. Sorted View arranges images in five rows according to the image type: video, intraoral x-ray, panoramic, cephalometric, and other (pasted or imported). Single images can be viewed enlarged (full-screen view). The user may open selected multiple images or, with one button, all the images from the patient's file. The software allows practitioners to capture, enhance, and store images from different digital devices—intraoral x-ray machines, digital cameras, and flatbed scanners.
Adstra Systems
(800) 450-0220
www.adstra.com
---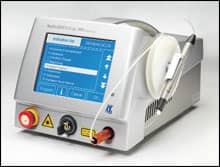 Diode Laser
KaVo Dental, Lake Zurich, Ill, offers its GENTLEray® 980 soft-tissue diode laser. The soft-tissue laser features a 980-nm wavelength, which provides a combination of cutting and hemostasis in a wide range of soft-tissue indications. The KaVo handpiece provides individual adjustment of the fiber length in combination with touch and feel. The direct fiber running through the handpiece ensures transmission of laser energy that reaches the treatment point. The laser is available in two versions: Classic and Premium. The Classic is for new laser users. The Premium is equipped with additional features such as a water-cooling handpiece and GENTLEpulse® micropulse technology. The Classic unit can be upgraded to the Premium version. The laser is FDA-cleared for incisions, excisions, biopsies, hemostasis of donor sites, pulpotomy as an adjunct to root canal therapy, and periodontal indications as sulcular debridement.
KaVo Dental
(888) 275-5286
www.kavousa.com
---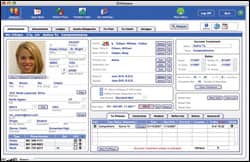 Practice-Management Systems
Orthoease, North Ogden, Utah, offers its orthodontic practice-management software packages, which are compatible with Mac and Windows operating systems. Orthoease software packages include the following modules: appointments and patient flow, patient follow-up, treatment contracts, billing and collections, treatment exam, planning and development, image management, electronic charting, integrated letter writing, management reporting, practice analysis, time clock, and interoffice messaging. Premade scheduling templates for practitioners who use the Damon System are also available. Orthoease software is available via a monthly subscription, allowing orthodontic practices to acquire practice-management or imaging software without any upfront investment.
Orthoease
(800) 217-2912
www.orthoease.com