Focus on Brackets
Ultradent Products Inc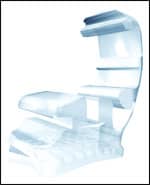 Ultradent Products Inc offers the Opal Orthodontics bracket made of glass-filled nickel-free polycrystalline polymer material, which is highly aesthetic and stain-resistant, and provides strength within its structure. Additionally, the chameleon-like quality of the bracket allows it to blend into the color of the patient's enamel. Its smooth, rounded, single-piece design and integral locking cap maximizes patient comfort while minimizing breakage. The unique design allows additional bracket strength, ensures ease of use, and provides total archwire engagement with complete closure of the cap. The bracket also has a chemical and mechanical retention base with compound contour for optimal bond strength. The bracket is self-ligating to provide continual tooth movement and provides light pressure and low forces on the tooth.
For more information, contact Ultradent Products Inc, 505 W 10200 S, S Jordan, UT 84095; (800) 552-5512; www.opalorthodontics.com.
Success Essentials

Success Essentials offers the AT Series straight wire bracket systems, which are available in stainless steel, ceramic, and composite. Brackets are .022 slot Roth prescription, and are anatomically contoured for the perfect fit and the greatest retention. Each bracket is color-coded for easy identification and has five reference points for accurate placement. They are 30% smaller than standard brackets, making them less noticeable and permitting improved oral hygiene. They are produced from a special stainless steel alloy that is stronger, sturdier, and more stress-resistant than other mini-twin brackets, and their brazed mesh pad permits easy bonding with maximum retention. All cuspid and bicuspid brackets come with hooks.
For more information, contact Success Essentials, 9129 Lurline Ave, Chatsworth, CA 91311; (800) 423-3270; www.smldent.com.
Glenroe Technologies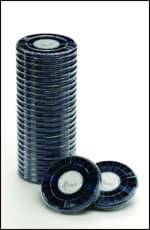 Glenroe Technologies offers the Bracket Stacker, which contains 20 individual compartments that can store up to 20 brackets. Each compartment is labeled for bracket identification. The handle underneath provides smooth twisting for easy bracket dispensing. The Stacker is available in different colors to distinguish between different bracket descriptions.
For more information, contact Glenroe Technologies, 1912 44th Ave E, Bradenton, FL 34203; (800) 237-4060; www.glenroe.com.
GAC International Inc
GAC International Inc offers Mystique® ceramic brackets, which offer unequalled aesthetics, slot performance, and proven bonding/debonding. Mystique contains no metal, has a lower profile than metal-lined ceramics, and is translucent. The silicate-lined slot provides sliding mechanics.
For more information, contact GAC International Inc, 355 Knickerbocker Ave, Bohemia, NY 11716; (800) 645-5530; www.gacmystique.com.
Wildsmiles Brackets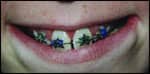 Wildsmiles Brackets offers flower-, heart-, star-, soccer ball-, and football-shaped brackets that may be customized by the patient. Designs can be mixed and matched to give everyone a truly unique smile. The brackets are meticulously engineered to provide optimum aesthetic and functional benefits.
For more information, contact Wildsmiles Brackets, 14441 Dupont Ct, Suite 301, Omaha, NE 68144; (402) 334-7339; www.wildsmiles4you.com.
Ortho Organizers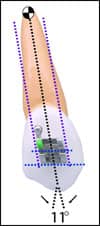 Ortho Organizers offers Di-MIM® brackets, which are single-piece metal injection molded (MIM) brackets made of bio-compatible Nickel-Lite material. Di-MIM brackets feature a patented, micro-etched Grip-LOK® base, which has been proven by university research to provide improved bond strength while greatly reducing bond failures. The brackets are low-profile for patient comfort and feature a rhomboid design, which parallels tooth angulation for easy placement. Mesial and distal tie wings are parallel to the long axis of the clinical crown, with a tie wing design that has been modified to allow more clearance between the tie wing and the base for double ligation.
For more information, contact Ortho Organizers, 1619 S Rancho Santa Fe Rd, San Marcos, CA 92078; (800) 547-2000; www.orthoorganizers.com.
Rocky Mountain Orthodontics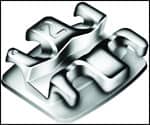 Rocky Mountain Orthodontics offers Synergy brackets, which allow free movement of wire during alignment. Synergy is a reduced-friction bracket that allows tooth-by-tooth control over the entire course of treatment. Synergy permits 6–8-week intervals between patient visits, and faster overall treatment time.
For more information, contact Rocky Mountain Orthodontics, (800) 766-6784; 650 W Colfax Ave, Denver, CO 80204; www.rmortho.com.
Gold'n Braces Inc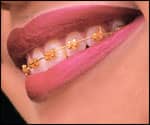 Gold'n Braces Inc offers Midas™ brackets, which are made by an extensive plating process that uses a 24K gold alloy with hardeners and brighteners for durability and shine. Abrasion-tested, the Midas bracket provides a durable finish with no alteration of slot size and a surface that does not alter bonding properties. Gold'n Braces also offers a modified Roth prescription bracket, available in both .022 and .018 slot size. The modifications are 0-0 on the lower 1 and 2 and 0-0 on the upper 4 and 5. Straight-wire Roth appliances and direct-bond molar tubes (for patients with nickel allergies) are also available.
For more information, contact Gold'n Braces, 2595 Tampa Rd, Suite I, Palm Harbor, FL 34684-3131; (800) 785-1970; www.goldnbraces.com.
Dentaurum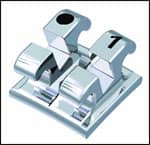 Dentaurum offers Equilibrium® Mini, the world's smallest bracket, which has the least VSI (ViSual Impact) of any metal bracket. Dentaurum brackets provide excellent bonding and debonding properties due to the patented laser-structured bracket base and the outstanding biocompatibility provided by the solder-free, one-piece design. Equilibrium® Mini is made of 316 L medical-grade stainless steel and has super-rounded edges for enhanced patient comfort. The .30 slot depth brings the archwire close to the tooth for efficient transfer of force to the tooth, allowing shorter treatment time.
For more information, contact Dentaurum, 10 Pheasant Run, Newtown, PA 18940; (800) 523-3946; www.dentaurum.com.
American Orthodontics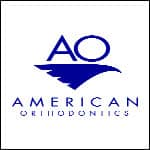 American Orthodontics introduces Low Profile direct bond tubes, which feature innovative positioning guides and maximum retention bonding pads for accurate placement of tubes on first and second molars. Specially designed Hu-Friedy tweezers hold LP tubes firmly at the positioning guides during bonding. The precise anatomical fit of the bonding pad to the surface of the molar helps guide the tube to its proper location. After bonding, a fluted entrance on the LP tubes gently guides archwires into the slot. LP tubes are available in convertible or nonconvertible models.
For more information, contact American Orthodontics, 1714 Cambridge Ave, Sheboygan, WI 53081; (920) 457-5051; www.americanortho.com.
TP Orthodontics Inc

TP Orthodontics Inc offers Tip-Edge Plus® brackets, which allow gentle initial archwire engagement and tooth movement without friction or anchorage strain, and allow movement from .016 inches to .022 inches in a single step, without bracket binding. Large overjets reduce easily without headgear or functional appliances. A simple, preformed nickel titanium uprighting wire threaded through a lingual tunnel in the bracket provides the power for both final crown tip and torque.
For more information, contact TP Orthodontics Inc, 100 Center Plaza, La Porte, IN 46350; (800) 348-8856; www.tportho.com.
Ortho-Byte

Ortho-Byte offers SynthesisTM Composite brackets with a metal slot that is molded into the bracket to prevent separation. A metal hook eliminates the possibility of bending and breakage, and an innovative design ensures perfect mechanical bonding and debonding.
For more information, contact Ortho-Byte, PO Box 9627, Wilmington, DE 19809-9998; (302) 761-9877; www.ortho-byte.com.
Ortho Specialties
Ortho Specialties introduces the OPC™ Midi bracket system, which features a patented, integrated base design that provides incredible adaptation to the tooth surface, resulting in a superior bond. OPC boasts a full-size mesial/distal width for outstanding rotational control.
For more information, contact Ortho Specialties, 7707 W 99th St, Hickory Hills, IL 60457; (800) 637-1237; www.orthospecialties.com.
G&H Wire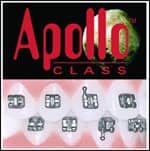 G&H Wire introduces Nickel-Free Apollo™ brackets, which feature an efficient and dependable presandblasted bonding surface that is compatible with all orthodontic adhesives, yielding superior bond strength. G&H offers the Apollo series in Roth, Bioform, and Standard Edgewise prescriptions.
For more information, contact G&H Wire, PO Box 248, Greenwood, IN 46142; (800) 526-1026; www.ghwire.com.
Dynaflex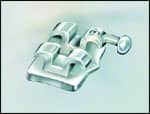 Dynaflex offers the Trust™ bracket system, which uses the metal injection molding (MIM) technique, and produces a bracket with superior strength with the least amount of friction. The MIM technique also creates a hook-style bonding pad, which improves bonding by over 30%. The bracket is nickel-free and eliminates any risk of any allergic reaction.
For more information, contact Dynaflex, (800) 489-4020; 10246 Bach Blvd, Saint Louis, MO, 63132; www.dynaflex.com.
3M Unitek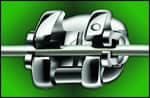 3M Unitek offers the SmartClip™ self-ligating appliance system, which dramatically advances self-ligating bracket design. With the SmartClip Appliance System, there are no doors or mechanisms for you to open or close. The integral nickel-titanium clips permit simple archwire insertion and removal, yet hold the archwire with a preprogrammed force that avoids unintentional disengagement. SmartClip Appliances feature a familiar, twin-bracket design that lets you keep your preferred treatment techniques. You can enjoy the advantages of a passive self-ligating system and also use ligatures on individual teeth for an active on-demand system.
For more information, contact 3M Unitek, 2724 S Peck Rd, Monrovia, CA 91016; (800) 423-4588; www.3MUnitek.com.
SDS Ormco Corp
SDS Ormco Corp introduces the Damon™ 3 passive self-ligating bracket, which features ultra-smooth contours and rounded edges for enhanced patient comfort and a combination of clear material and stainless steel for improved aesthetics. The bracket offers an easy-to-use slide mechanism for fast and easy wire changes. Damon provides more efficient tooth movement through the use of low-friction brackets, low-force archwires, and fewer auxiliary appliances such as RPEs and headgear. When used with Damon System treatment mechanics, the Damon 3 bracket significantly reduces overall treatment time, as well as the frequency of office visits.
For more information, contact SDS Ormco Corp, 1717 W Collins Ave, Orange, CA 92867; (800) 854-1741; www.ormco.com.
Forestadent USA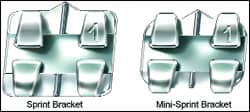 Forestadent USA offers the Sprint® direct bonding cast metal bracket. Each bracket has torque in the base and a mesial-distal offset, optimizing the relationship between the bracket and tooth to facilitate rotational control. The cast design permits a maximum of mesial-distal arch guidance despite its considerably reduced size. All brackets provide a long axis scribe line that helps to facilitate placement along the clinical crown. The brackets incorporate a cast slot to ensure superior sliding mechanics and reduced friction, which allows precise tooth movement at a faster pace. Sprint offers the orthodontist a unique, offset, mushroom-shaped ball hook to prevent elastics from dislodging. A compound, contoured, hook-style bonding pad is incorporated into the bracket design, providing 30% better bond strength than typical mesh-style brackets. Sprint is nickel-free for patients with a nickel allergy.
For more information, contact Forestadent USA, 2301 Weldon Parkway, St Louis, MO 63146; (800) 721-4940; www.forestadentusa.com.
Lingualcare Inc
Lingualcare Inc offers a customized lingual bracket system for aesthetic orthodontic treatment. Brackets are custom-made, with a bracket pad that is adapted to the patient's dental anatomy, increases bond strength, and ensures easy rebonding. The brackets are comfortable for patients to wear, causing minimal speech interference and tongue irritation. Combined with Lingualcare's customized lingual archwires, the system delivers efficient orthodontic treatment to patients of all ages.
For more information, contact Lingualcare Inc, 5304 Beltline Rd, Dallas, TX 75254; (469) 374-9233; www.hiddenbraces.com.
Gestenco International AB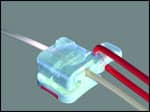 Gestenco International AB introduces Oyster ESL transparent, self-ligating brackets. The bracket is 100% transparent and is made of a very resilient and strong copolymer. Archwire changes are fast and easy with the snap-on cap and no food traps. Heavily reduced friction allows for better sliding mechanics, allowing rapid tooth movement with less force.
For more information, contact Gestenco International AB, PO Box 24067, SE 400 22 Gothenburg, Sweden; 46-31-81-00-35; www.gestenco.com.
ClassOne Orthodontics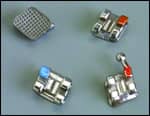 ClassOne Orthodontics offers the Freedom series, featuring a metal injection molded (MIM) bracket system. MIM offers stronger, smoother, and more precise brackets, thus reducing friction and improving sliding mechanics. The low-profile, one-piece design increases patient comfort, is easy to ligate, and eliminates bracket/pad separation, while ensuring a reliable bond and easy debonding. The nickel-free brackets feature rounded edges and a color-coded identification system. Available prescriptions include Standard Edgewise, Roth, Hilgers, and Ricketts.
For more information, contact ClassOne Orthodontics, 5064 50th St, Lubbock, TX 79414; (800) 972-7607; www.classoneorthodontics.com.
LeoneAmerica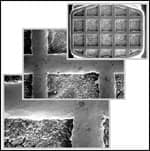 LeoneAmerica introduces the Extremo bracket series with FDI identification and metal injection molding technology, which offers smooth, strong, and precise manufacturing to reduce friction and improve sliding mechanics. The back of the Extremo brackets have a laser-etched numbering system that allows for easy identification of brackets. The biocompatible, nickel-free alloy brackets have increased bond strength due to the etching process. In addition, the base features micro-cavities with micro-undercuts that provide optimum bonding strength. The front of the bracket has a scribe line along the entire length of the bracket and a base for easier placement.
For more information, contact LeoneAmerica, 1200 Stellar Dr, Oxnard, CA 93033; (800) 242-9986; [email protected].
Masel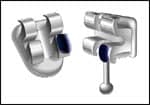 Masel introduces Mclaughlin-Bennet-Trevisi Prescription brackets, which are high-quality stainless steel cast brackets available in cases of 20, with or without hooks. They provide low-profile and rounded tie wings for patient comfort. A contoured base with built-in torque and angulation matches each tooth for proper bracket placement. Features include a generous tie wing undercut for easier ligation, small and strong hooks on cuspids and bicuspids, a mesh base for optimum retention, a vertical scribe line between the tie wings, and permanent color-coded ID markings by quadrant on the distal-gingival tie wings.
For more information, contact Masel, 2701 Bartram Rd, Bristol, PA 19007; (800) 423-8227; www.maselortho.com.
Fairfield Orthodontics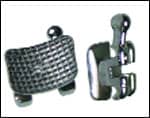 Fairfield Orthodontics introduces the Profile bracket system design. Manufactured under strict guidelines, Profile brackets offer increased bond strength due to micro-etching of the 80 grid bonding bases. The ultra-low-profile design also increases patient comfort without compromising technique mechanics. There is no extra charge for hooks, which are available on cuspids and bicuspids. The bracket system is available in either .018 or .022 slots in both Roth and MBT prescriptions. For every bracket purchased, orthodontists receive a free round or rectangular NiTi archwire.
For more information, contact Fairfield Orthodontics, 158 Research Dr, Suite K & L, Milford, CT 06460; (800) 321-0331; www.fairfieldorthodontics.com.
Lancer Orthodontics
Lancer Orthodontics offers Redi-Pak, a sensible solution to better bracket storage and patient delivery. Redi-Paks keep your brackets in individualized, preset storage envelopes designed to keep your brackets ready for bonding. Redi-Pak is a ready-to-use patient clean-pack and setup tray that allows you to better manage your inventory. It alleviates the hassle of pulling brackets from a centralized storage tray and saves the time it takes to stock and dispense brackets from central inventory dispensaries. It can also make bonding procedures simpler. Redi-Paks can be easily stored in racks provided by Lancer or neatly stacked in your drawer.
For more information, contact Lancer Orthodontics, 253 Pawnee St, San Marcos, CA 92069; (800) 854-2896; www.lancerortho.com.
OrthoTechnology Inc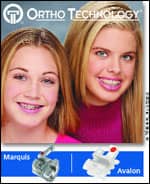 Ortho Technology Inc offers a complete line of stainless steel aesthetic brackets in ceramic and composite materials and in all popular prescriptions. They are available with or without a nickel-free, metal-lined archwire slot for enhanced sliding mechanics. The Marquis™ bracket system is a one-piece cast bracket that provides shear bond strength in an ultralow-contoured profile for added patient comfort. The TurboTwin™ bracket system employs metal injection molded technology for precise microdetailing of the bracket's body.
For more information, contact Ortho Technology Inc, 17401 Commerce Park Blvd, Tampa, FL 33647; (800) 999-3161; www.orthotechnology.com.