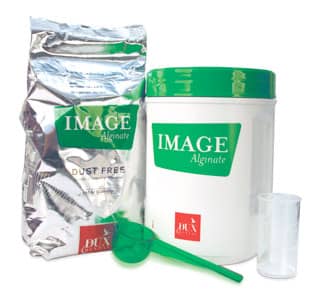 DUX Dental, Oxnard, Calif, has introduced IMAGE Dust-Free Alginate. The new dental alginate is aimed at helping orthodontic practices realize a 50% savings on impression material while producing excellent results, according to the company. IMAGE Dust-Free Alginate creates a smooth, glass-like surface to ensure precision impressions and molds.
The alginate is dust-free, green-colored, mint-scented, and 100% biodegradable. Fast Set IMAGE Alginate sets in 2 minutes, while the Regular Set sets in 3 minutes. Both provide 100 hours of dimensional stability when sealed in a plastic bag so the impression pour can be delayed.
Two IMAGE Dust-Free Alginate product packages are available.
IMAGE Dust-Free Alginate: One 500-gram pouch of alginate. Manufacturer's Suggested Retail Price (MSRP): $9
IMAGE Dust-Free Alginate Fast Set Starter Pack: Includes one 500-gram pouch of alginate and one mixing canister, powder scoop, and water vial. MSRP: $10.10
For more information about this and other orthodontic companies, visit our Market Guide.