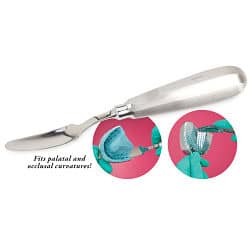 Practicon, Greenville, NC, now offers the Alginate Removal Spatula. Designed by a dentist to scrape hardened impression material from reusable trays, the spatula features a spoon-shaped blade that fits palatal and occlusal areas.
The spatula is make of fully autoclavable stainless steel and features a lightweight, ergonomic handle.
For more information about this and other orthodontic companies, visit our Market Guide.