On the Market
A retainer replacement system, a new impression material, and more

Retainer Program
Evertain™ offers a retainer-replacement program with no lab fees and no up-front investment. With Evertain, your practice will not worry about the costs and time consumed with retainers, even when patients lose one. If the patient loses or breaks his or her retainer, the company handles everything from building the replacement set of retainers to notifying your office of the patient's need for another try-in appointment. Patients receive two sets of retainers upon enrollment in the Evertain program and 2 years of unlimited replacement.
Evertain
261 W Causeway Approach
Mandeville, LA 70448
(888) EVERTAIN
www.evertain.com/op
---
Anchorage System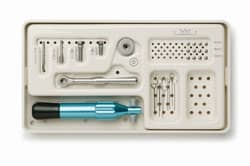 Ortho Organizers offers its Ancor Pro Orthodontic Anchorage System, which uses a multifunctional single head for the attachment of elastic chains, coil springs, and archwires. The sharp tip and threads of the anchor allow self-drilling and self-tapping, and require local or topical anesthesia for placement. The anchors are available in 1.6-mm diameter and in 6-mm, 8-mm, and 10-mm lengths. The anchors feature a new design and are easy to place and to remove, according to the company.
Ortho Organizers Inc
1822 Aston Ave
Carlsbad, CA 92008
(800) 547-2000
www.orthoorganizers.com
---
Camera Kit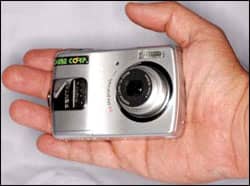 Lester A. Dine offers a digital camera kit for orthodontic photography. The Dine Digital Solution features a 7MP camera that does not require external modifications or attachments. The camera is capable of photographing the full range of subjects from anteriors, laterals, occlusals off a mirror, and facials. A live video screen on the back of the camera serves as a guide while taking the picture. The camera autofocuses on the subject. The kit also includes an intraoral mirror, cheek retractors, a hard carrying case, a 1 GB memory card, a reader, a rechargeable battery, and a charger. The camera is preset and ready for immediate use. Instructions are included, and the company offers lifetime telephone support.
Lester A. Dine Inc
PGA Commerce Park
351 Hiatt Dr
Palm Beach Gardens, FL 33418
(800) 624-9103
www.dinecorp.com
---
Oral Care Products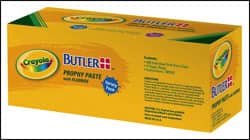 Sunstar Americas has expanded its Crayola™ line of oral care products for kids to include Butler® Crayola Prophy Paste, Butler Fluoride Foam, and Gum® Crayola Fluoride Trays. The Butler Crayola Prophy Paste Variety Pack comes in a Crayola-themed box. Holding a total of 150 cups, the variety pack includes 50 cups each of grape-, bubble gum-, and orange-flavored prophy pastes. The Butler Crayola Fluoride Foam Variety Pack offers a choice of three flavors: bubble gum, orange, and tropical punch. The light, nonaerosol foam provides effective delivery while flowing easily in and around each tooth, according to the company. The variety pack of three foam bottles is packaged in a Crayola-themed box. The Gum Crayola Fluoride Tray Variety Pack comes packaged in a Crayola-themed drawstring backpack. The colorful, hinged fluoride trays are available in red, yellow, and blue, and in small and medium sizes.
Sunstar Americas Inc
4635 W Foster Ave
Chicago, IL 60630
(800) 528-8537
www.sunstaramericas.com
---
High-Speed Handpiece

J Morita USA offers its TwinPower Turbine, a high-speed handpiece with two turbines and no suck-back. TwinPower Turbine features 22 W double-impeller technology and delivers continuous, balanced torque, even under high load conditions. It includes a 13.2-mm compact head. TwinPower is equipped with a pressurized air system that prevents the intake of contaminated aerosol. Other features include glass rod optics and rapid braking within 2 seconds.
J Morita USA Inc
9 Mason
Irvine, CA 92618
(888) JMORITA
www.jmoritausa.com
---
Impression Material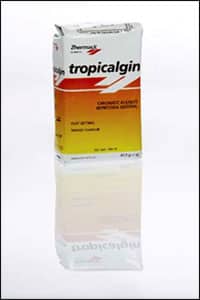 Zhermack Inc introduces Tropicalgin, a mango-flavored, rapid-setting, dust-free, chromatic alginate impression material that automatically changes color to signal each phase of clinical application. Tropicalgin remains purple during the 45-second mixing time; changes to orange during the 1-minute, 35-second processing time in the tray; and turns yellow to signify that it is ready for insertion in the mouth. It is ready for removal in 60 seconds. Tropicalgin is formulated to resist natural contraction due to water evaporation, allowing the impression to be stored for hours in a long-life bag. Tropicalgin's thixotropic properties ensure a drip-free mixture that flows only when pressure is exerted during the taking of an impression, while a mixture of irreversible hydrocolloids gives the alginate structure a balance between resistance and elasticity. Tropicalgin is compatible with all plaster types, including synthetics. The company offers a 5-year guarantee on its Long Life Alginate System line.
Zhermack Inc
151 Industrial Way E, Bldg B
Eatontown, NJ 07724
(732) 389-8540
www.zhermack.com
---
Orthodontic Cutters

Komet USA introduces its patented UM Cutters, which are tungsten carbide cutters designed to cut nonprecious metal and model cast alloys. The practitioner controls the contact pressure to emphasize material reduction or surface quality. High-contact pressure results in higher material reduction, while low-contact pressure achieves better surface quality. The blade configuration contributes to a smooth operation and reduced vibration, without strain to the user's wrist. The materials used to manufacture the cutters guarantee unmarred blades and a long service life. Their design features a red ring and golden shank.
Komet USA
454 S Anderson Rd, Suite 14
Rock Hill, SC 29730
(800) 208-1630
www.komet-usa.com
---
Bracket System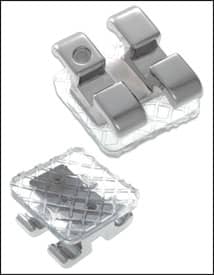 TP Orthodontics introduces its NV Hybrid Bracket, which improves bond strength with its polymer mesh base. The base allows light to fully penetrate during curing. The clear base also improves the bracket's aesthetic appeal by blending in with the color of the patients' teeth. The contoured base eliminates occlusal interference. The bracket features a compact design and a small metal face. The NV bracket's surface is made from cobalt chromium, a hard alloy that prevents archwire slot collapse. The bracket is nickel-free and biocompatible for sensitive patients. The NV bracket debonds easily: Simply squeeze the base with a sharp, two-jawed instrument such as debonding pliers or ligature cutters, and the bracket base will flex and release from the tooth. The NV Hybrid Bracket is available in MBT.
TP Orthodontics Inc
100 Center Plaza
La Porte, IN 46350-9672
(800) 348-8856
www.tportho.com
---
Professional Blaster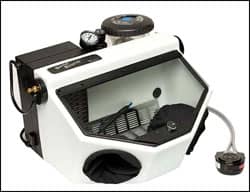 Great Lakes Orthodontics introduces its Vaniman SandStorm Micro-abrasive Blaster for light-duty touch-ups in the office. The fully contained system requires compressed air and standard wall power. It operates by a foot pedal control. The SandStorm features a large, panoramic viewing area with fluorescent lighting and a nonclogging flow design. The unit includes a self-contained media filter system and long-lasting tips.
Great Lakes Orthodontics Ltd
PO Box 5111
Tonawanda, NY 14151-5111
(800) 828-7626
www.greatlakesortho.com
---
Product Software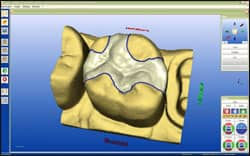 Sirona Dental Systems introduces a user-friendly software developed for its inLab® CAD/CAM system. Based on Sirona's patented biogeneric technology, the software allows dental laboratories to create inlays and onlays quickly and efficiently. The computer-aided tool for the occlusal surfaces benefits users who have limited experience with the inLab system. Using information from a library of more than 4,000 naturally adapted teeth, the software allows laboratories to create dental restorations. The tooth-modeling function creates natural occlusal surfaces. Minimal input is required from the user, as the new software designs the occlusal surfaces automatically on the basis of the residual tooth tissue. The restoration proposal is adapted simultaneously to the adjacent teeth and to an optical bite registration. The restoration is then ready to be milled.
Sirona Dental Systems LLC
4835 Sirona Dr, Suite 100
Charlotte, NC 28273
(866) 465-2248
www.inLab.com
---
Prepasted Toothbrush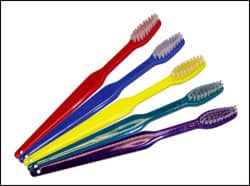 The Ortho Club introduces its Ortho Club Select line of disposable, prepasted toothbrushes. The brushes come in five colors per box of 100 and are individually packaged to ensure no cross-contamination. The prepasted feature makes brushing quick and easy, according to the company. The ingredients meet health and safety standards and are compliant with FDA medical device and cosmetic guidelines.
The Ortho Club
480 E Water St
Urbana, OH 43078
(800) 679-6793
www.orthoclub.com